Add Watermark to Photo Online
Do you want to add watermark to photo online? Use our free watermark maker, it's so easy to use!
You can convert image to watermark online free or you can add logo to photo online. Use MockoFun to add text to photos online in just a few minutes.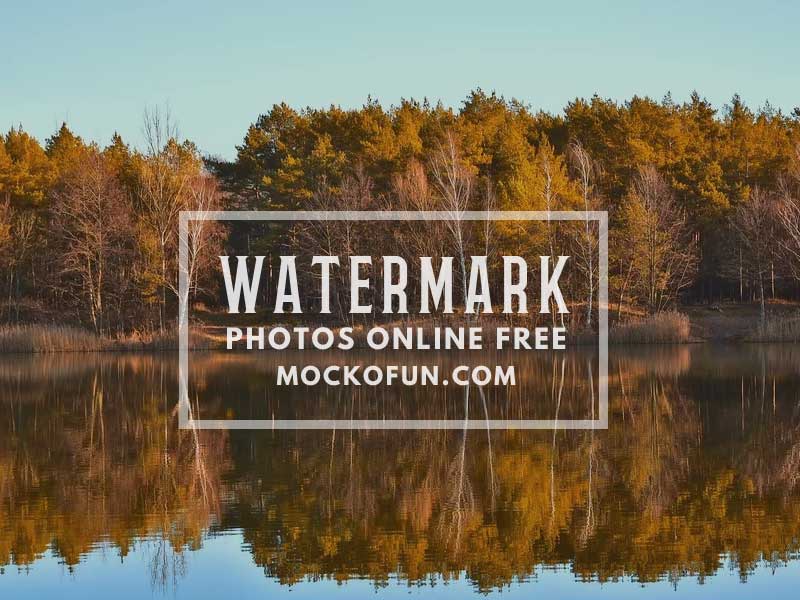 We all see watermarks on music albums, books, on the images on the Internet, on the currency, bank notes, etc. 
So, it's quite natural to wonder what is a watermark? A watermark is a symbol embedded in an object to identity its ownership or its authenticity. 
A digital watermark is a marker or a signal inserted into a digital file:
image

audio

video

document
These watermarks usually provide copyright information of the file. For example,  a watermark for photos is a logo, text, or pattern that is placed over the picture.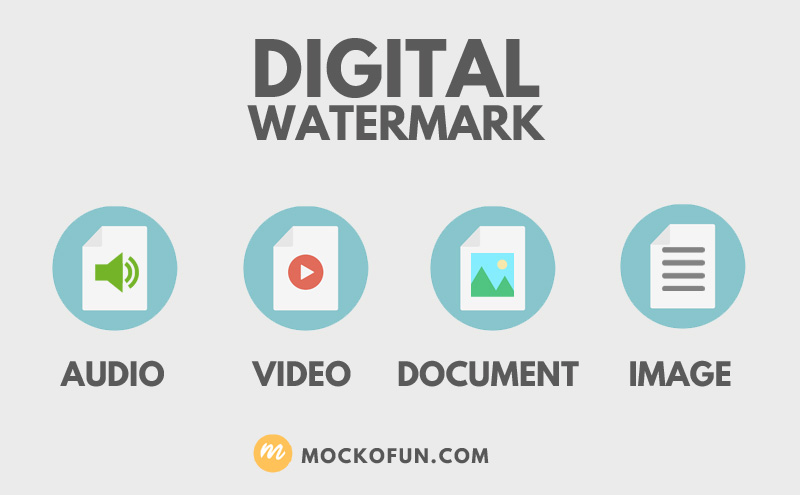 Use MockoFun to add watermark to photos
A digital watermark can be in a form of a visible or invisible marker. 
The visible watermark is easy to spot as it is added on top of the image, video, etc.  The watermark usually contains information about the ownership of the object (name of the author, website, etc.)
The invisible watermark is a covert signal embedded in the data. The main purpose is to identity the ownership of the object in the event of a theft.
With MockoFun you can easily add watermark to photo online. Create a photo watermark like a logo or text and place it over your images.
It's so easy to create a signature logo and use it as photo watermark. Simply choose one of the signature fonts available in MockoFun text editor for free.
To make a signature logo, use these signature fonts that you can find in MockoFun:
Monsieur La Doulaise

font

Mrs Saint Delafield

font

Mr Dafoe

font

Sarina

font (the text "Photography" is written with

Mukta

font; set the

Letter Spacing

to

350

)

Herr Von Muellerhoff font

League Script font

Ruthie font

Dr Sugiyama font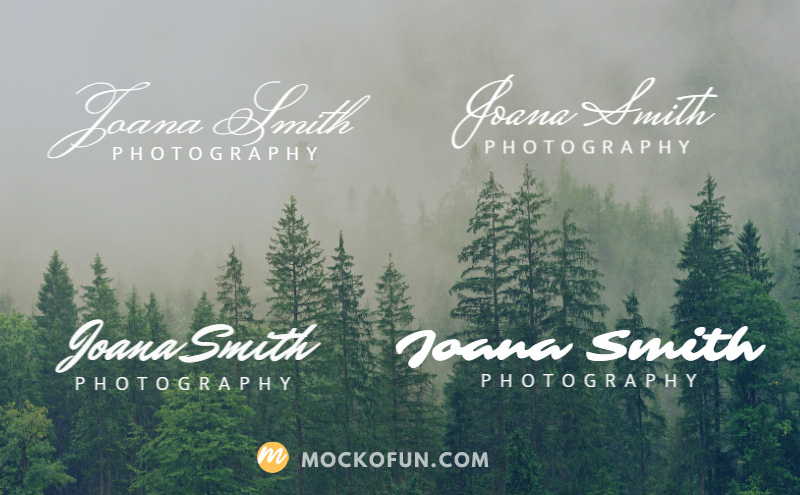 The signature logos are quite elegant and will look great on your photos. Why is choosing the watermark so important? It's true that a watermark can help your brand, but it might also ruin your images.
Adding a watermark is your attempt to protect your images and to make life more difficult for those wanting to use your images unauthorized. 
So, a watermark is mainly used for these two purposes:
Add watermark to prevent any unauthorized use of your photos – add watermark to photos, that way it will be more difficult (but not impossible) for the original image to be copied or used without your written permission. You will discourage theft of the watermarked material. 

Add watermark t

o promote your brand or company –  

photographers

 or a graphic design artists will choose to use a 

watermark

 or a signature to promote their name or brand. The images are shared around the internet and by adding a watermark, the viewers will identify their photos and brand more easily.  

A 

photomark

 might be the way you choose to sign your art in an elegant way.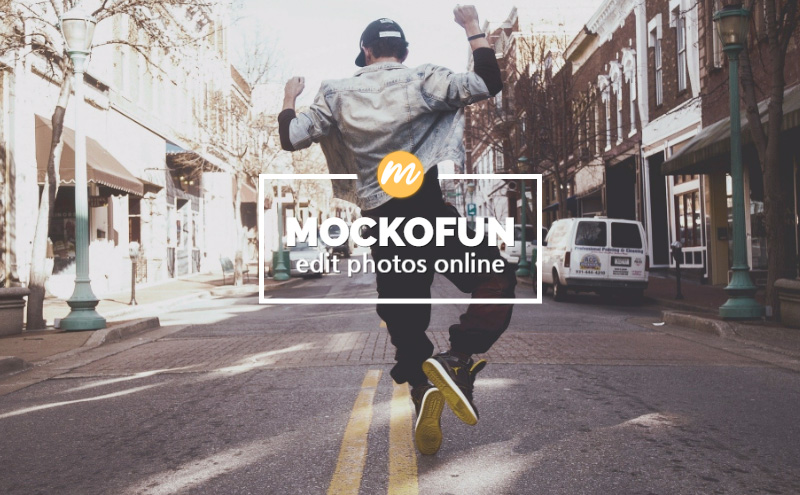 In the following sections of this article, I will show you how to add
photo watermarks
in the form of text and images such as company logos or signatures of the owner of the photo.
2. Watermark PDF Documents
A 
watermark
 is a faded background image that you can place over a text in a 
document
. The document watermark is used to point a 
document's
 state (unauthorized, secret, confidential, draft, rejected, etc.).  Or, you can add your
company logo
 as watermark for your PDF documents.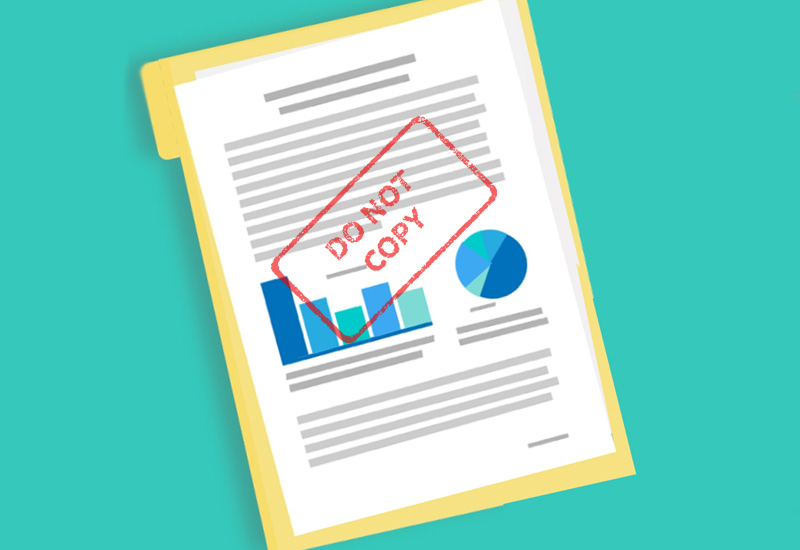 With MockoFun you can edit images (JPG or PNG). So, if you have an image of a document, you can easily add a watermark like in the preview.
How to Make a Watermark Online?
Make a photo watermark online in just a few minutes with MockoFun. Then, download the result as watermark png with transparent background. 
With MockoFun you can add image watermarks like watermark text, watermark logo and watermark signature. You can of course add a watermark pattern if you want.
Whether you are a professional photographer or not, you probably take pride in your hard work. Using a watermark signature on your images is a good way to associate your name with your photos.  
The signature is usually placed on a corner of your photo. But, if you don't want your images stolen, the best choice is to add a signature logo on the center of the image (it's much difficult to be removed).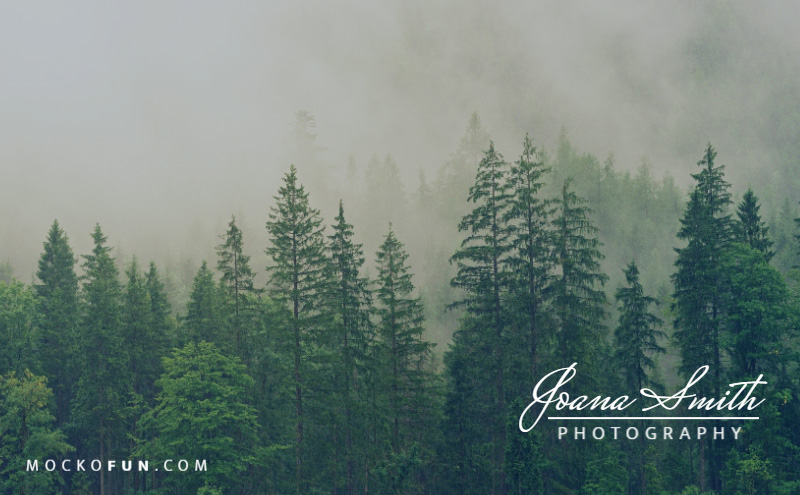 Graphic design software like Photoshop is often used to remove watermark. The remove watermark process is done with the Clone Stamp Tool or with the Content Aware.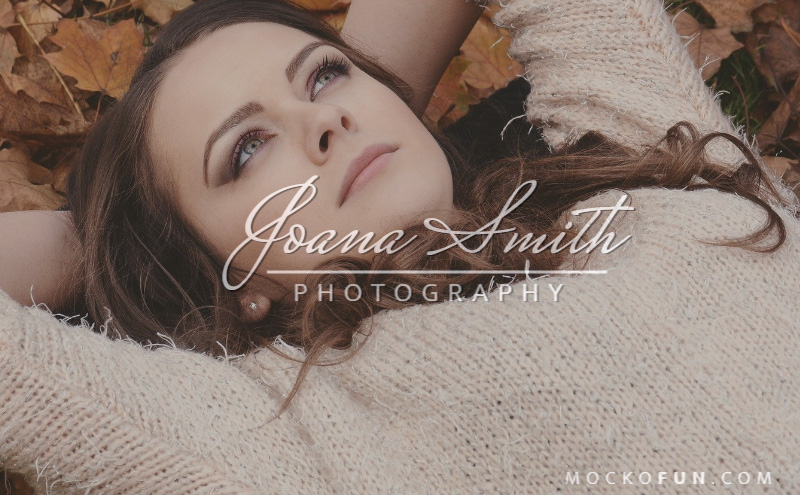 To add this free signature logo as a watermark for your photos, go to Text > Logos and choose the signature logo from the list.
Typically, this type of signature logo is mainly used by photographers, digital artists and painters.
But, if you have a company or a website, use a watermark logo for your images to promote your brand. 
Good news, with MockoFun you can create a watermark online for free and add it to your images. So stay tune as I will show you how to watermark photos easily.
Trust me, you really need to watermark photos that you publish online. 
Why? Because sooner or later, your photos will be taken without your permission. So, at least you have your name or logo on the images. A watermark strategically placed, will make it difficult for people to use your original photos for commercial projects.
TIP: To avoid theft, publish small size watermarked images (max 850px) with low quality (max 150kb). 
Well, the question is: how can I add a watermark to my photo? To do this, use a watermarking software like Photoshop or MockoFun, which is a free watermark software.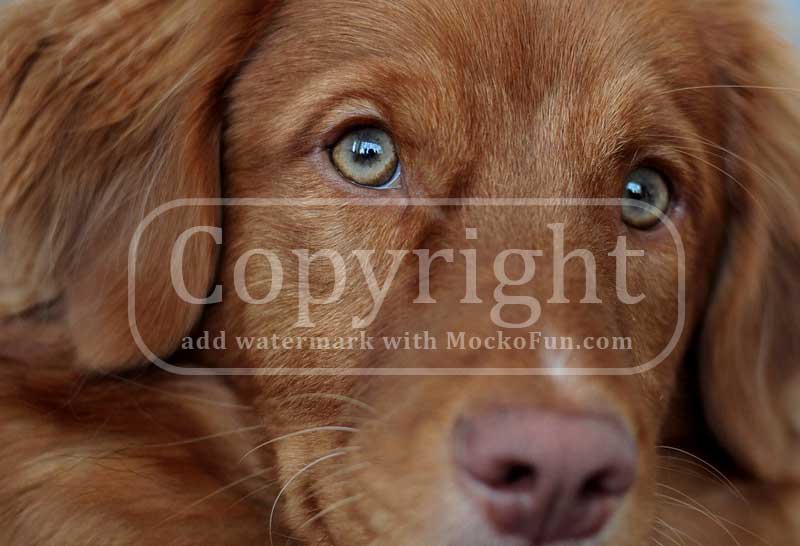 Watermark Photos Online for Free
MockoFun is not only a powerful photo editor but also a great watermark maker. Create your own watermark online free: choose from over 800 free fonts and hundreds of vector elements available for free. So, continue reading and learn how to create a watermark for photos with MockoFun.  
Let's make a photographer watermark logo. To create your watermark logo, make a New document. 
To write text, click on the Text tab from the left side menu. You can add a simple text or a curved text from the list.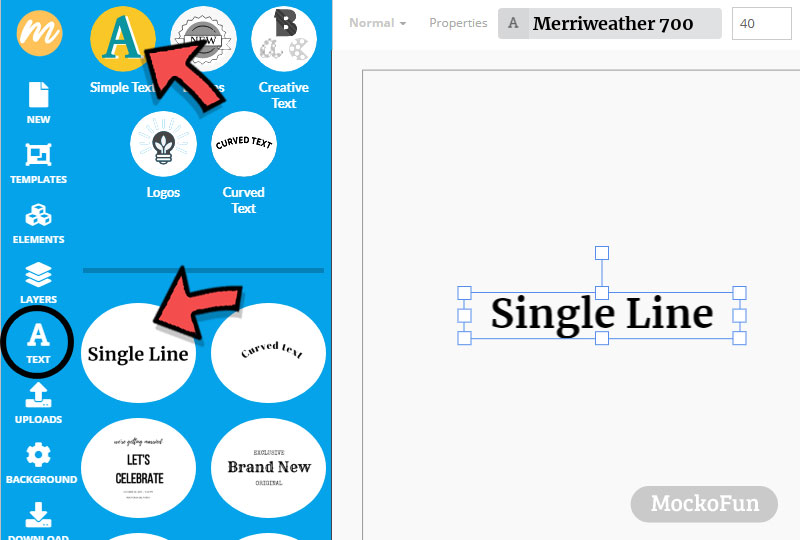 Double click on the text to edit it. Write your name or your brand. You can change the font and the size of the text. I will go with the signature font called Mrs Saint Delafield font, with Size 90.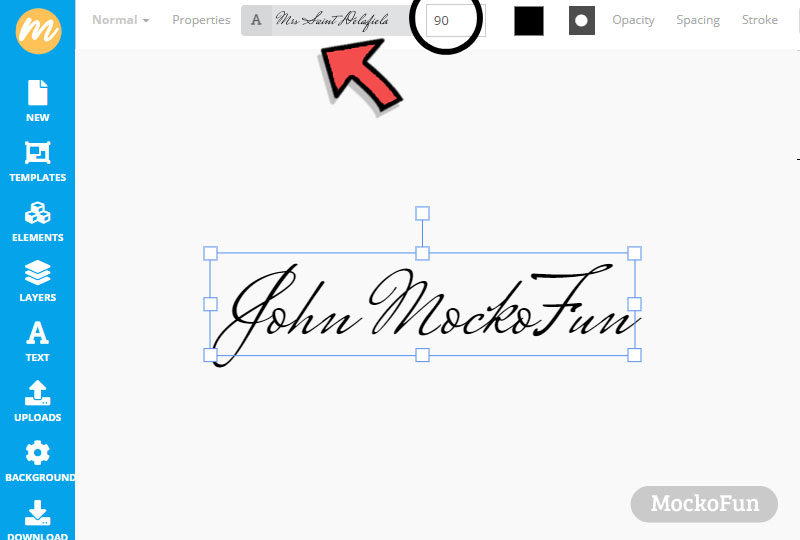 Add another text box. Write the word "Photography" or add another text that describes your business. I use the Open Sans font, weight 300 and Size 20. Set the Spacing of the letters to 500. The Letter Spacing slider goes up to 200 but you can input 500 or more.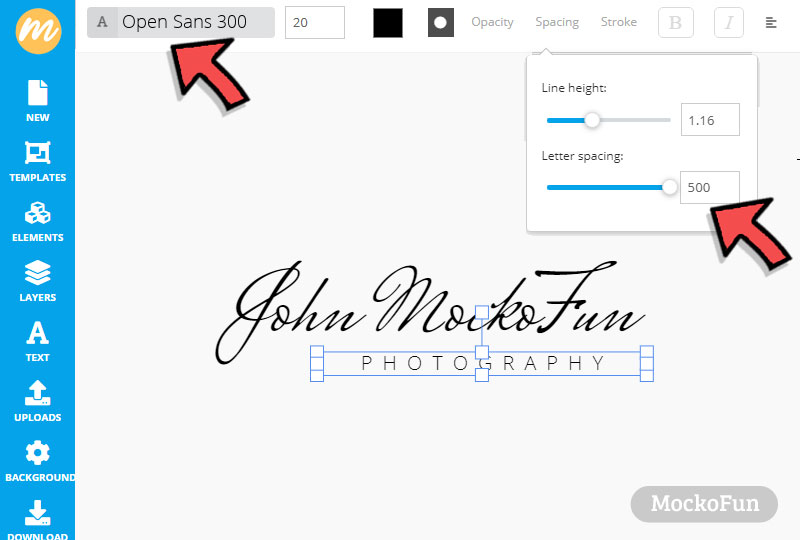 Usually watermark contain some kind of graphic images. MockoFun has lots of free vector shapes to choose from. To make a photography watermark, go to Elements > Shapes and search "Shutter". Then click to add the shutter shape.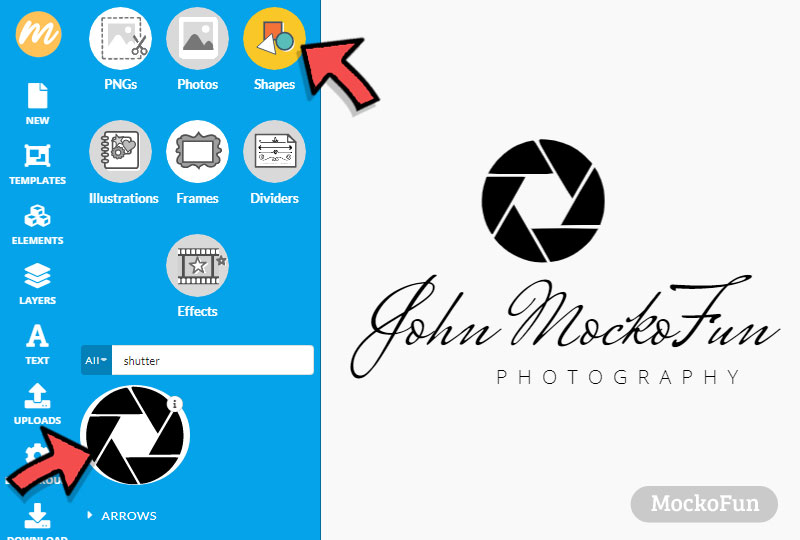 You can also use a curved text or a circular text to make a watermark. It will look something like this: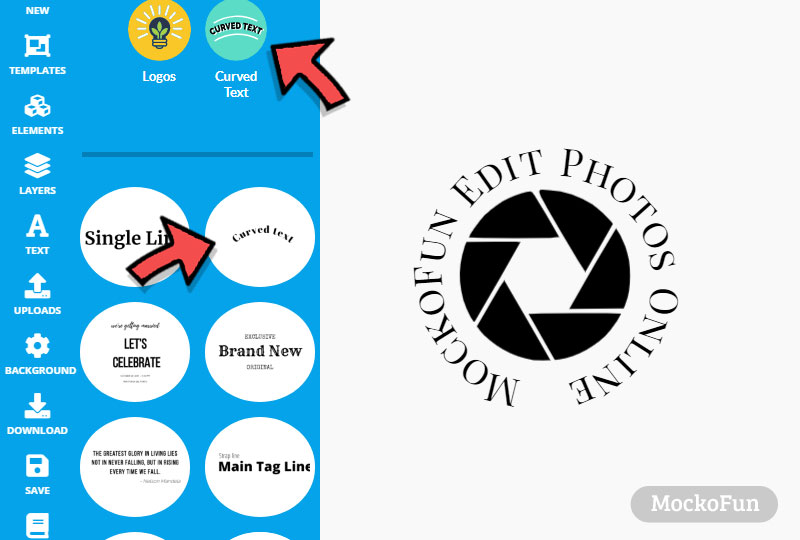 Click on the Save button to save the watermark. Your watermark template is saved on Templates > My Templates. 
To add watermark to photo online, the first step is to create a New document and Upload your image.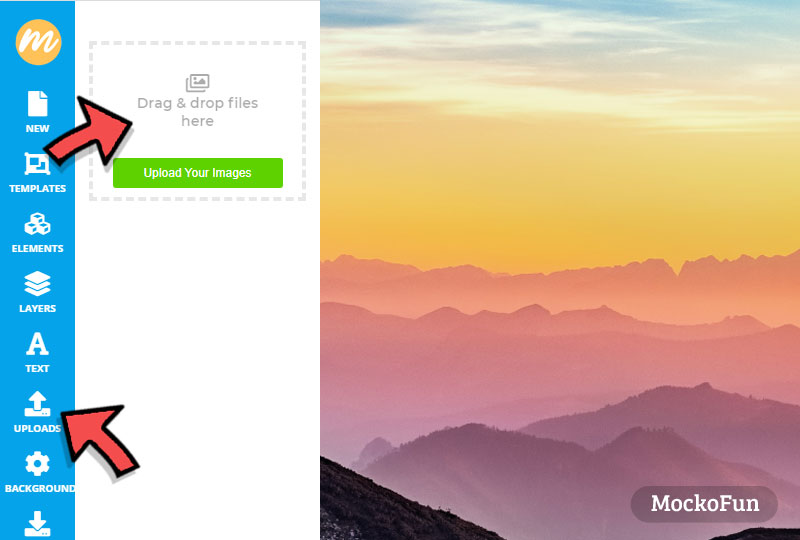 Then, go to Templates > My Templates and click on the Combine with Current Template button. The watermark template will be added to your photo.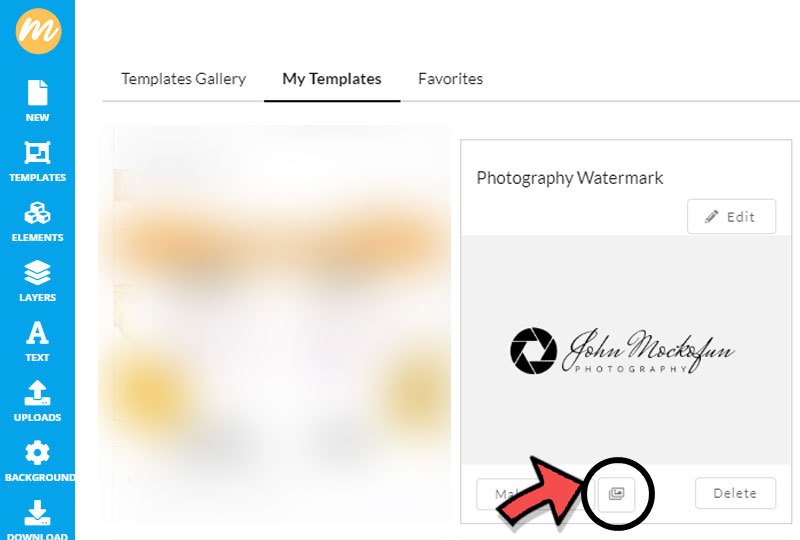 Go to Layers and select the layers of the watermark. Keep the Shift key pressed.  Then, you can move, resize, rotate, etc. I will lower the Opacity to 30%.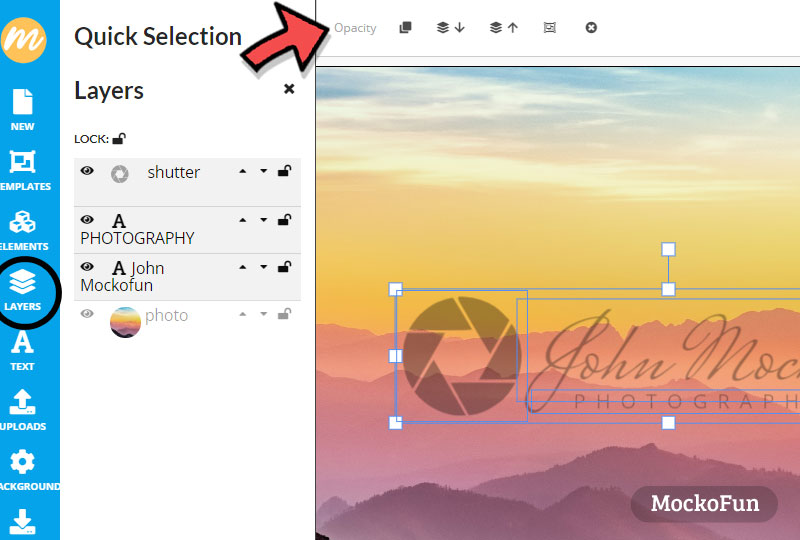 The MockoFun photo editor has also blend modes like in Photoshop. So, you ca use the Overlay blend mode for the watermark. For photos that are darker, you can change the color of the watermark to white.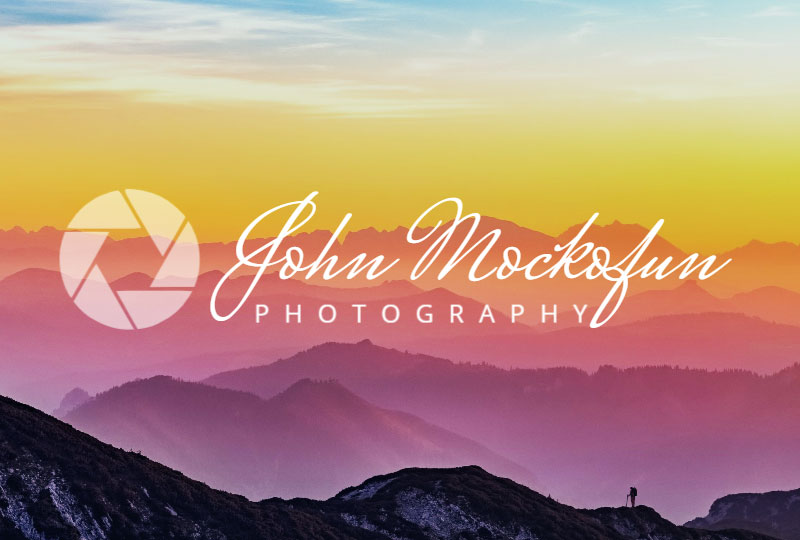 In the list of predefined text, in the Text > Logos category you have free watermark signatures that are ready to use as photography watermark. Just click to add the watermark signature to your photo.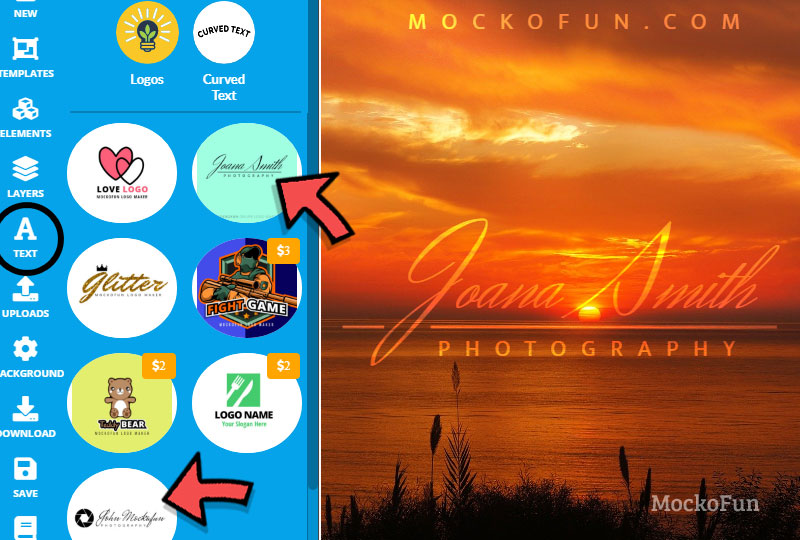 If you want a transparent watermark use white color for the watermark with Overlay blend mode. 
You can easily create any watermark design you want. The internet is a huge source of watermark ideas. Check out this collection of watermark ideas from Pinterest.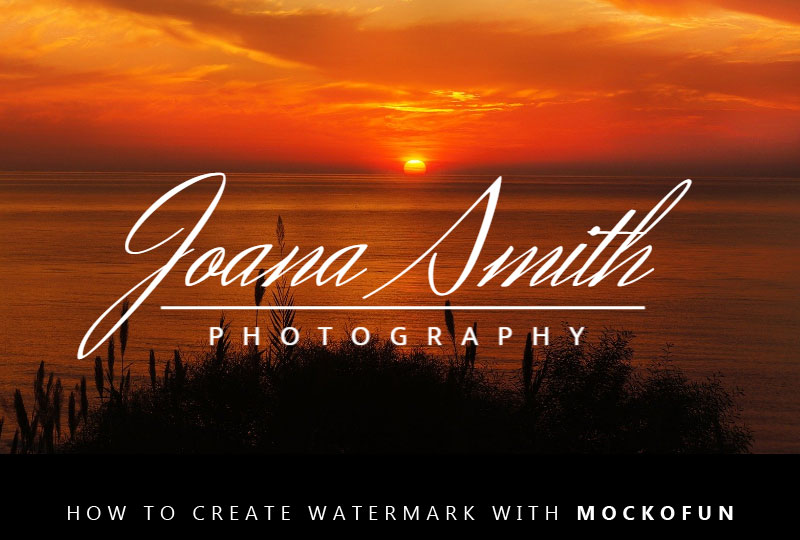 To watermark pictures in a cool and modern way, use this transparent text effect. You can change the font, the color and the font size.
For Photoshop users: check out this free transparent text Photoshop action.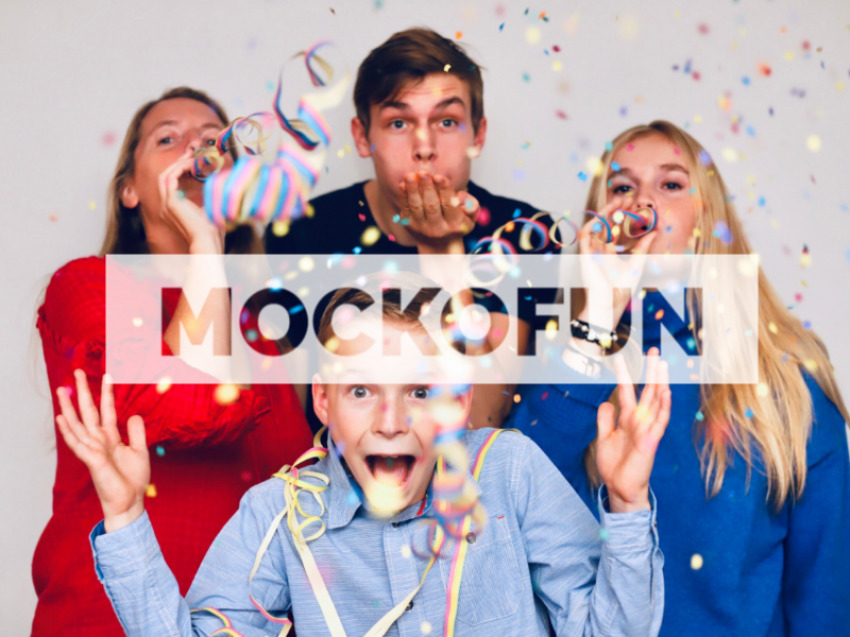 Here are some useful tips that you need to take into account when making a watermark.
Don't use a watermark that's too small or transparent. Anyone could easily crop or remove watermark to steal the photo. 
If you use a watermark that is too large or dark, it will take over the photo. Choosing a big watermark signature is a great way to promote your brand or your name as a photographer. 
Choose the right font. Here are some awesome photography fonts that you can use with MockoFun. For making a signature logo, use one of the signature fonts. The best font for watermark is the one that looks great on your photos. MockoFun has lots of watermark fonts to choose from.
Make a watermark with Mockofun – is easy and free! Use simple text, curved text, choose from 800 free fonts, add graphics/shapes, etc. Save the watermark as png transparent or place it over your photos.
Now you know how to create your own watermark. With MockoFun you can do all these online. And most of all it's free and easy to use. So, have fun with MockoFun!
YOU KNOW IS FUN. IT'S MOCKOFUN.
75% of marketers

use visual assets
Unleash your creativity and make awesome designs. You don't need to be a graphic designer to create something amazing!
Learn MockoFun from these quick tutorials for beginners. It's quite easy!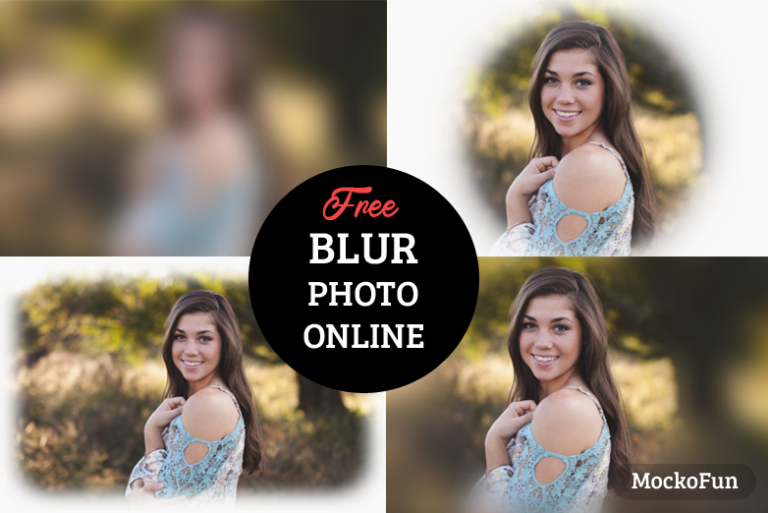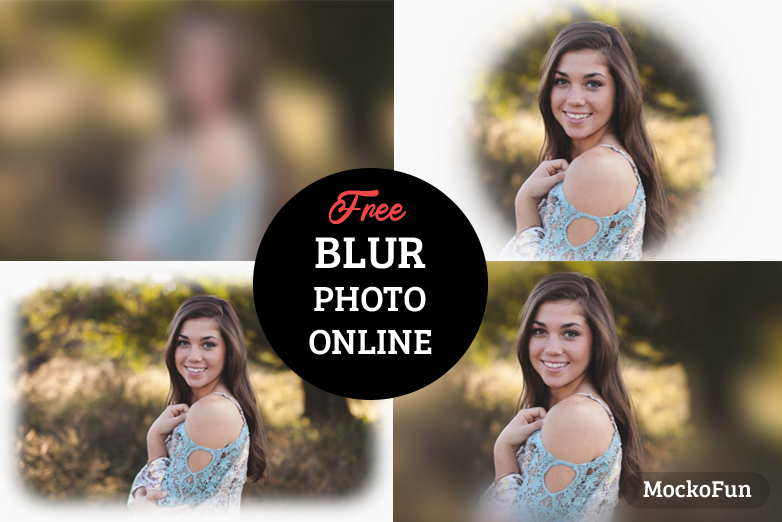 Use MockoFun's online blur photo editor to blur background quick and easy in just a few steps! With MockoFun, you can blur pictures in so many creative ways using the Blur Filter.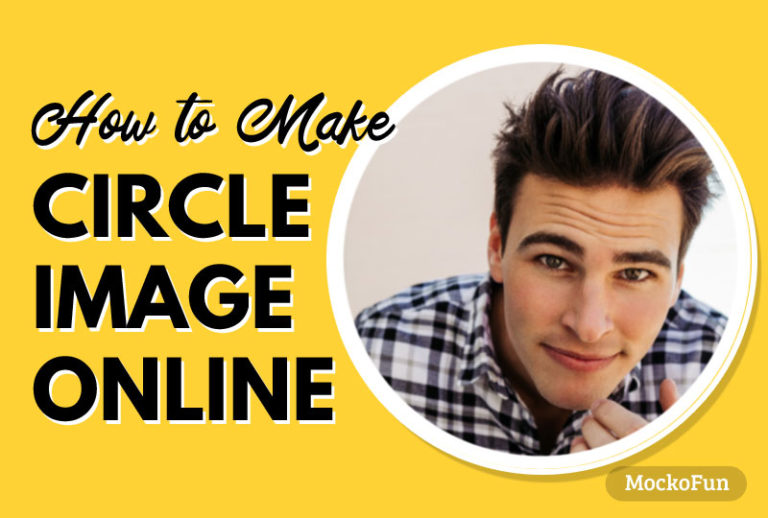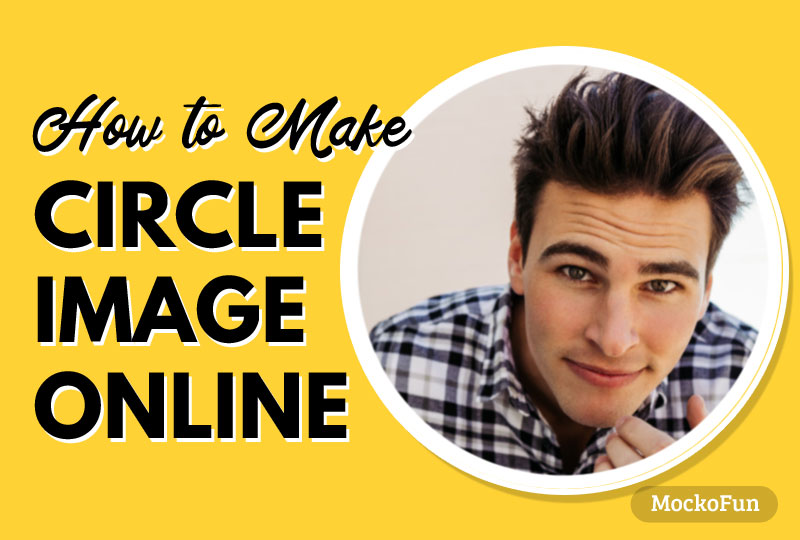 Learn how to make a circle image online with MockoFun. If you want to get really creative, you can also use other shapes to crop pictures into shapes.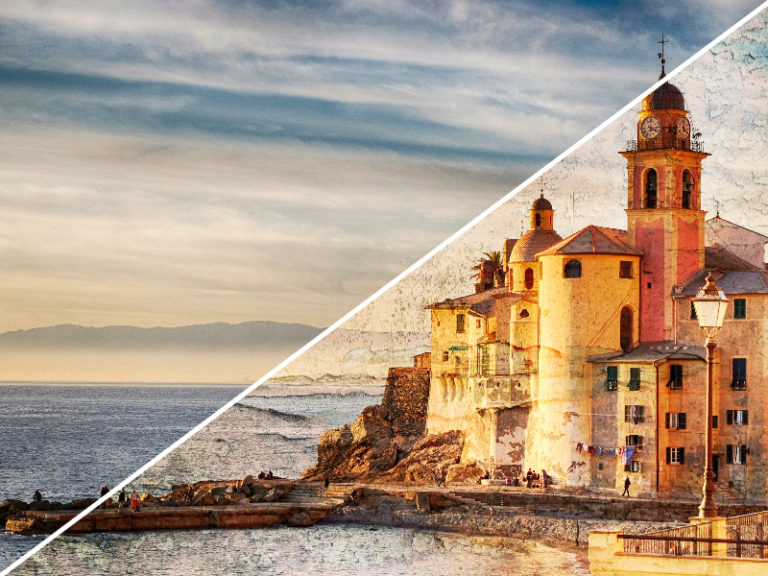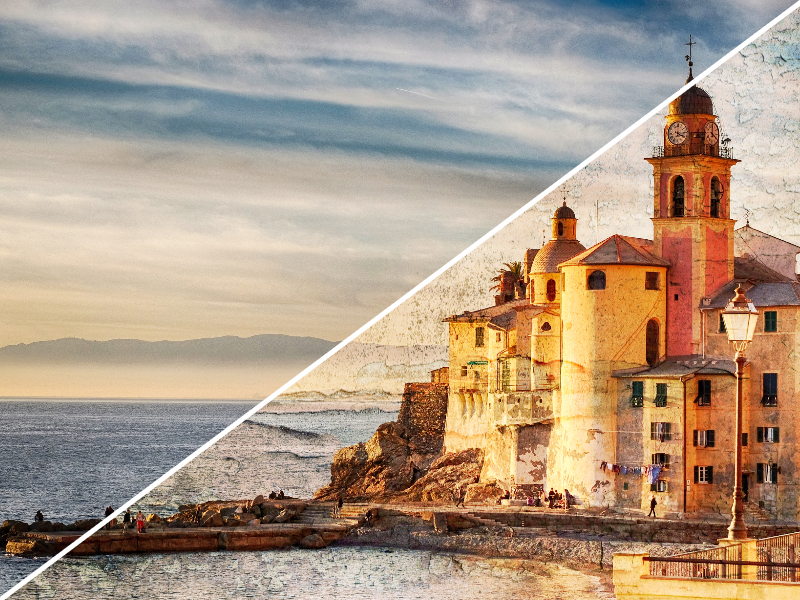 Learn how to edit photos online using basic filters and adjustments. You can use Blending Modes to enhance the effect.