Want Curved Text? MockoFun Is Great For Making Curved Text
Do you want to make curved text online? Use our free curved text tool!
Adding a text along a curve makes a strong graphic statement. You can easily create a logo on a circular path with the MockoFun text editor. Using our curved text generator you can also add curved text to photo.
Many graphic designers use curved text to create logos, labels and badges. When you choose a curve for your text, your design becomes more interesting and cool. Use MockoFun as a circle text logo maker.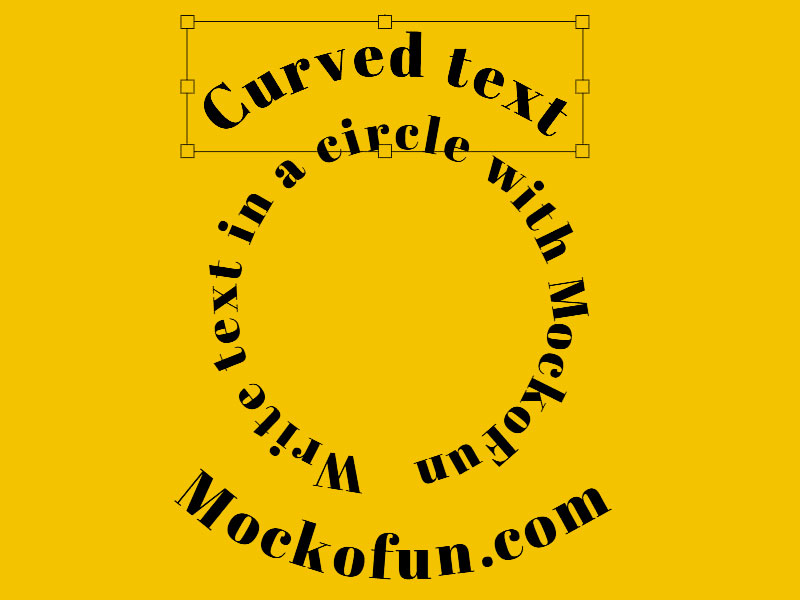 If you have Photoshop, check out this free circle text Photoshop action, otherwise use MockoFun for making circular text online.
Here are some of the bend text effects that you can make quite easily using MockoFun as text editor: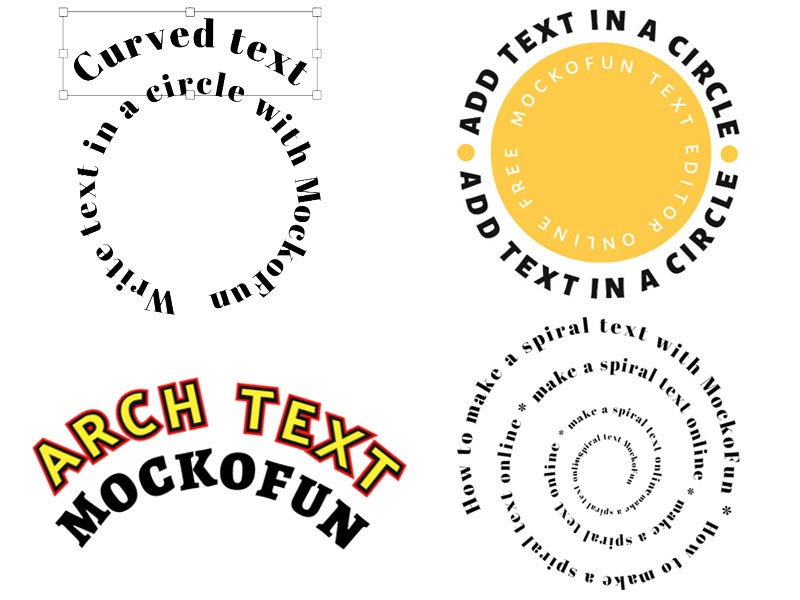 So, how to create curved text online in just a few steps? First, open the MockoFun text editor and create a new document. You can choose one of the document presets or you can choose a custom size.
On the left menu, click on the Text tab to open the text editor. From the Simple Text category, choose the Curved Text as shown in the preview image.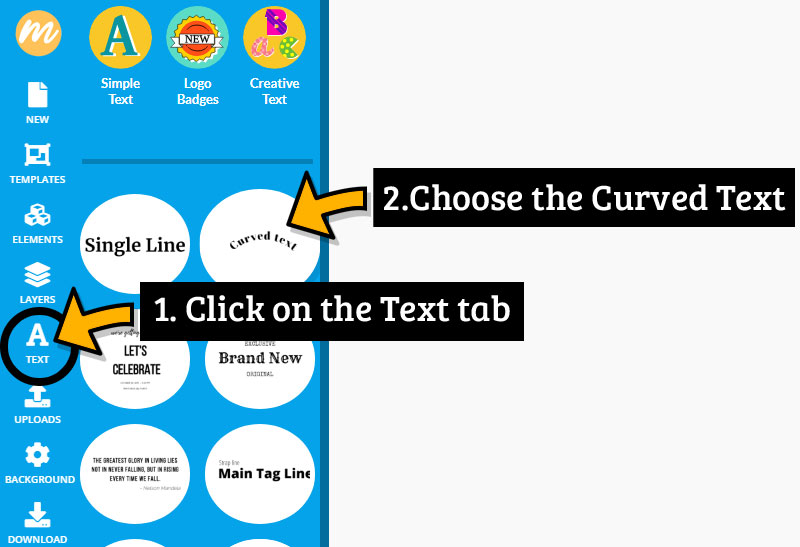 The curved text is added and you can now make adjustments. Here are some of the things that you can customize: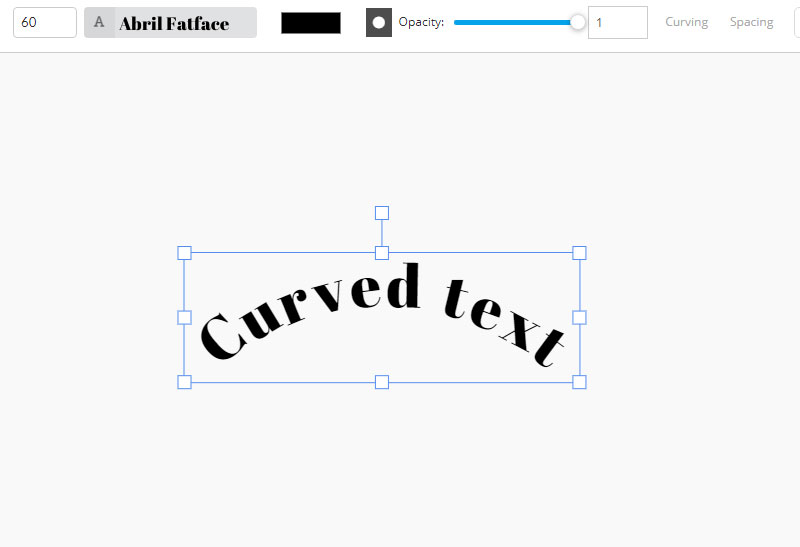 With this curved text generator you can easily create curved font using any font type you like.
So let's change the curve settings. To do this, click on the Curving button from the top menu.

By default the curving is set to 300. To make the curve more rounded set the size to 200 or less. Or increase the size to make the text arch bending smaller.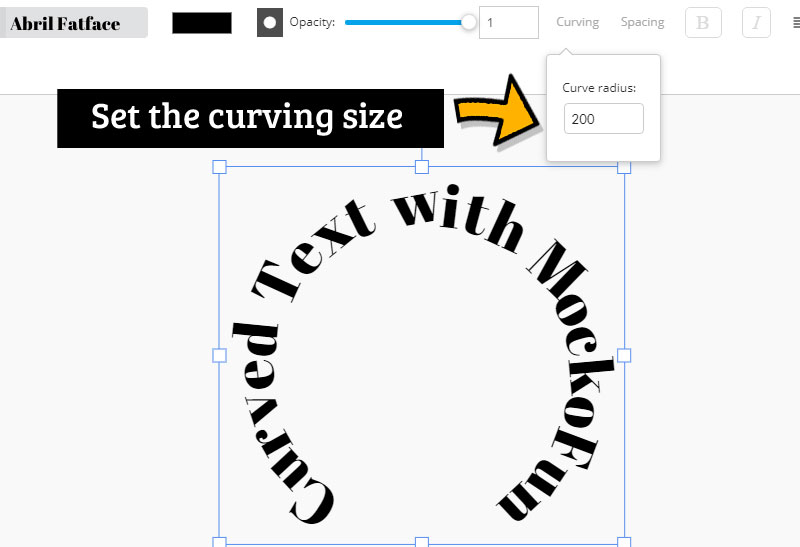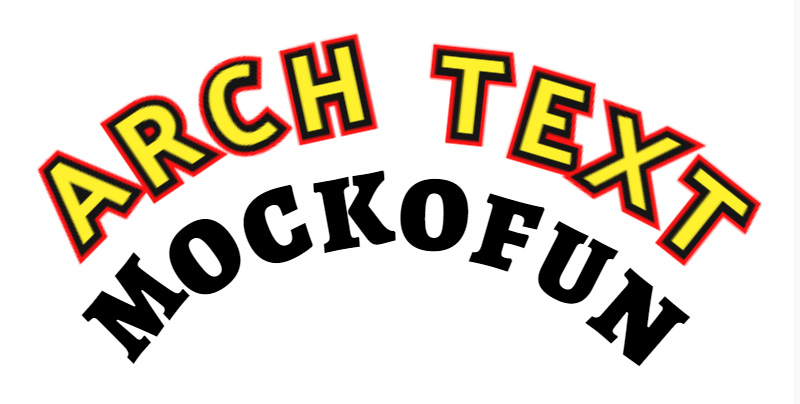 So, you don't have to have Photoshop to bend text. You can do it online. Use MockoFun if you need a a circular text generator.
If you want to write text in circle, double click on the curved text and type your text. Then, adjust the Curve radius setting to make the text circle smaller or bigger, until you get the circular text you want.
You may have to also adjust the font size or the letter spacing of the text to make a complete circle.
In the example below, by setting the curving to 200 I get a text in a circle or a circular text.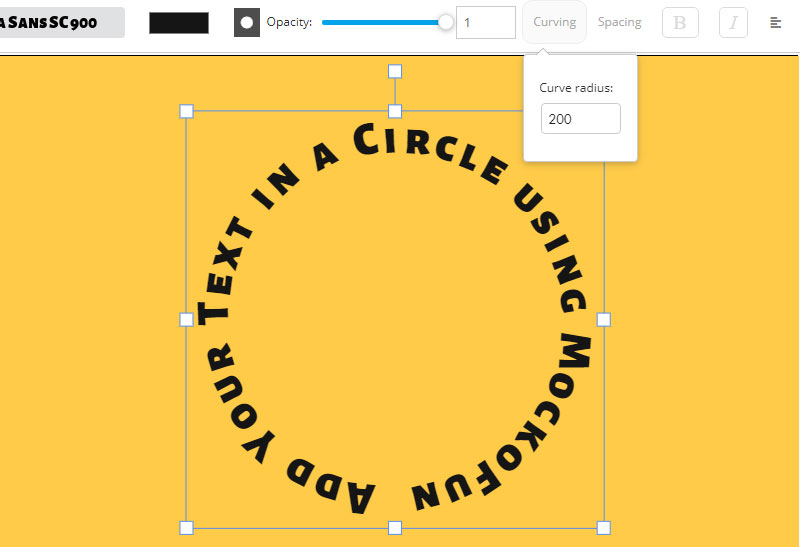 When you write in a circle, the text in the lower part is not easy to read because it's upside down.
To fix this, you can make a curve text under using negative values for the Curving. Using negative values for the curving will make the text curve down.
So, to make a text in a circle that is easy to read, first you have to add a Curved Text and Duplicate it.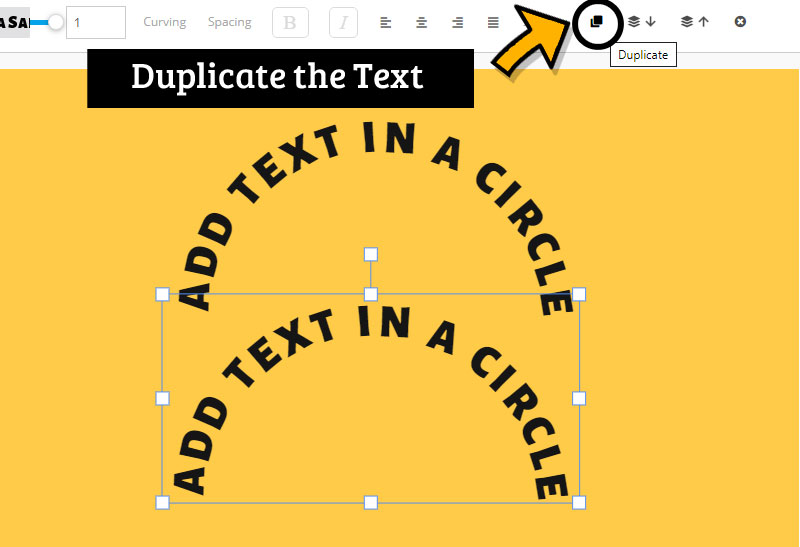 Then make a curve text under use -200 for the Curving.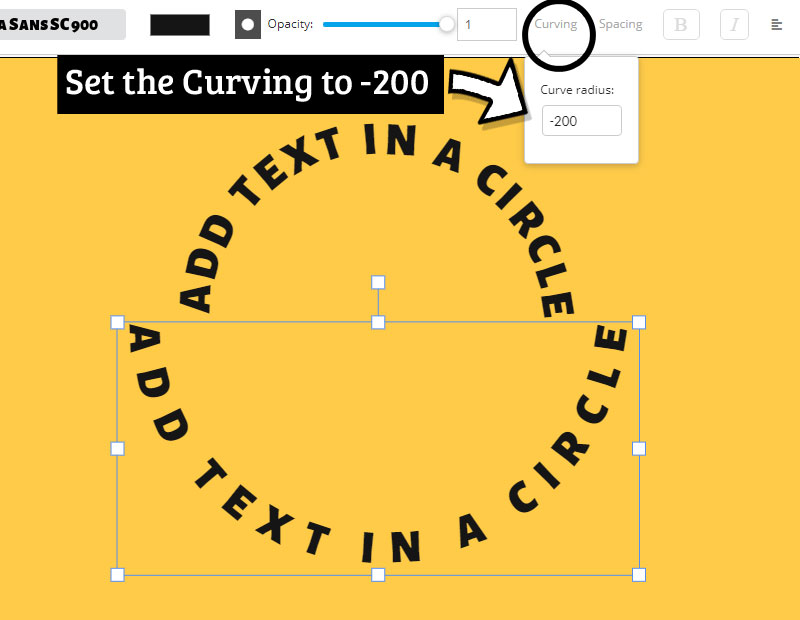 As you can see the second curved text is different from the first one. The arch is different. To fix this, go to Spacing and set the letter spacing to 3. Also set the size of the Curving to -155. You get an arch text that matches with the first one.
Depending on your font type, font size and letter spacing, you might have to make other settings. I added a circle from Elements > Shapes > Geometric, just to make sure I get the circle text right.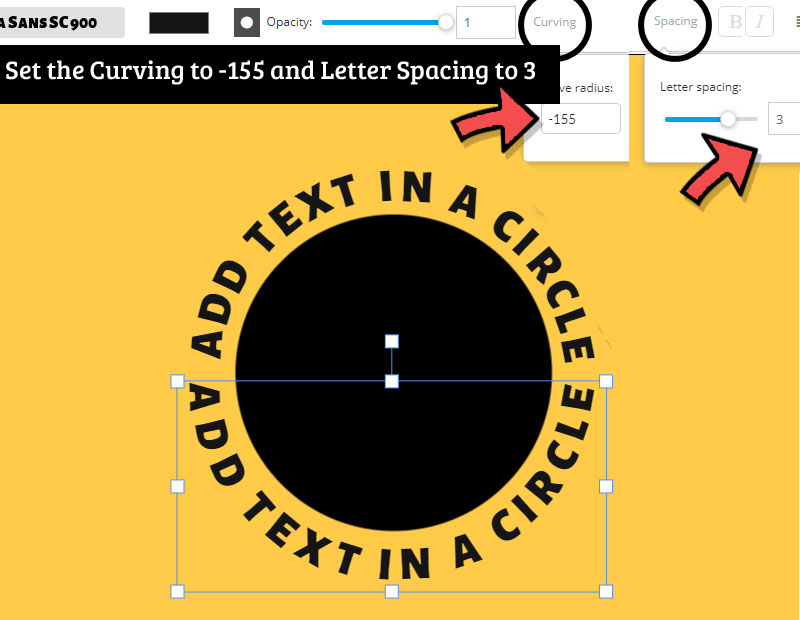 With this text in a circle generator you can make really awesome typography, curved font, arched font, circular text, etc. Create your own curved text logos, badges, labels using the curved text and circle generator.
So, you can use MockoFun also as a circle text generator, free curved text tool and curved text logo maker as well.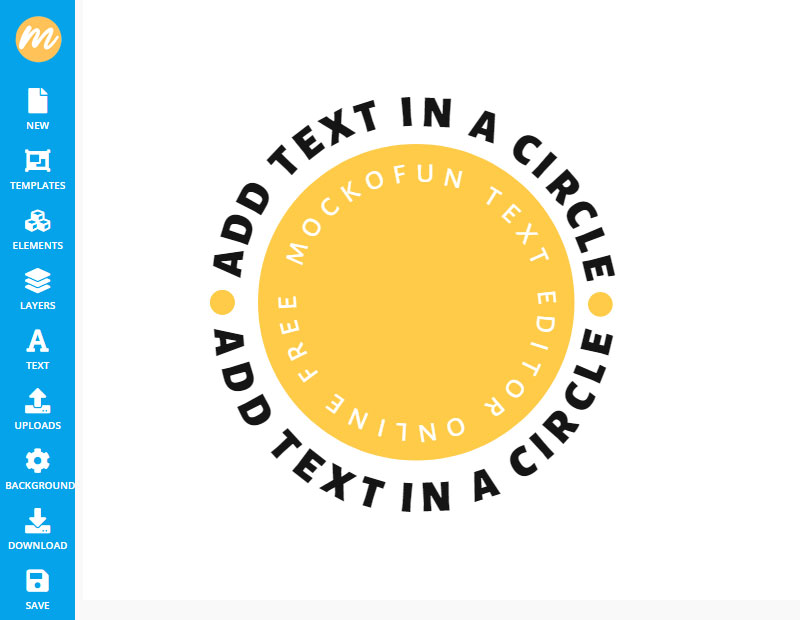 The round text is useful if you want to make a rubber stamp. MockoFun is a free and easy to use digital stamp maker.
Our free round text generator can be used to create a round text logo online in just a few minutes. Combine the curved text with circles shapes, add outlines and you have a nice looking round logo. Check out these online round logos that you can use for your business.
If you choose a circular logo for your brand, you can create it online with our free graphic design tool.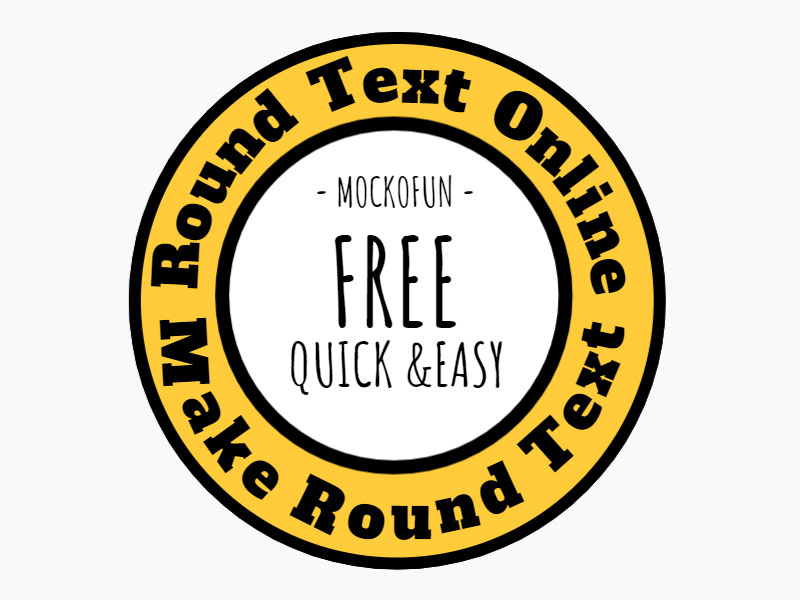 Circular text logo with curved words
Another coot text effect that you an make is the wave text.
MockoFun is a useful wavy text generator.  From the Curving drop-down list choose Waves. You can easily create wavy text using the wave path. Edit the Scale to resize the path.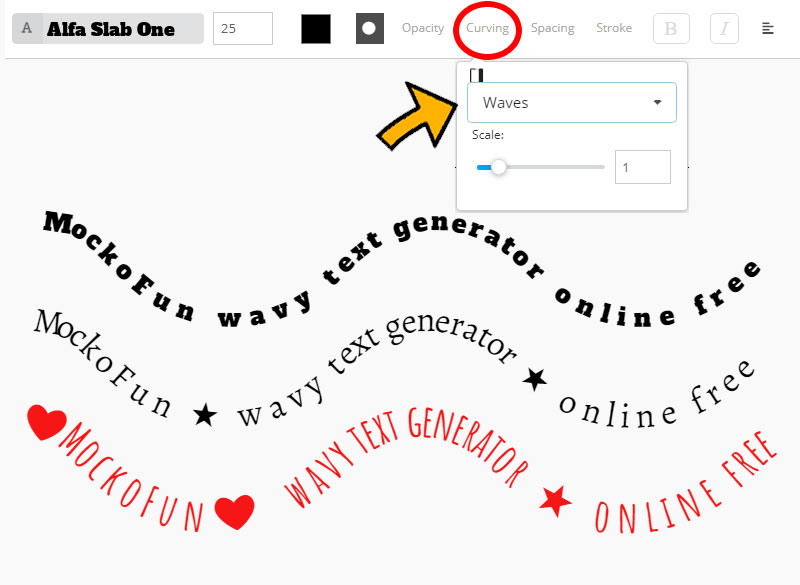 You can of course make your own interesting wavy text effects. Add a Curved Text and duplicate it. Set the Spacing with a negative value to reverse curve text. Adjust the Curving and Spacing of the letters to match with the first curved text.
Place the second curved text near the first one and you will get a wave text. Repeat the steps as many times as you want to create this curved writing.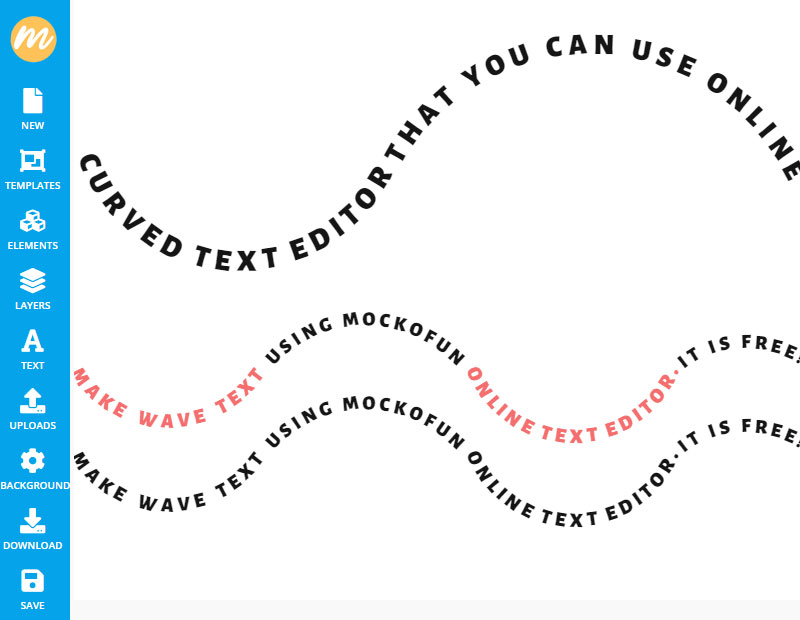 If we are talking about wavy text, please check out the MockoFun wavy font from the list of free fonts available in our online text editor.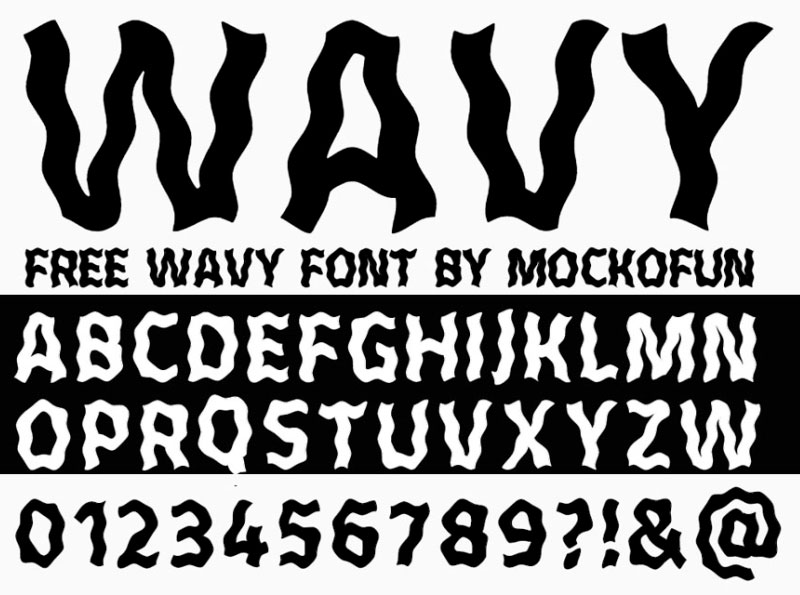 With MockoFun you can also make spiral text. From the Curving drop-down list choose Spiral or the Reversed Spiral. Set the Scale of the spiral path, choose the font that you like, the color of the font, etc. You can even insert text symbols in your text.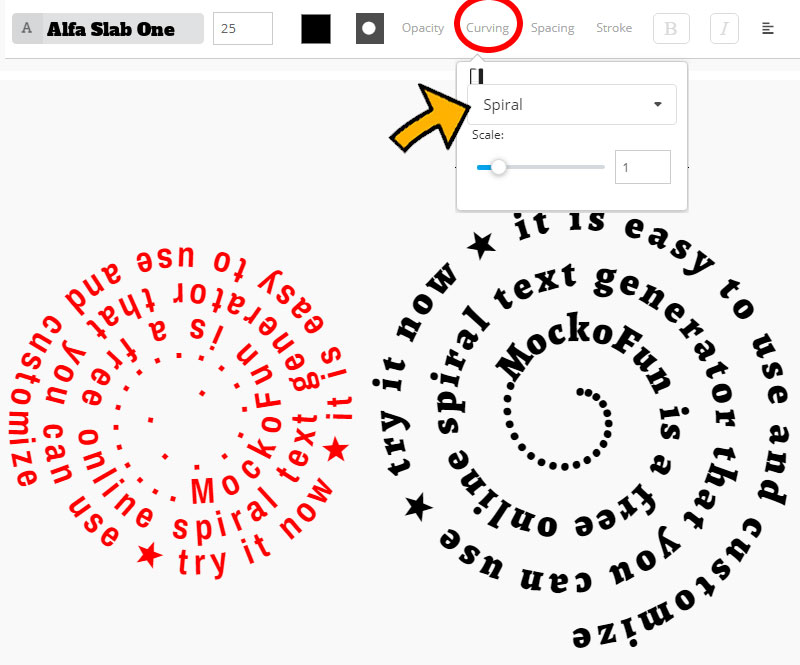 So, you can use MockoFun also as a spiral text generator. You can make interesting spiral text effects like in the preview. Add a Curved Text and duplicate it. Use the top handler to Rotate the text.  You can also resize the text box using the corner handlers. Adjust the Curving and Spacing of the letters to create a spiral text.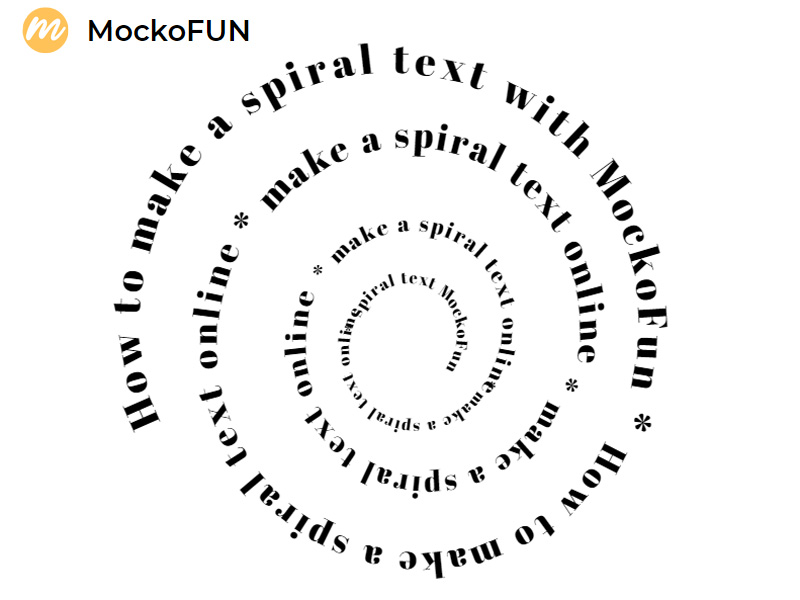 Combining these techniques you can make really interesting bending text effects.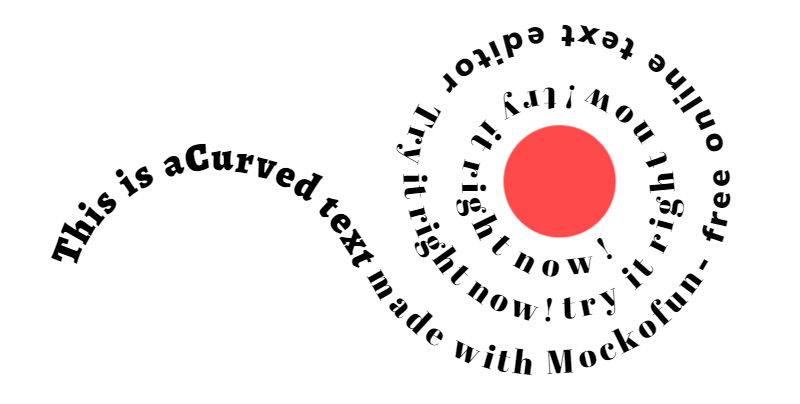 Write Text on Path (Heart Text)
With MockoFun you can make a heart text in just a few seconds. From the Curving drop-down list choose Heart and you will get a text on heart like in the image below.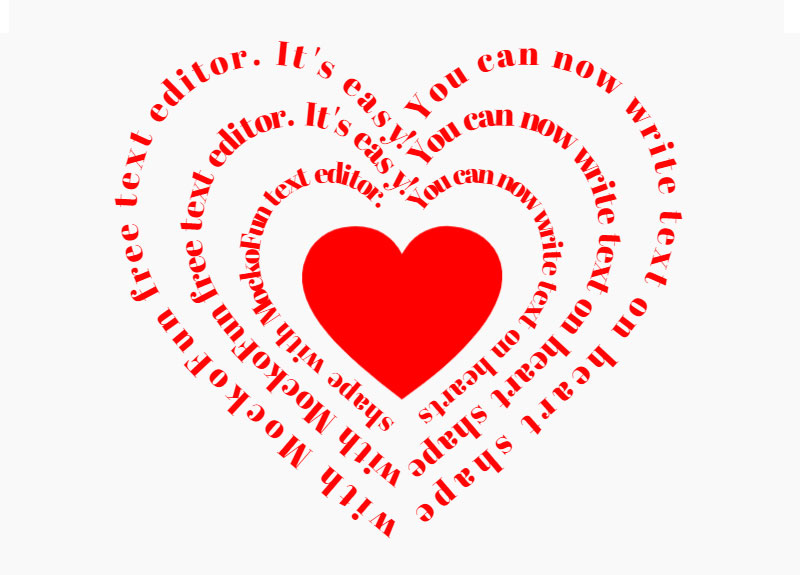 On the Text > Curved Text menu you have all the rounded text options added as presets. Click to add rounded text, spiral text, circle text, wave text, etc and customize it to your liking.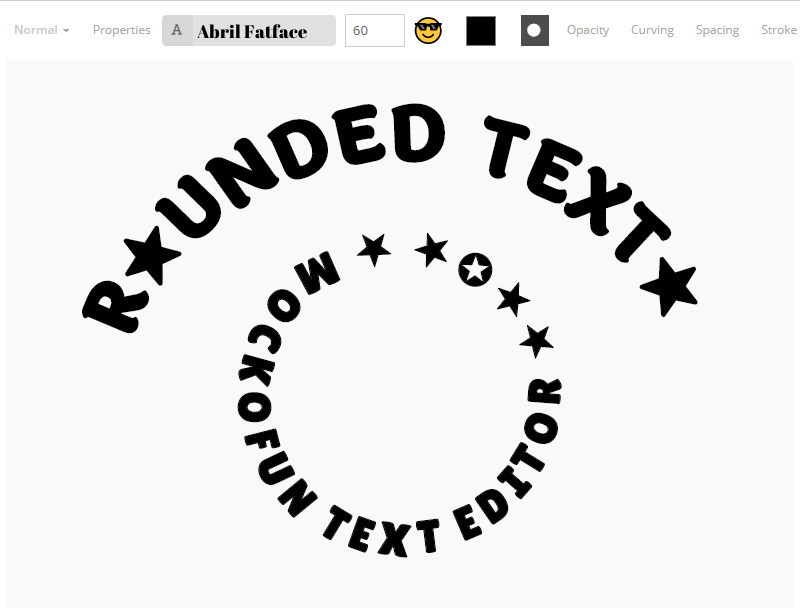 In MockoFun you can insert text symbols into your text. Just copy and paste the text symbol. The list contains text symbols, emoticons and emoji.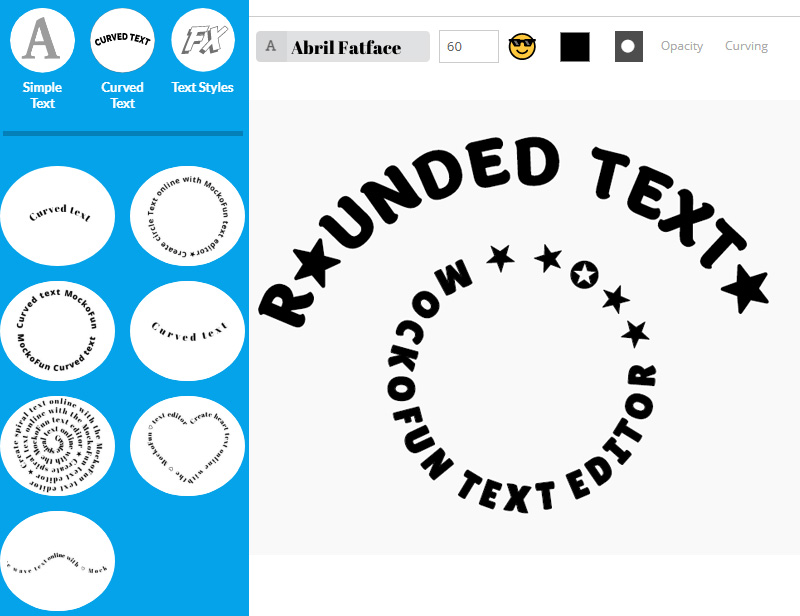 Add Curved Text To A Photo
Yes, you can add curved text to a photo online for free with MockoFun! Go to Elements >  Photos and add a photo. Or click on the Upload button and load your own image.
Then, add the curved text that you want following the instructions mentioned in the steps above. You can combine as many curved text and normal text elements as you want.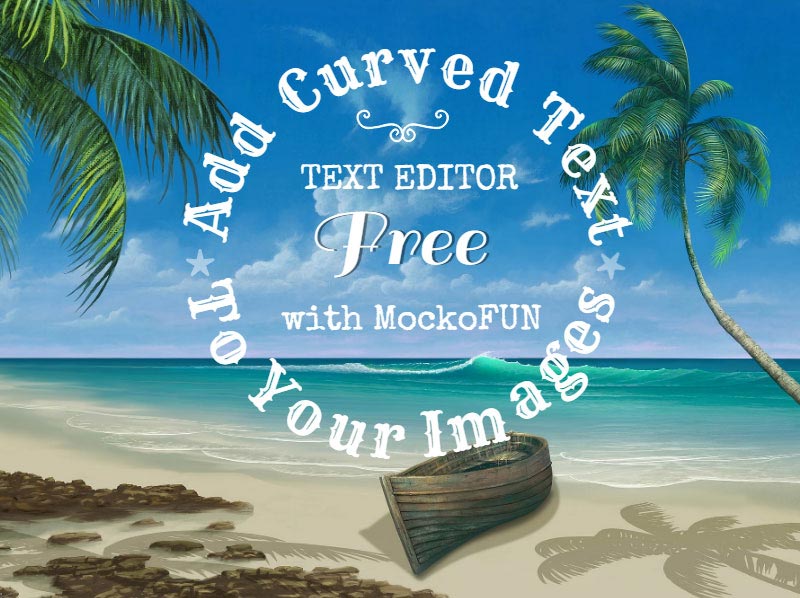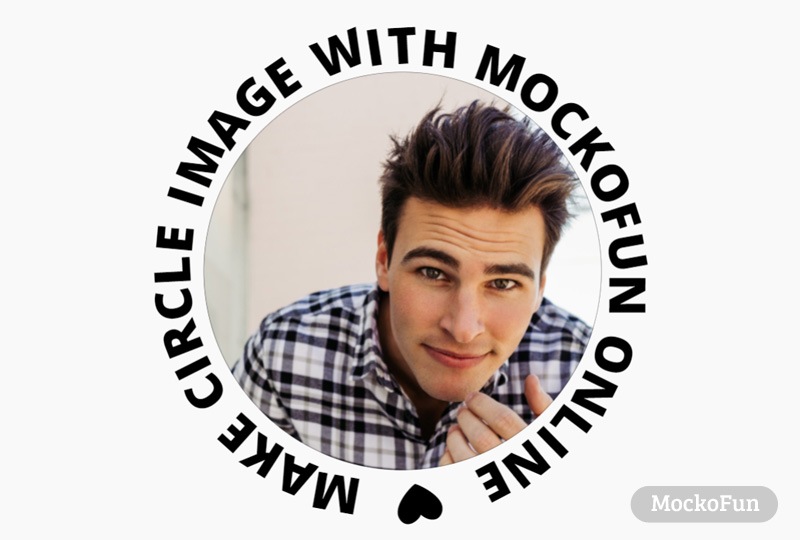 This round logo with photo is made using the MockoFun's photo filters. Add Levels adjustment, Posterize filter and Remove White filter to create this circle logo.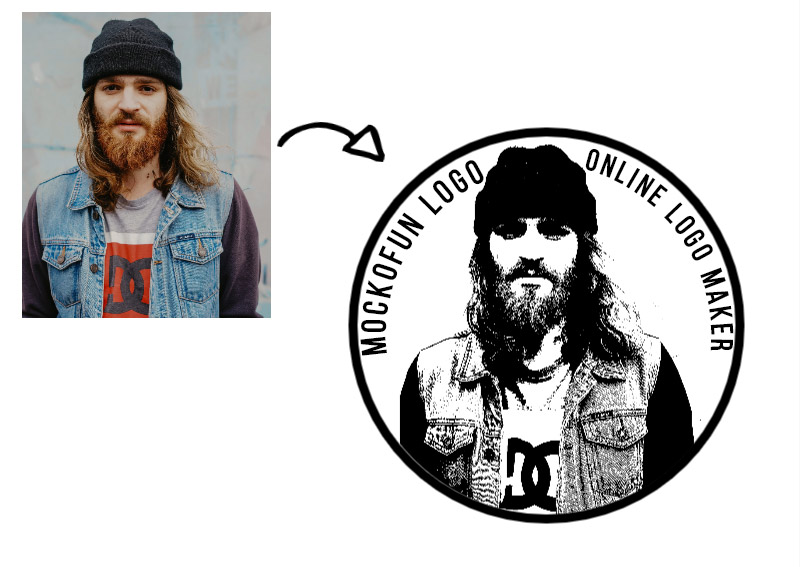 It's easy to make a badge logo with MockoFun's logo maker. You can create awesome circle logos or a label logo in just a few minutes using curved text and vector graphics. Check out these round logo templates.
Go to Elements > Shapes and you have lots of vector shapes to play with. or making badge logos you can use circle shapes from Geometric category. Also, check out the Labels & Ribbons category for more vector shapes.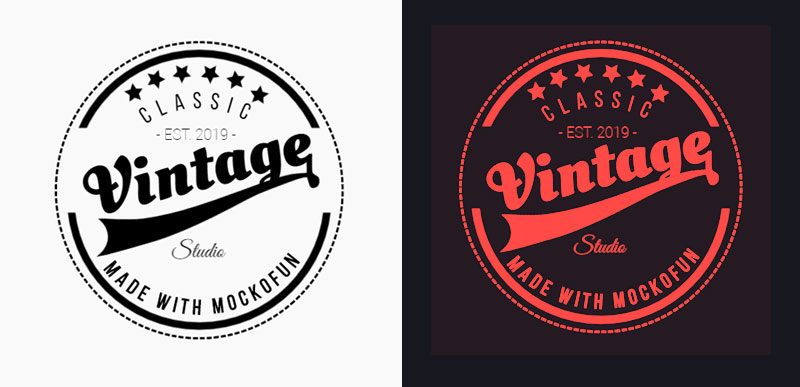 MockoFun is a great online label maker that you can use to make custom labels. The round labels looks great for jars, bottles, cosmetics and other products.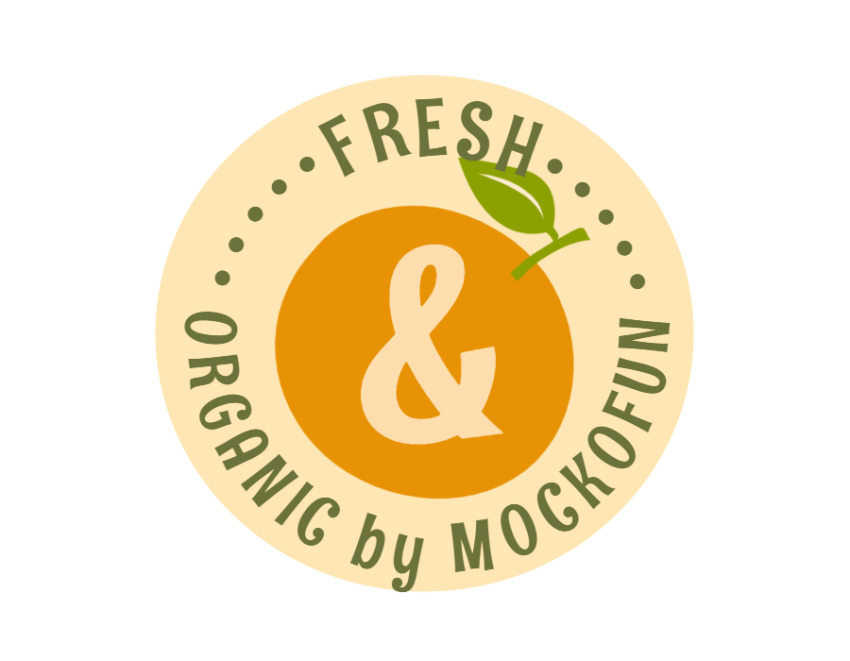 How to curve font? You can use MockoFun to turn any regular font into a cool looking curved font.  We have lots of rounded fonts to choose from. And, with the curved text generator you make curved fonts and curved lettering in just a few seconds!
No need to use complicated and expensive programs to make curve letters, you can use MockoFun instead. The curved letters look great especially for making logos online.
MockoFun is such an useful logo text maker.  And, if you are looking for logo fonts, MockoFun has a wide selection of free fonts that you can use to make logos online.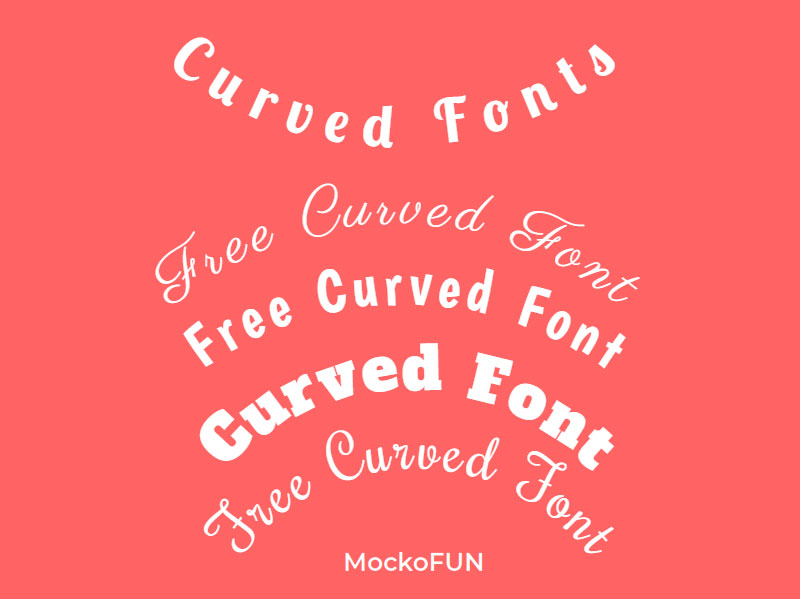 Curved Letter Fonts made with MockoFun
As you can see, you can curve any type of font including signature fonts. So, please take a look at this collection of signature fonts that you can download for free.
Use MockoFun as a circle font generator. You can create circle fonts in just a few simple steps. I used the font Merriweather 700, Size 100 and with Letter Spacing 600.
Then, I added circle shapes behind each letter. Go to Elements > Geometric menu and add the circle shape. If you reduce the Color opacity to 0 and add a Stroke outline, you get a circle outline font.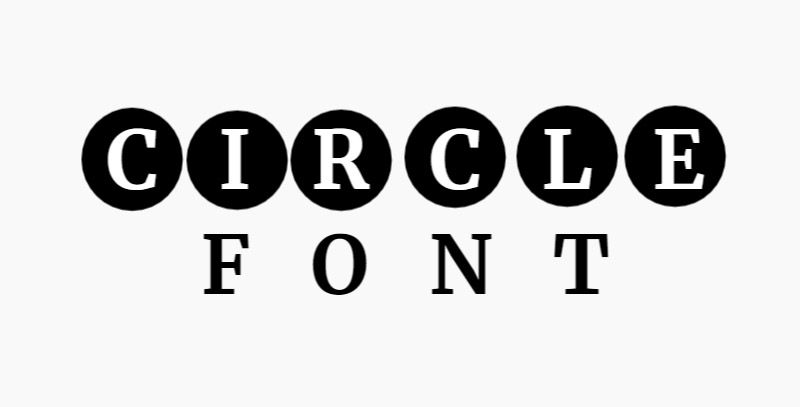 How to Make Curved Text with MockoFun (Video)
To see exactly how easy it is to make curve text online with MockoFun, check out this quick video tutorial.
Now you know how to create your own curved text, wave text and circular text.
With MockoFun you can do all these online. And most of all it's free and easy to use. So, creating curved text is really fun if you're using MockoFun!
YOU KNOW IS FUN. IT'S MOCKOFUN.
75% of marketers

use visual assets
Unleash your creativity and make awesome designs. You don't need to be a graphic designer to create something amazing!
Learn MockoFun from these quick tutorials for beginners. It's quite easy!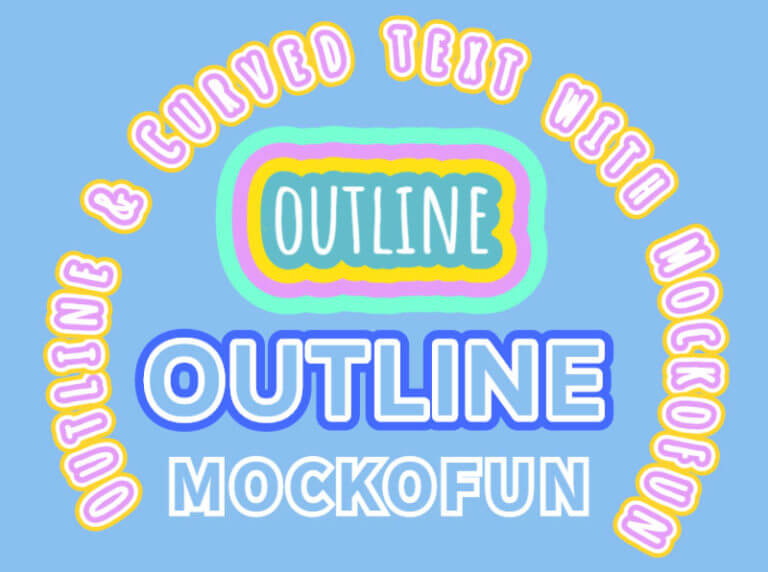 It's easy to create a stroke text online using MockoFun. Make your own outline fonts in just a few seconds.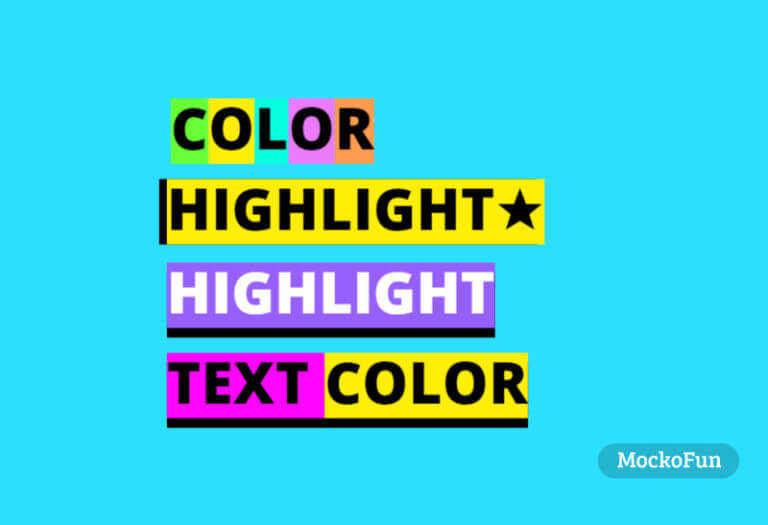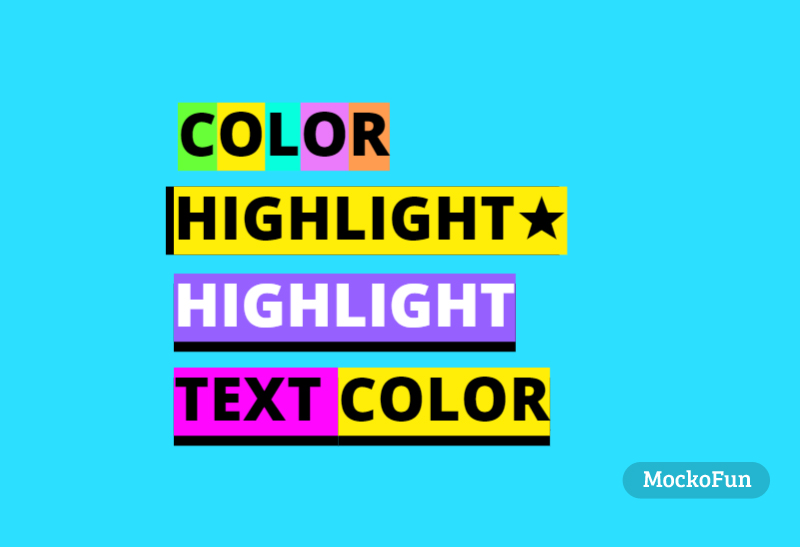 Do you want to highlight text online? Use MockoFun it's free and easy to use!
Create an awesome highlighted text in one minute.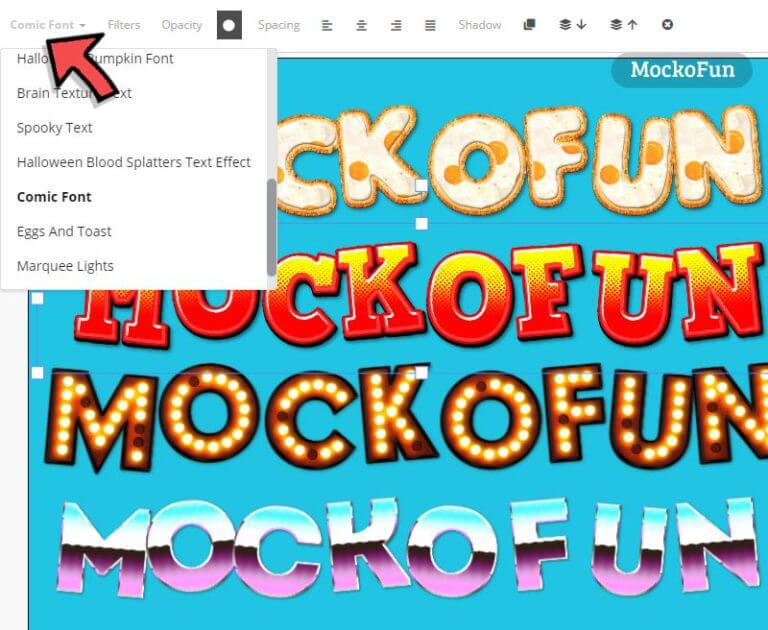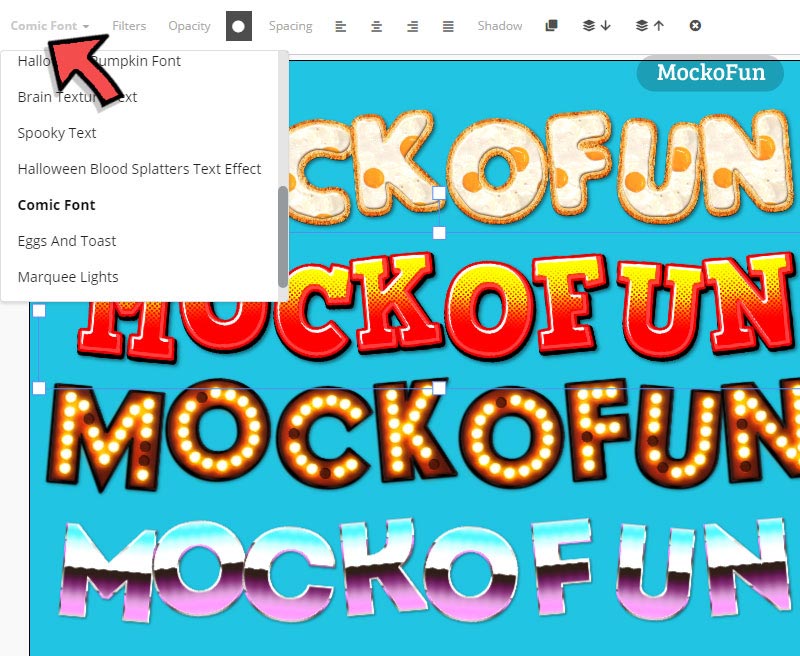 Create online text effects using MockoFun text editor. We have lots of letters images to choose from.