How To Install Fonts In MockoFun
MockoFun has over 1000 fonts available for all users to create wonderful graphic designs.
But, what if you want to use a font that is not in MockoFun?
Good news! 
MockoFun now allows uploading & installing new fonts with just a few clicks. In this post I will show you how to install fonts in MockoFun. You will then be able to use those fonts for all types of text like simple text, curved text, spiral text, etc. and apply all the text styles and text effects that you are used to.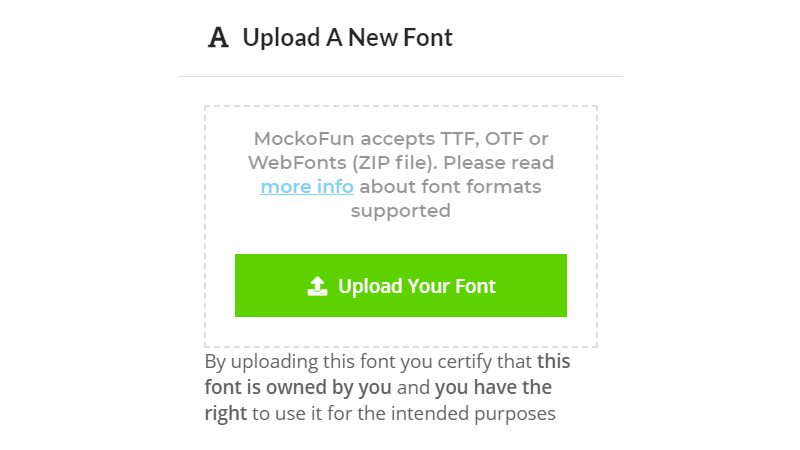 Before Installing Font Files In MockoFun
Custom font upload is a premium feature in MockoFun, so you will have to first register for a Premium User Subscription (starting at 4.99$/month).
Once you upgrade your account to premium, you will unlock the font upload feature.
To upload and install a new font in MockoFun you will first need to obtain the font files. Font files come in many formats and MockoFun supports most of them.
What Fonts Can You Install In MockoFun?
Virtually any font can be uploaded to MockoFun. So, if you want to try a font online, MockoFun is the perfect text editor to do that.
MockoFun supports the following file formats for upload:
TTF
OTF
ZIP (containing web fonts – please see below)
TTF & OTF Font Files
When you download a font you usually get a ZIP file containing a TTF or OTF file inside. You will have to extract that file from the archive and upload that font file in MockoFun.
TTF and OTF file are meant to be used on the desktop. When uploading these files, MockoFun will automatically convert them to web fonts. This will allow you to use them as the other MockoFun fonts.
ZIP WebFont Files
If you already have a webfont ZIP package, you can also upload that. Please note that the ZIP webfont package can only contain the following file types:
CSS (mandatory)
OTF
WOFF & WOFF2
EOT
SVG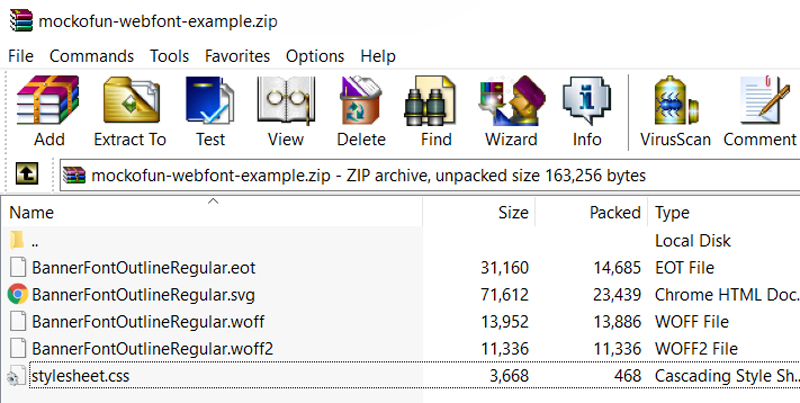 So, make sure your zip files contains ONLY these kind of files. It's also important that the CSS file is in the root of the ZIP file.
Download free fonts from sites like Font Squirrel, DaFont, 1001 Fonts or PhotoshopSupply.
If you are looking for high quality or premium fonts for commercial use you should check out market places like CreativeMarket or GraphicRiver.
IMPORTANT! Though you can download and install fonts from various font websites, you are requested to read the license information of the font. When uploading a font in MockoFun you certify that you have the right to use the font for your intended purposes.
How To Upload & Install Font Files In MockoFun?
To upload a new font in MockoFun, simply go to the user profile icon on the top right and choose My Fonts. 
The Fonts tab will pop from the side. Pressing on the green button Upload Your Font will allow you to choose the font files to upload from your computer. 
After uploading you will be able to use your new fonts right away.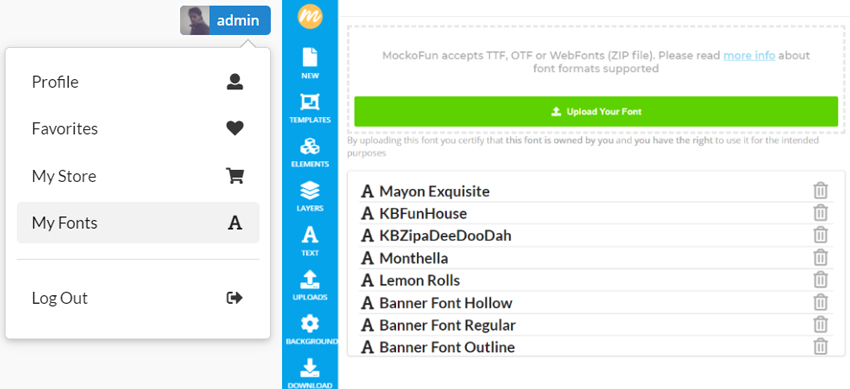 If you need to delete a font you have uploaded, simply click on the trash bin icon.
Another way to upload fonts in MockoFun is from the font selector (dropdown list).
Add a text object in the work area and click on it to select it. Under the font selector you will see the Upload Font button. If you press that, you can upload your font files and use them right away in MockoFun.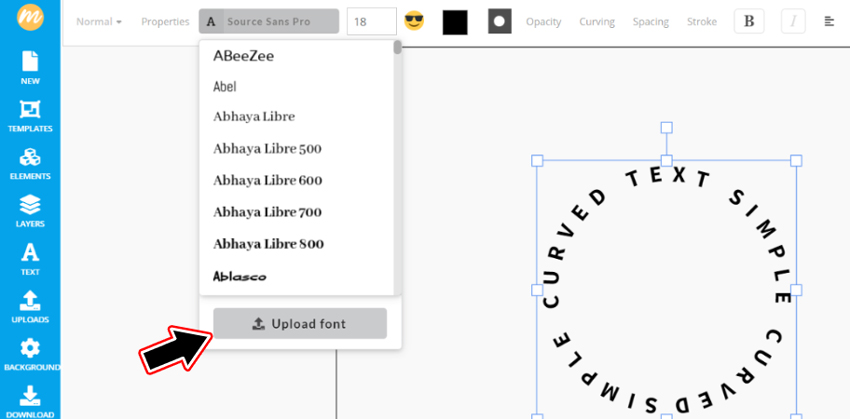 Either of the two methods above will have the same effect.
The newly uploaded font will be installed in MockoFun. Search for the name of the font in the font selector dropdown to use it.
IMPORTANT! Please note that the name of the font is the name given by the creator of the font, and not the by the name of the file uploaded.
MockoFun is one of the best online text design generator with over 800 fonts available for free by default. You can easily extend the list of fonts by uploading your own fonts.
YOU KNOW IS FUN. IT'S MOCKOFUN.
75% of marketers

use visual assets
Unleash your creativity and make awesome designs. You don't need to be a graphic designer to create something amazing!
Learn MockoFun from these quick tutorials for beginners. It's quite easy!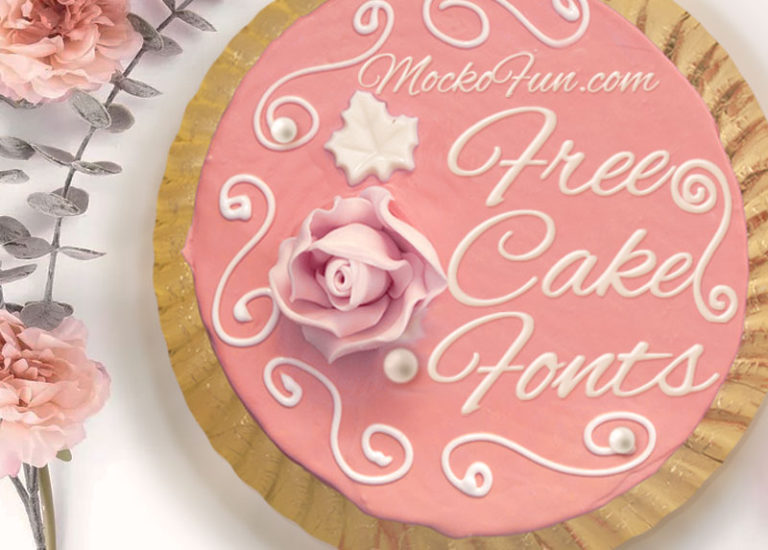 Are you looking for cake fonts? We've prepared an awesome list with free cake fonts that you can use for personal & commercial projects!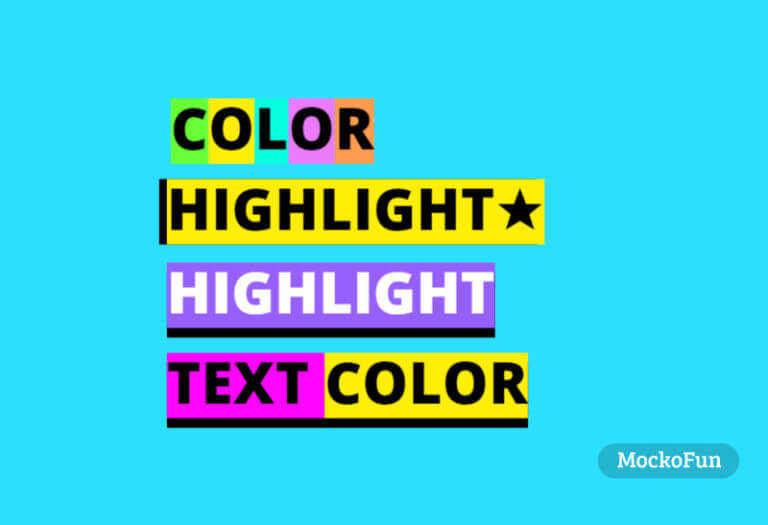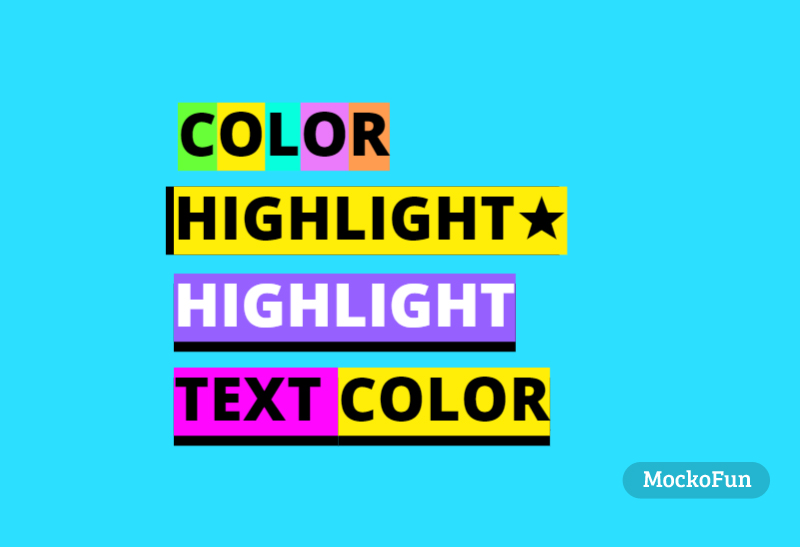 You can add background to text using MockoFun. You can easily highlight text online.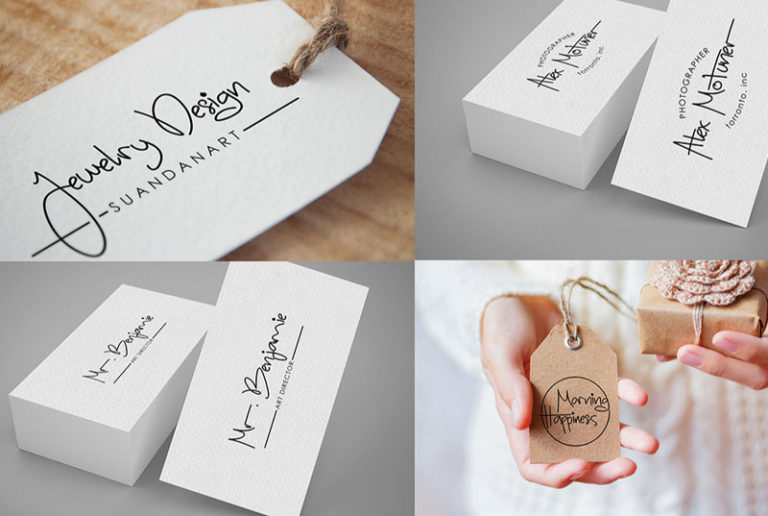 Create your own digital signature using these free signature fonts. Combine the script fonts with text tails to create realistic looking signatures.