Text to Image: How to Make a Text Portrait Online
Do you want to make text image online? Use the MockoFun tool, it's free!
So, if you want to convert text into image, or, if you want to add text to photos, then MockoFun is the right tool for you. 
With MockoFun you can do all these things online: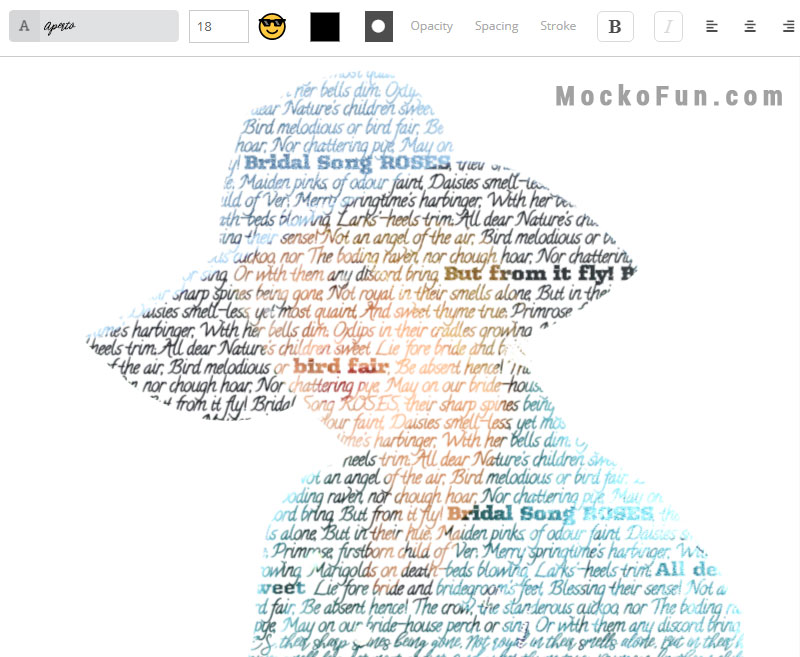 To convert text to image you can use a text to image converter app. 
This text to image app will automatically convert TXT to JPG or TXT to PNG. But, if you want to make the text more creative, to change the fonts, the text size & colors, you need a graphic design tool like MockoFun.
So, how to convert text to image online in just a few steps?
First, open the MockoFun text editor and create a New document. Then, click on the Text tab to open the text editor. From the Simple Text category, choose the Single Line text.
Double click on the text and add your text. You can use Copy Paste to copy text from Word or from a blog post.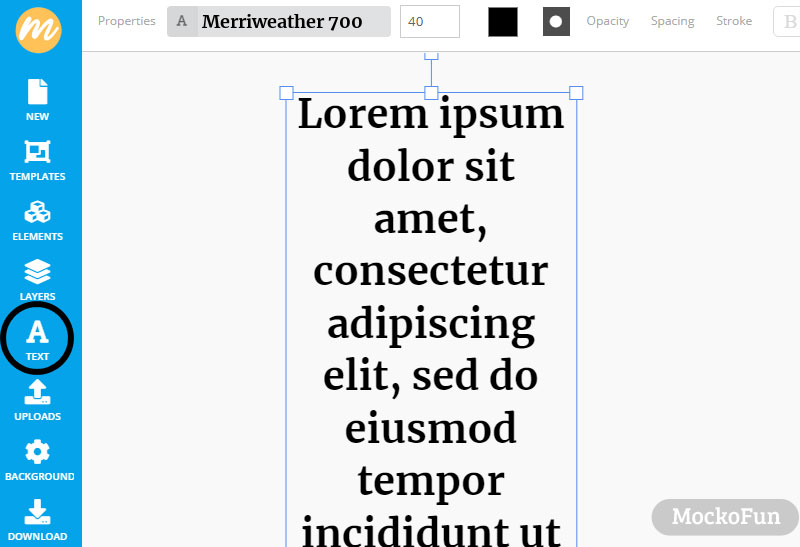 Use the right and left handlers to resize the text box to your liking. Then, you can customize the text:
Change the Font Type
Modify the Font Size
Edit the Text Color (you can Highlight Text)
Add Background Color
Align Text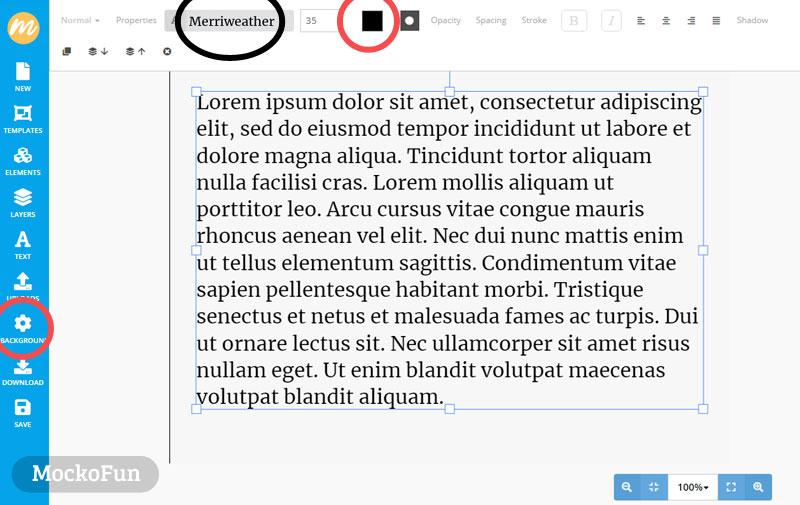 You can now Download your text image as JPG or PNG with transparent background.

Transparent Text Generator | Text PNG
If you need a transparent text generator to make text PNG online, use MockoFun! Our text PNG online editor has lots of cool features. 
How to make text with transparent background? Go to Download and choose PNG file instead of JPG to save the text with transparent background. Make sure the Background of your canvas is set to transparent.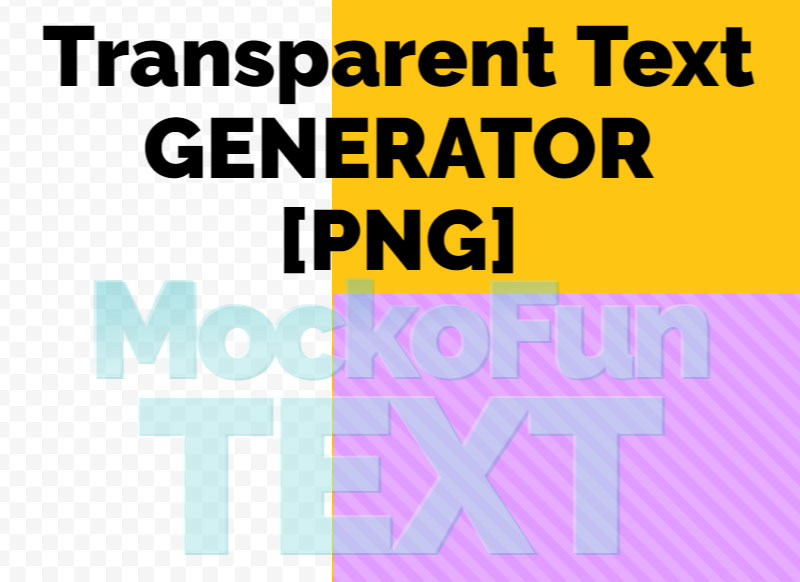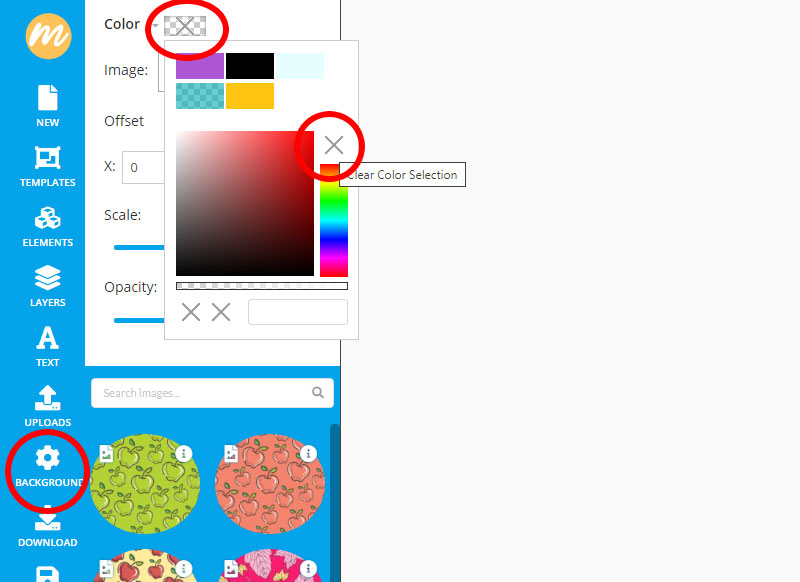 Use the png text generator transparent to create PNG text images for websites, social media posts, forum posts, etc.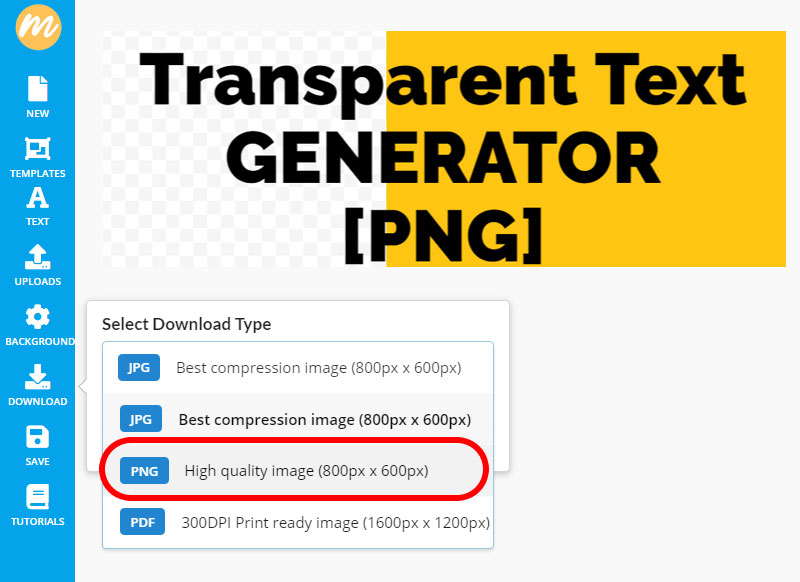 2. Text Image | Text Portrait Generator
To create a text image in MockoFun is quite easy; you can do an image made of text in 3 simple steps. So, let's create this cool text photo effect.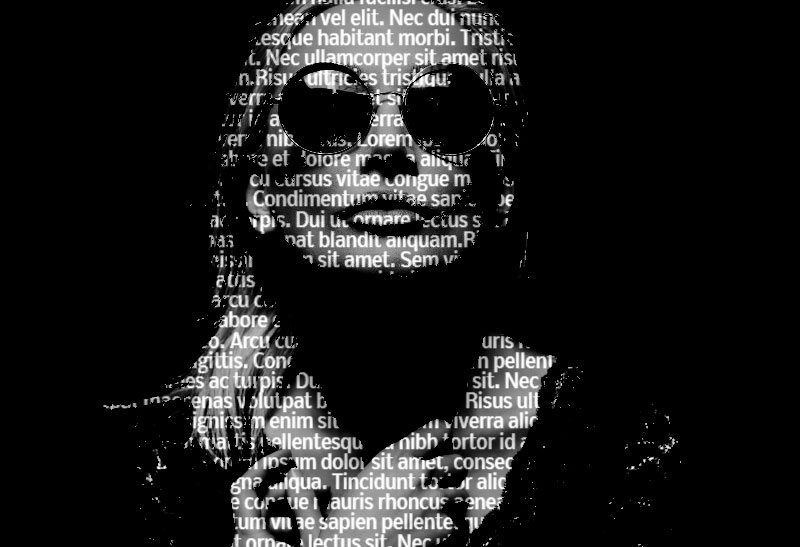 Open a New document in MockoFun.  Go to Elements > Photos and search "portrait black background" to search for online photos. Or, you can upload and use your own photo.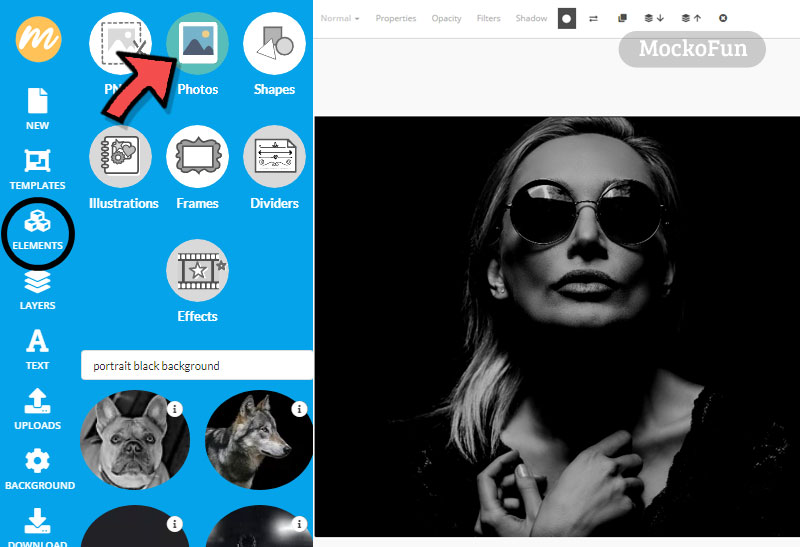 To create the text image effect go to Text menu and choose Single Line. By default the text is black. To select the text, go to Layers and click on the text layer.
Then, click on the Text Color & Highlight button from the top menu to change the color to white. You can also change the font type. You can take a quick look at this collection of signature fonts that you can download for free.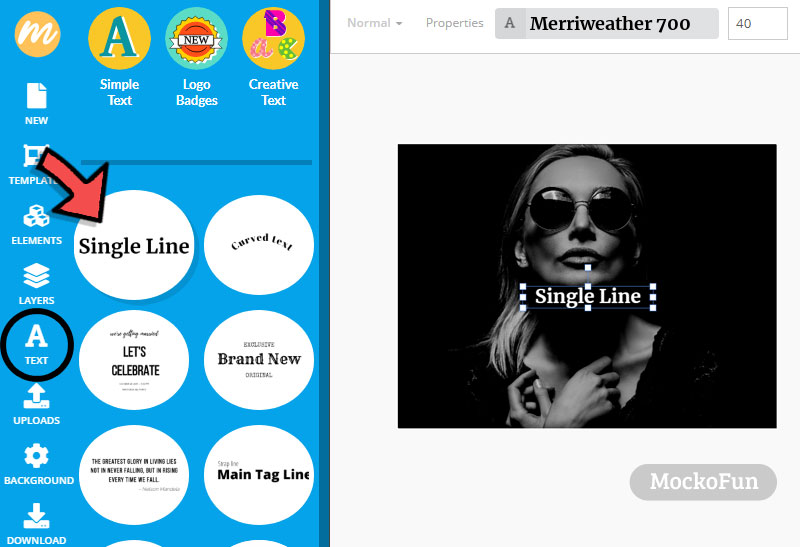 Move the Text on the top of the canvas; drag and drop or use the arrow keys. To resize the text box  use the center handlers. 
In this way you can easily add text to photos online using MockoFun. You can use MockoFun as a simple text editor with fonts; you can choose from a list with over 800 free web fonts.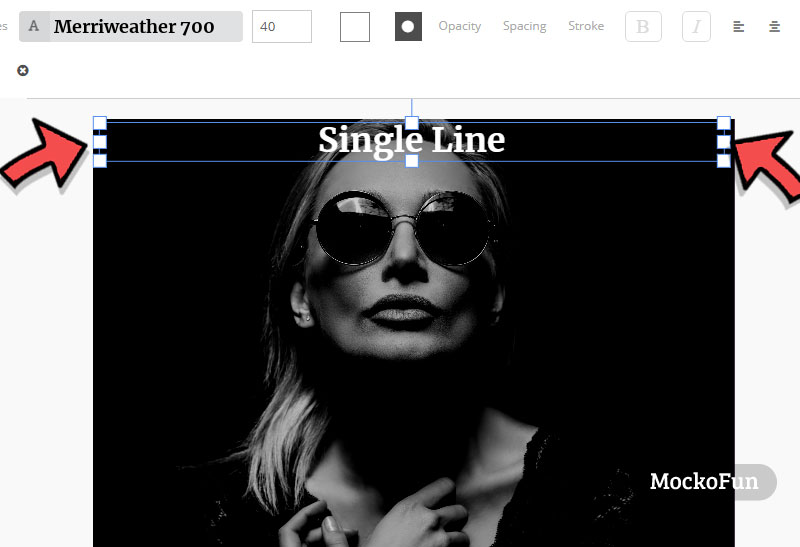 Now you can type your text.  Or you can copy and paste the text from your websites, Word document, etc. It is a simple way to add text to photos.
To make the effect even more interesting, insert text symbols like stars, circles, flowers into your text.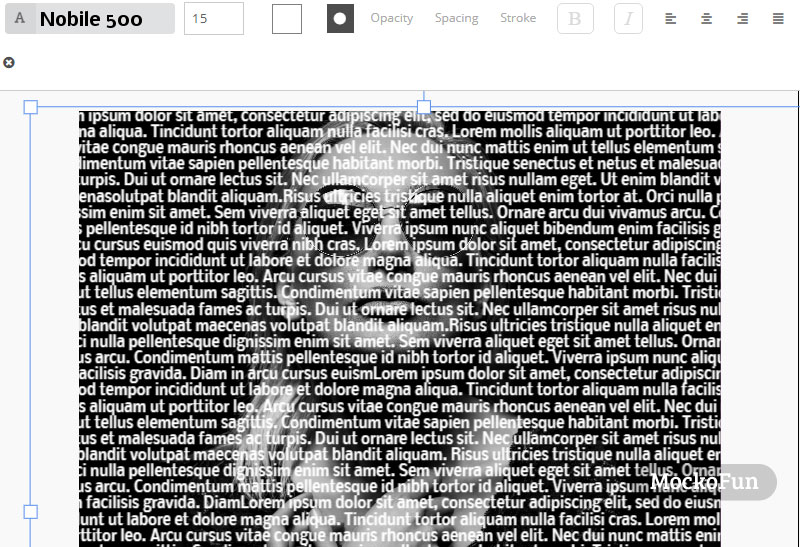 To create the text portrait effect use the Blending Modes. In this case I will use the Color Dodge blend mode.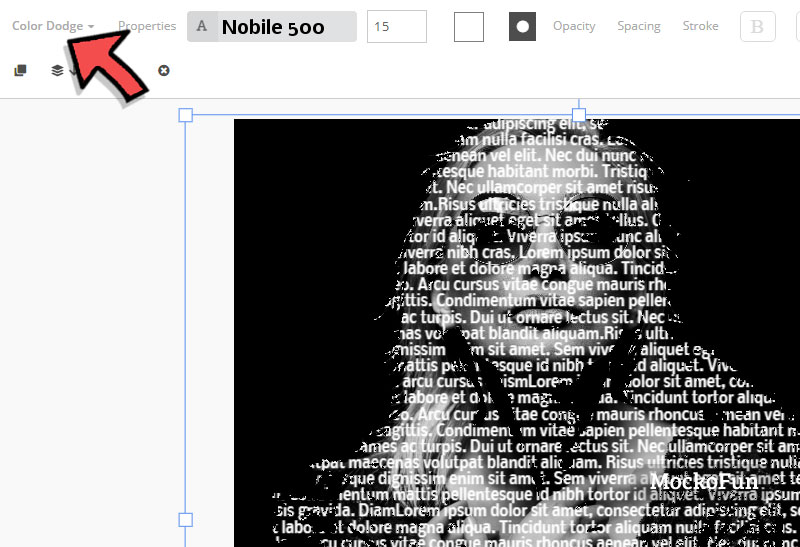 Click on the Layers tab from the left menu and click on the photo layer.  Then, go to Filters and set the Brightness to around -0.15. For other photos, the settings will be different.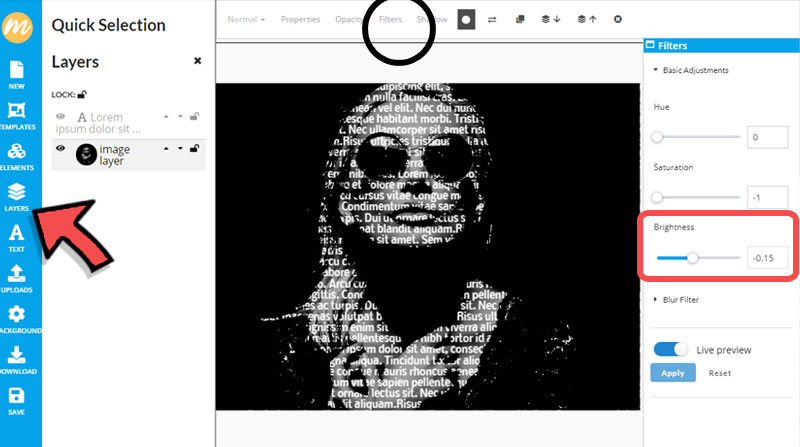 Click on the Layers tab from the left menu and click on the photo layer.  Then, click on the Duplicate button on the top menu to make a copy.
Change the blend mode of this new Photo layer to Multiply. Also, go to Filters and set the Brightness to around 0.37; depends on your photo.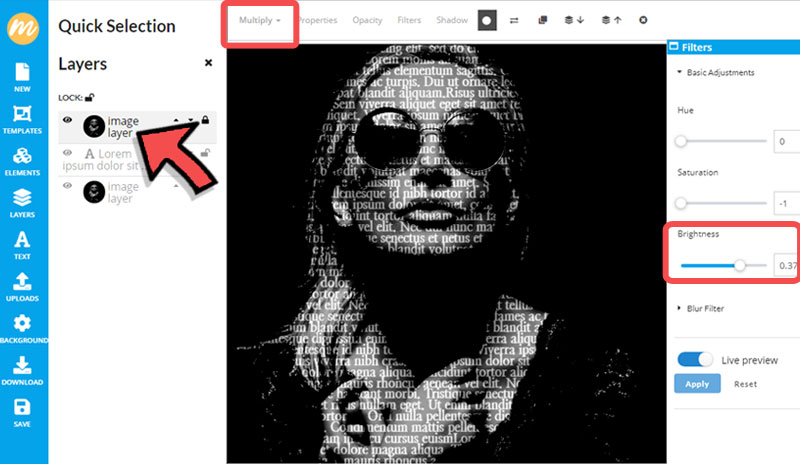 Text Portrait Color Effect
This is the text portrait effect made online with MockoFun. You can customize this typography photo effect  quite easily. As I mentioned in the previous steps, you can change the font type, the text size, etc.
Other cool customization that you can make is to change the color of the text portrait. Go to Elements > Shapes > Geometric and add a rectangle shape.
Resize it to cover the entire canvas. Also you can change the color of the rectangle shape. I used the color #b200f5 which is a bright purple.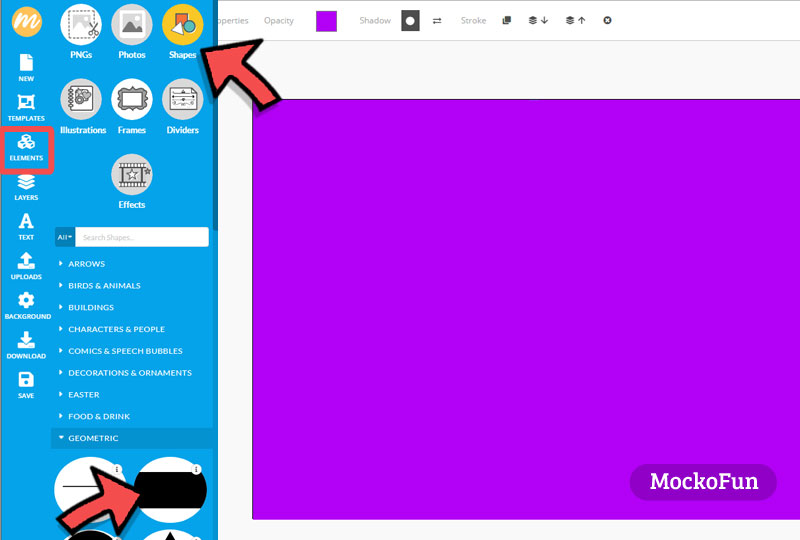 Set the blend mode of this square shape to Screen. to create this colored text photo effect. You can also experiment with other Blend Modes and other colors.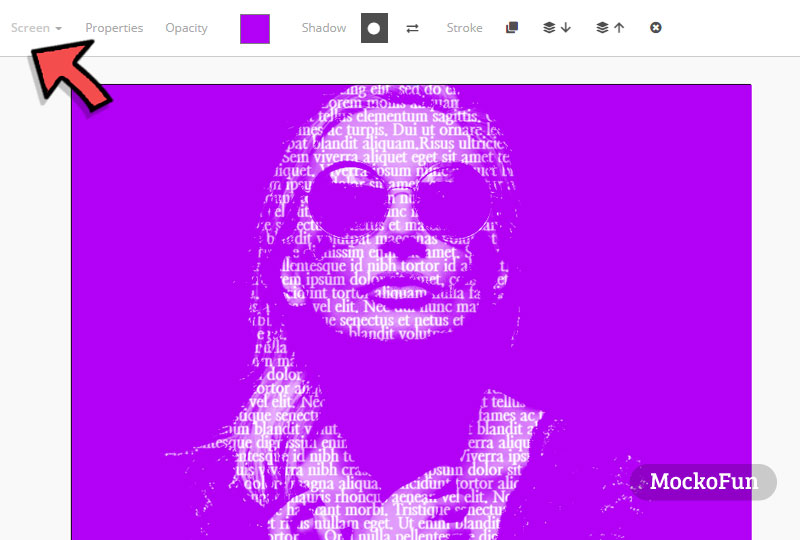 You can create these portrait effects online with MockoFun. To adjust the photo, we have lots of photo filters to choose from: Contrast, Exposure, Levels, Hue and other creative photo filters like Kaleidoscope, Displace Map, Oil Painting Filter, etc .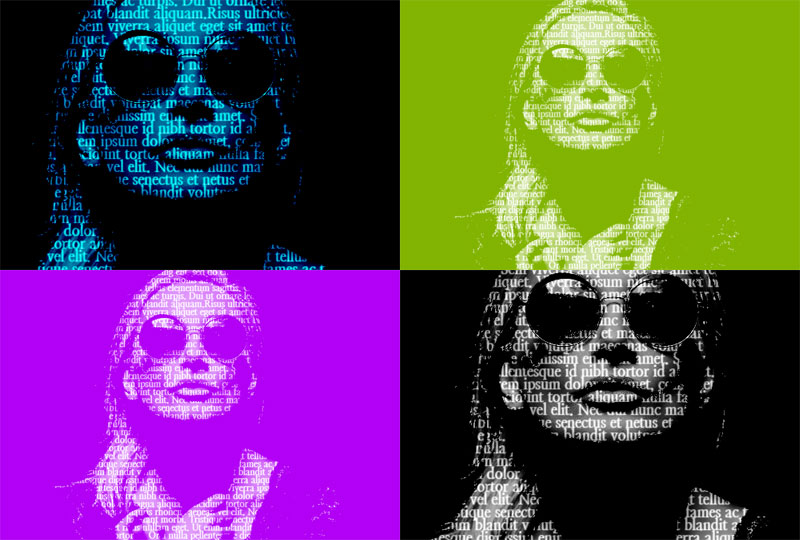 3. Typography Portrait | Typography Editing
To create a typography portrait you have to use text with mask. Learn how to use the Add Mask button from the Crop pictures into shapes tutorial.
To create a typography face like this follow the steps:
Add a photo
Duplicate the photo
Add a text as mask for the first photo
Add a rectangle shape as mask for the photo copy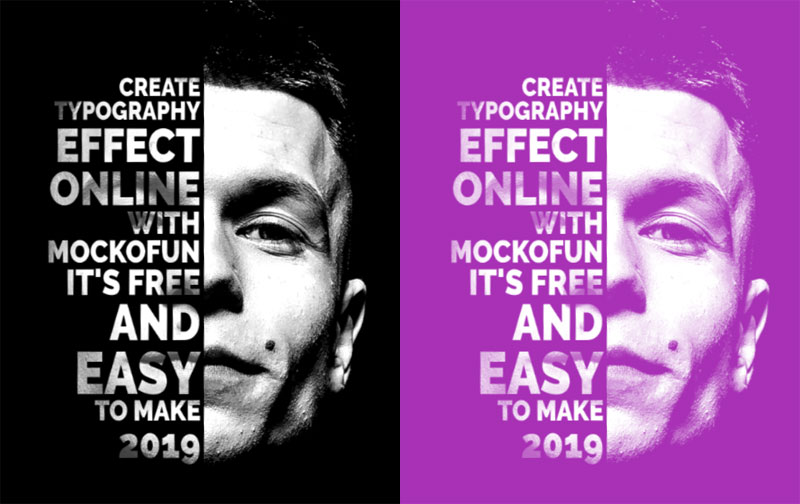 To make a photo with text like this, use a photo with black background color or a photo with white background color.  Then, set the Background color to black or white depending on your picture.
You can check out the Typography Portrait Template here.  Go to Layers menu to see the effects that were added. 
To replace the image click on the Replace Object button from the top. You have to replace each photo with the same photo. To resize photo, go to Properties from the top menu and set the Width(%) and Height(%).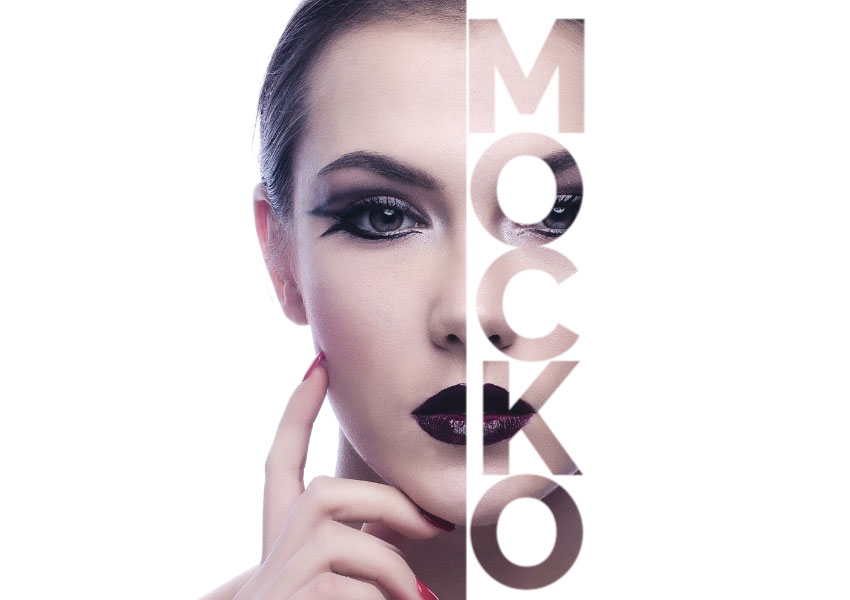 To make a vertical text in MockoFun, write the word and leave a blank space between each letter. Then, resize the text box by dragging the right handlers. After that, create the text masking effect.
If you want to make posters, album covers, magazine covers and so on, use the MockoFun online filters like the Duotone Filter for example.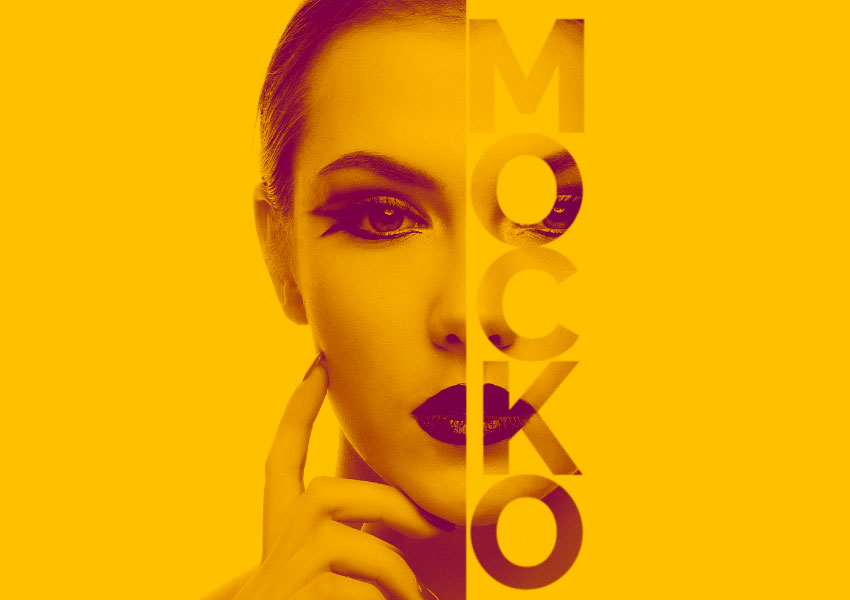 Do you need a free online tool to add text to photo? Try MockoFun! We have over 800 free fonts online, text effects and text styles to choose from. 
And, if you are looking for curved text online , MockoFun is probably the best tool to make circle text, wavy text, spiral text and other text along path effects.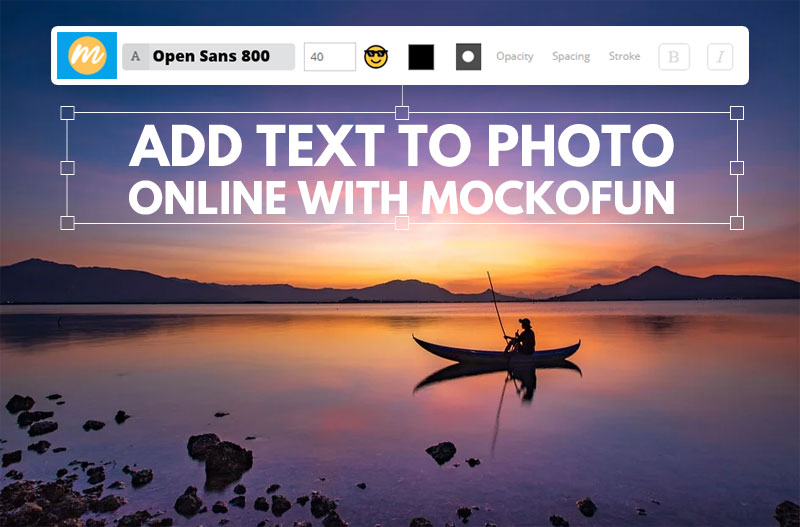 MockoFun is also useful to make a text mask. Create cool graphics by combining text and images. To make this text mask effect you have to follow these steps:
Add your photo in a new document
Add the text; set the font and the text size
Click on the photo
Click on the Add Mask button
Click on the text to choose it as mask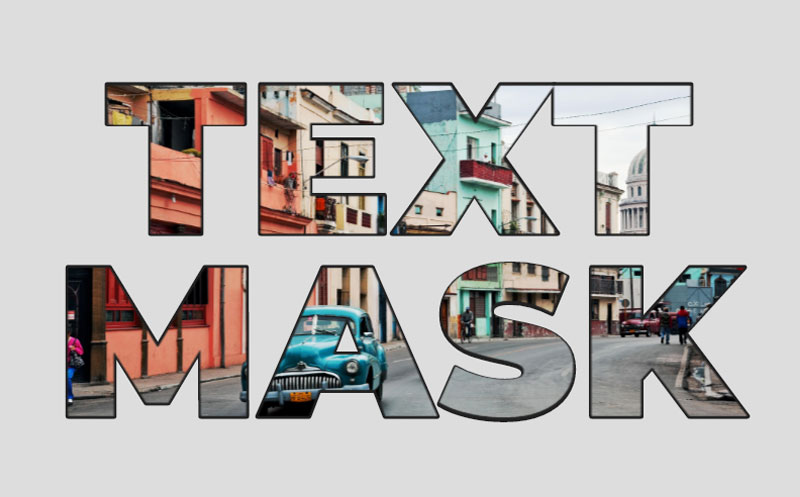 Fill Text with Image Online
You have the option to set the Background transparent and save this text image as PNG text transparent.
These are some of the text to image effects that are easy to make online with MockoFun. I hope you enjoyed this MockoFun tutorial and that you will decide to try the photo effects and text effects that we have.
MockoFun is a great photo editor that you ca use for free! With MockoFun you can create interesting text image effects online. And most of all it's free and easy to use. So, have fun with MockoFun!
YOU KNOW IS FUN. IT'S MOCKOFUN.
75% of marketers

use visual assets
Unleash your creativity and make awesome designs. You don't need to be a graphic designer to create something amazing!
Learn MockoFun from these quick tutorials for beginners. It's quite easy!
Create awesome text effects online using MockoFun. You can choose from 100 text styles and alphabet letters.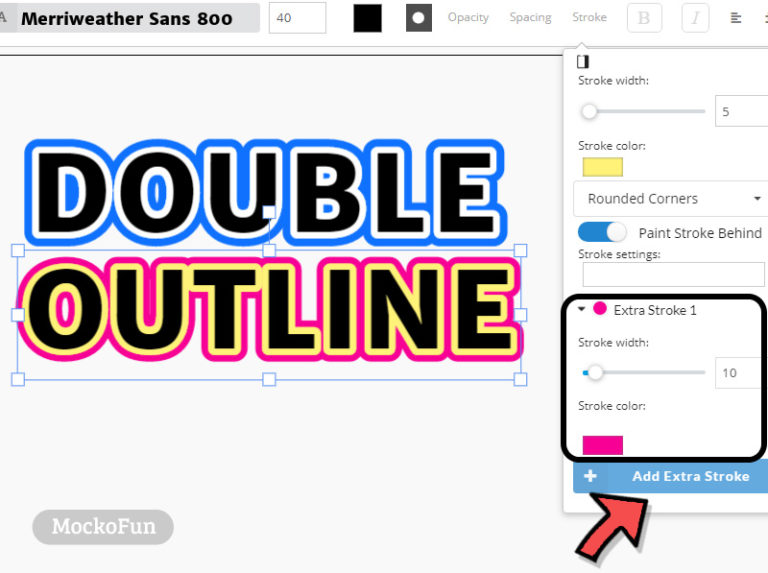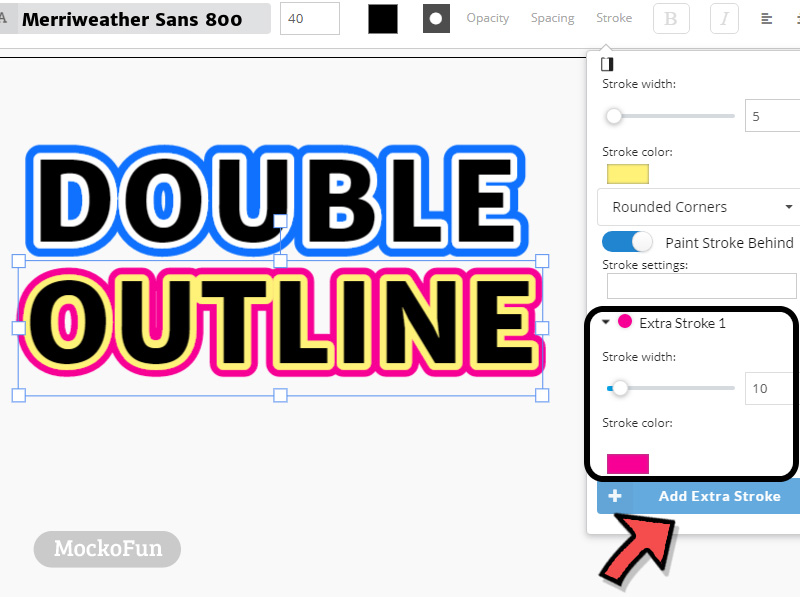 With MockoFun you can stroke text easily. Add outline to text in just a few easy steps.