Make a Movie Poster Free
🎬 How to Make a Movie Poster Design
Do you want to make 
a movie poster design

? Use our movie poster generator and create an eye-catching design quickly. 

Designing a movie poster can be a fun and creative project, whether you are a professional movie poster designer or just looking to create a movie poster school project. 

Choose a pre-made online template or create a movie poster design from scratch just like a movie poster designer would do. 
In this tutorial you will learn how to create images like these using all the cool features that our free online photo editor has to offer. 
Play with photo filters, adjustments, effects and overlays to edit your pictures.  Try the text styles and choose from over 800 free font types.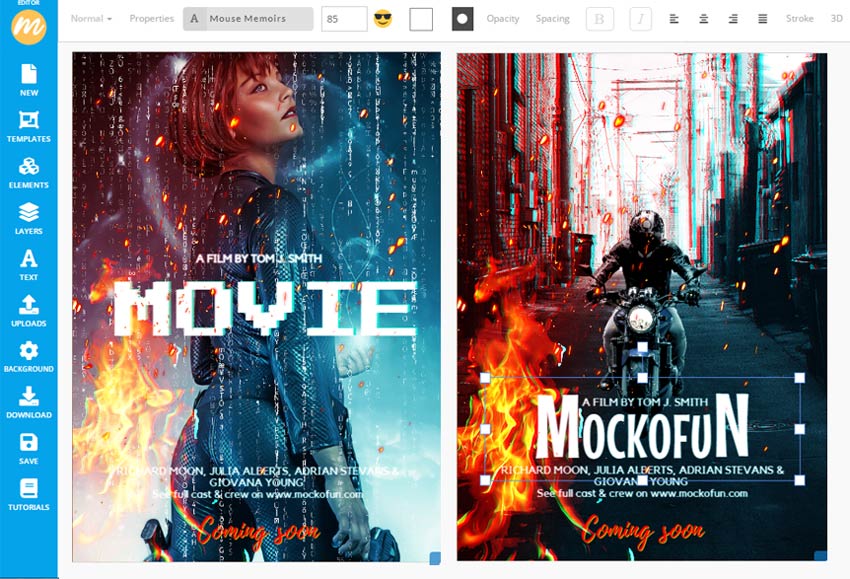 It's important to pick a cinematic font to highlight the title. MockoFun has lots of free movie poster fonts to choose from. Then, add stock photos from our gallery to complete the design.
The image from the preview is the movie poster design that we are going to create with MockoFun. So make sure you read this article/tutorial till the end.  
What is a Movie Poster?
A film poster is a poster used to promote a film primarily to persuade paying customers into a theater to see it. Film posters usually contain an image with text.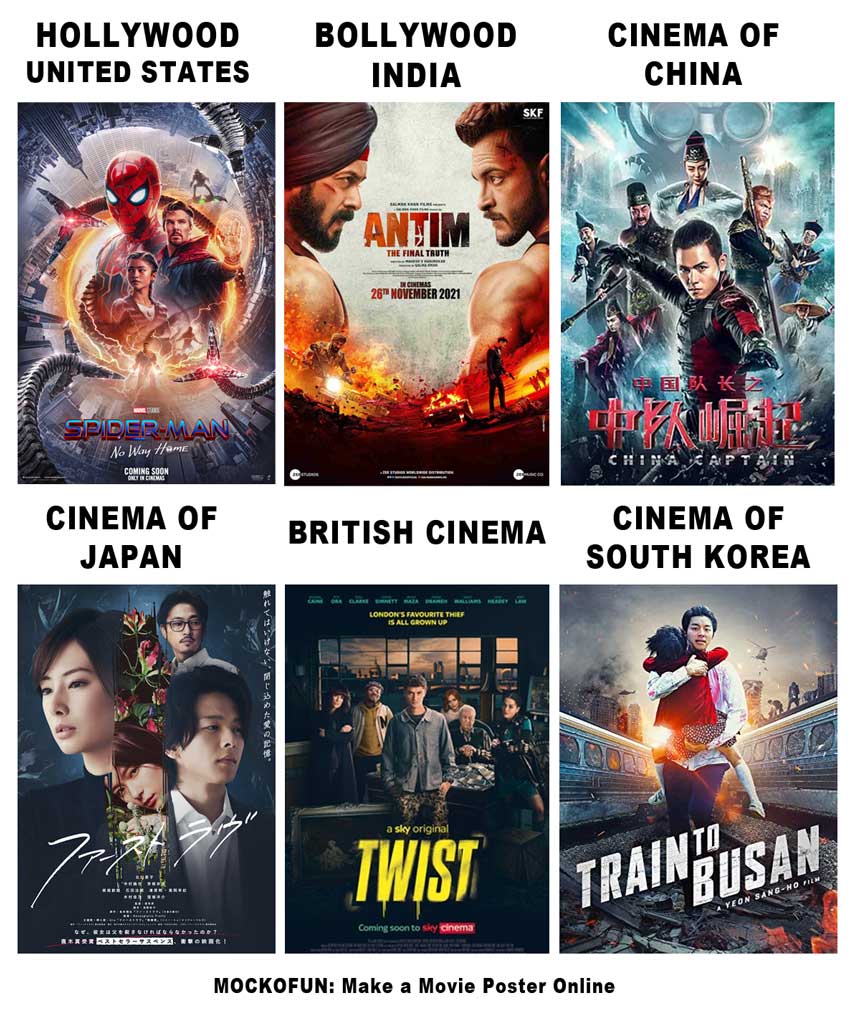 The history of movie posters begins in 1895 when the first movie poster was was created to promote the showing of the Lumiere Brothers film L'Arroseur arrosé at the Grand Café in Paris on December 26, 1895. The first poster design was based on an illustration by Marcellin Auzolle.
Since then, millions of official film posters were created. Not to mention that each design has hundreds of fan art and alternative designs. 
🎬 What Is On a Movie Poster
So, what information is on a movie poster? 
Movie posters usually offer basic information like the movie title, the tagline, the names of actors, directors, the producers and so on.  The movie poster background is an image (photo manipulation, photo collage, illustration, etc.) that represents the movie.  
The most important movie poster design elements that you should consider adding to your design template are these:
Movie Poster Background. 

Use

 

an image that depicts the movie.  Usually the main characters are added on the background.

Movie Title.

 A great movie title captures the core essence of your story. Actually, the movie name sets the mood of the whole story and establishes expectations for the audience.

Tagline.

 A movie tagline is a short text like a motto or slogan of the movie. It can be a phrase from the movie for example. Movie taglines must be short, concise and memorable.

Name of the director.

 A movie director is in charge of the creative and technical aspects of a film. There are famous movie directors like James Cameron, Martin Scorsese, Quentin Tarantino, Cristopher Nolan, etc. who can sell their films by their names alone. The movie director's name is sometimes the biggest thing on the poster, taking priority over movie stars, movie title or other visuals.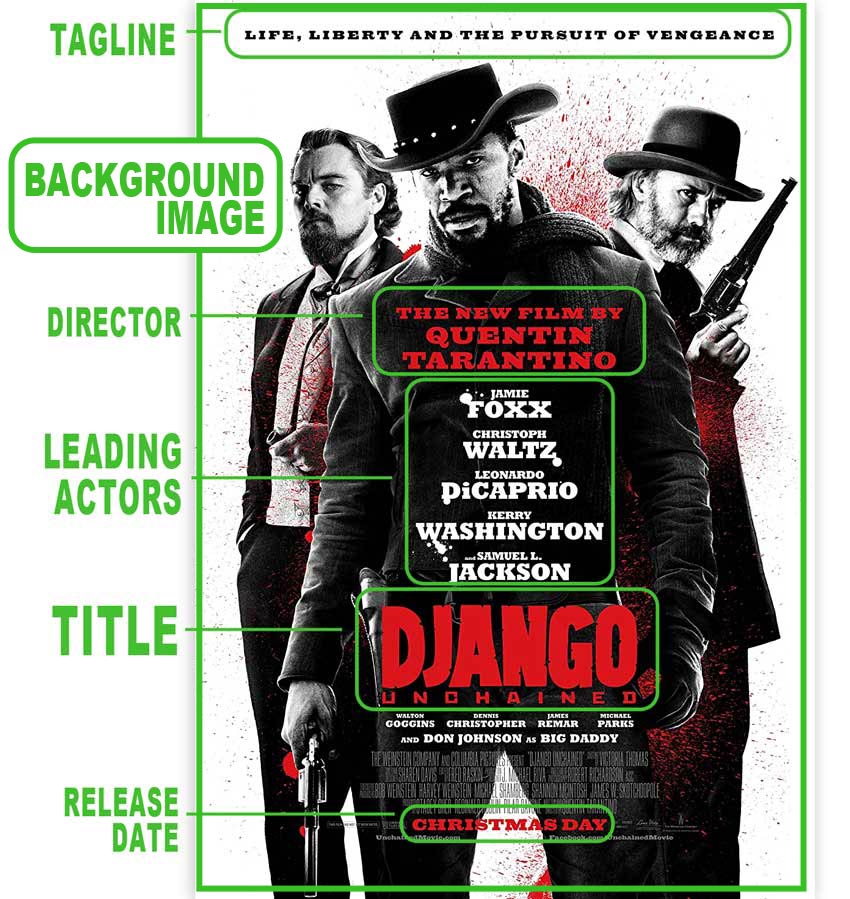 Names of actors & actresses. The leading actor(s) plays the role of the protagonist of a film, television show or play and they are usually mentioned on top.
Studio Name & Logotype (symbol) of a movie studio
Movie Release Date. The teaser posters don't have the release date; instead a text like Coming Soon, Soon in Cinema, etc. is added.
Nominations and Awards movie received.
Age Restriction. Rated G: General audiences – All ages admitted. Rated PG: Parental guidance suggested – Some material may not be suitable for children. Rated R: Restricted – Under 17 requires accompanying parent or adult guardian. Rated X (no one under 17 admitted)
Contacts (film website, social media, etc).
You don't want to add too many elements on the design? Add only the most important film details to the movie poster content, details like: title & tagline, director's name, awards, cast and studio. 
How to Make a Movie Poster Design Online [TUTORIAL]
In this movie poster tutorial you will learn how to make a movie poster out of a picture. Let's see how to make your own movie poster online with MockoFun in just a few steps.
Step 1.

Set the Movie Poster Size
The 27×40 inches (686×1016 mm) poster is the standard size for movie posters. Also called a one-sheet size, this recognizable movie poster format is used inside cinemas to promote new films.
The movie billboard posters have a different size and ratio. The billboard size is 106 X 234 inches.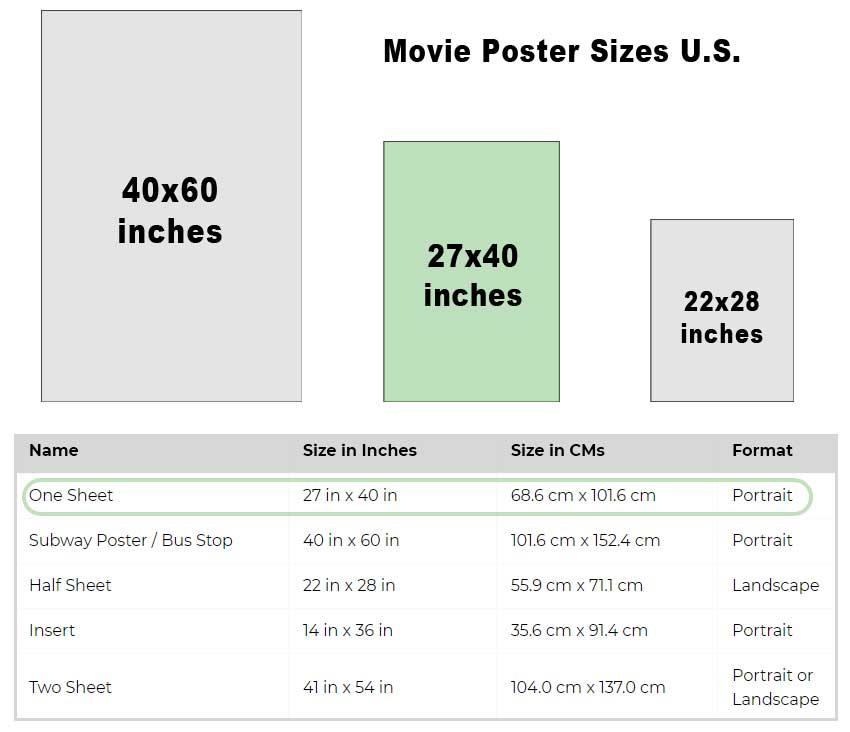 Open the MockoFun movie poster maker app.  Go to the New menu and make a new document by setting the Custom Size in pixels, inches or centimeters. 
For school projects choose the A4 or A3 paper for your film poster size. Both A4 movie posters and A3 movie posters are much easier to print and frame.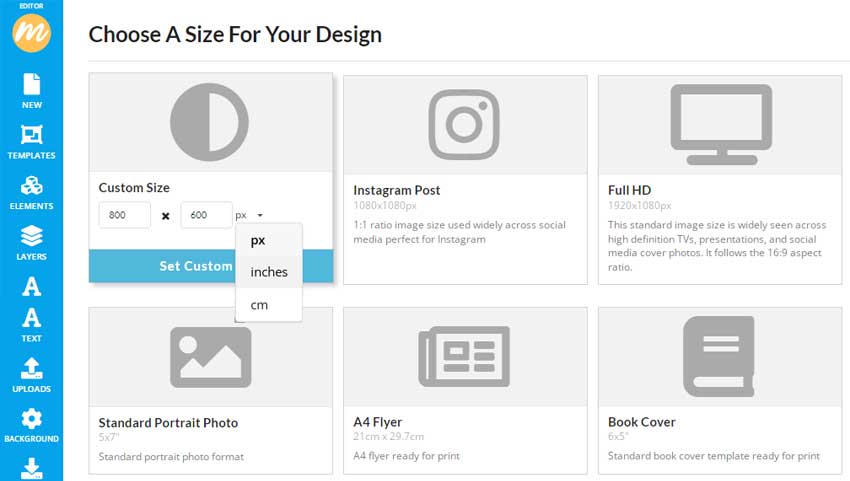 In MockoFun you can easily create A4 size posters and A3 size posters. But, due to the limitations regarding the size of the images a browser can handle, going for full size movie poster dimensions (27×40 inches) requires magnifying the image as a post production step. 
Step 2.

 Make a Creative Movie Poster Background
With MockoFun you can create movie poster background images free in just a few easy steps. Let's see how!
🚩 Using a pre-made background image is for sure the easiest way to make a blank movie poster background in MockoFun.  Here are the steps:
Go to the 

Elements > Photos

 menu
Search for words like 

"photo manipulation", "sci-fi city", "fantasy", "fantasy background", "horror background",

 "galaxy background", 

"Photoshop", etc. 

 You will find lots of movie poster background templates for your projects.  These movie poster stock images are really cool looking.
Use a photo montage to
make cool movie poster background images
in
Mockofun
. So, to create your own film poster background that has an unique design, follow these steps:
Go to the Elements > PNGs menu and choose a cutout image. To create a movie characters poster place the main character(s) on the background image.  
Go to the Elements > Photos menu and add another stock photo as a background to create a photo montage. 
Choose photo overlays & photo effects to complete the look. For this action movie poster background I used fire effects from the Elements > Effects > Fire & Smoke menu. In the the Effects menu there are lots of other effects like smoke, rain, clouds, light, lightning, etc. Try all of them!
The sci-fi look was made with the Anaglyph Filter from the Filters (top menu). There are many filters and adjustments that you can choose for this editing movie poster background.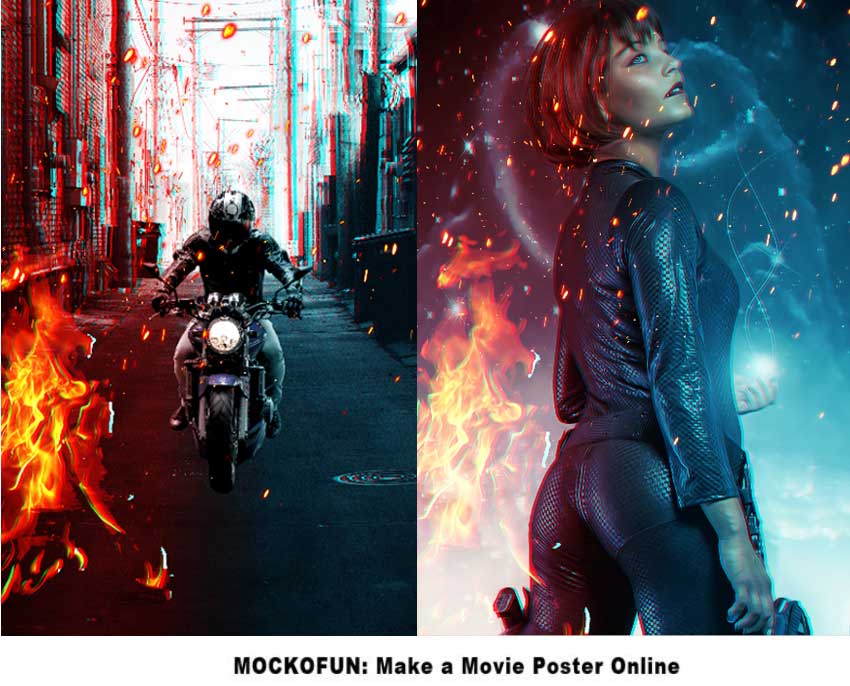 🚩 Do you want to put your face in a movie poster? To put yourself in famous movie posters free, its quite easy.  Here is how you can make face in hole movie posters:
Copy and Paste a famous movie poster in MockoFun. You can also use the Upload menu. 
Go to Filters > Mask on the top menu. Click on the Hide button. Set the Feather to 30 and hide the face.
Click on the Lock icon to lock this layer.
Put another photo behind this one.  Resize and rotate such that the new face to fit in the hole.
Use Filters and adjustments to match the color, contrast, etc.
As you can see there are lots of cool photo edits that you can do with our free online photo editor, you just have to try all the cool features.
MockoFun has Blending Modes and Smart Photo Filters similar to Photoshop. In fact our tool is a great Photoshop alternative. 
Step 3. Movie Poster Fonts
All film posters must have text. The movie poster text includes the film name, actors, director and other details. It's important to choose the right movie poster font, especially for the title. 
What fonts are good for posters?
Sans serif fonts are considered the best fonts for posters mainly because they are easy to read especially from a distance. Popular sans serif fonts (available in MockoFun) include Arial, Helvetica and Verdana. In comparison, the Serif fonts are more difficult to read plus, they have a more traditional and formal look.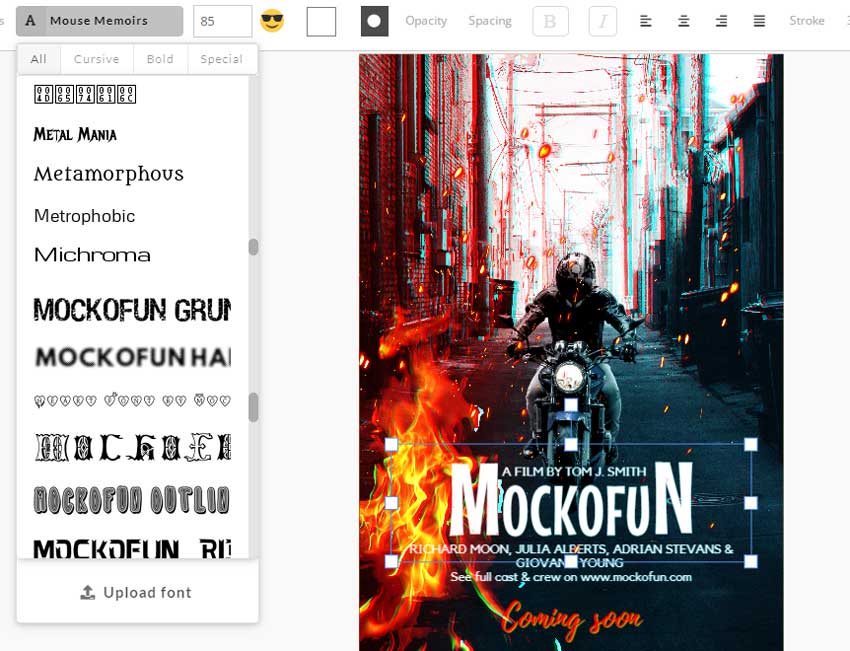 Best Movie Poster Fonts Free
Well-chosen movie poster typography adds personality to the design, and can make your film more memorable. 
Hollywood has always used interesting cinematic fonts. The movie fonts and especially the movie title fonts are more important than people realize.  Use bold fonts, fancy fonts and fonts that have an unique design to stand out from the crowd.  
Typographic movie posters have their design based more on text than images. Here are some good examples of typography film posters.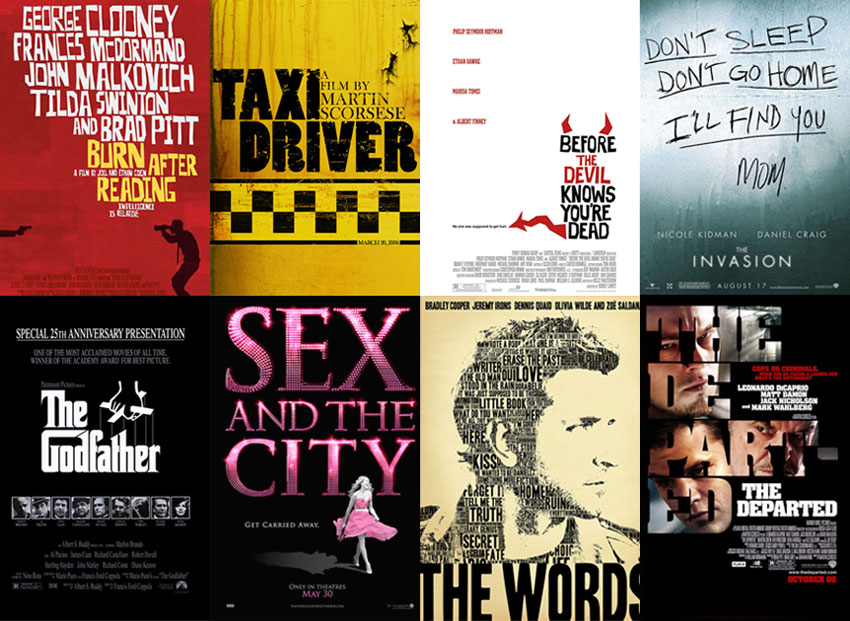 In movie advertisement t

he

title

is very important but so is the

Tagline

.
Movie taglines
 are slogans or catchphrases which can include a clever pun, a short phrase, or a sentence.  Here are some 
famous movie taglines
 that you can use for inspiration:
Tommy Boy. "If at first you don't succeed, lower your standards." 
Titanic. "Nothing On Earth Could Come Between Them."
Jaws. "You'll never go in the water again." 
Jurassic Park.  "An Adventure 65 Million Years in the Making".
Shutter Island. "Someone is Missing."
Double Indemnity. "From the moment they met it was murder."
Chicken Run. "Escape or die frying." 
The Truman Show. "On the air and unaware." 
Mars Attacks! "Nice Planet. We'll take it" 
O' Brother Where Art Thou. "They have a plan but not a clue" 
Free Movie Fonts Generator
The
MockoFun movie title design maker
has over 800 free online fonts to choose from. 
MockoFun is an useful movie font generator with lots of text styles and effects that you can try for free. In the list below you have some of the famous movie titles that are fully editable online: 

Movie Poster Credits Template
If you are looking for a
movie poster credits generator
you can use this template. The official movie posters have a similar text template. Your custom movie posters will look even better with a text like this.
Step 4. Movie Poster Download Free
When your design is ready, download the final result. Go to the Download menu on the left and check out all the available options.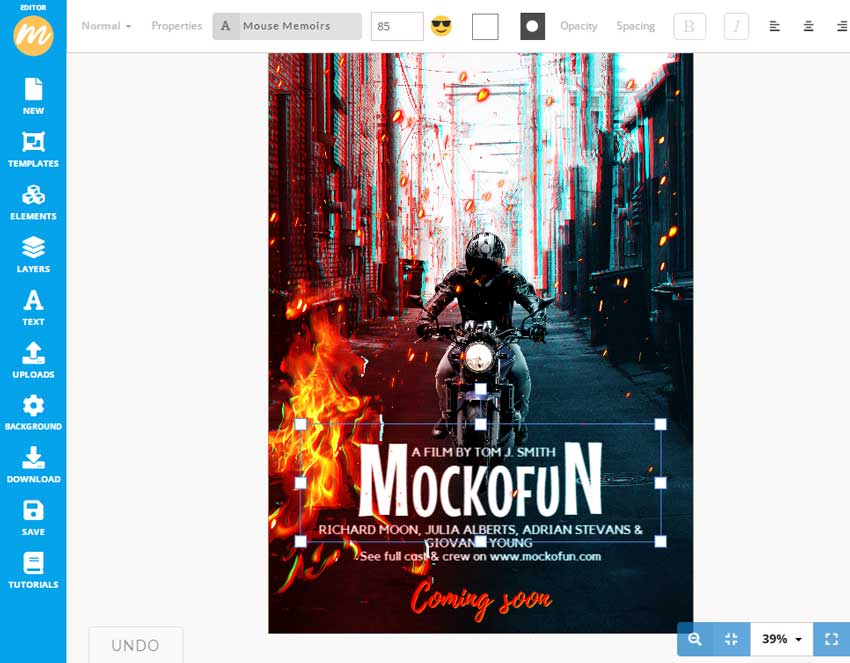 Download the design as JPG file for web. Or, choose the PDF file at 300 dpi for print. The movie poster high resolution is another cool features that MockoFun offers for free in exchange of attribution.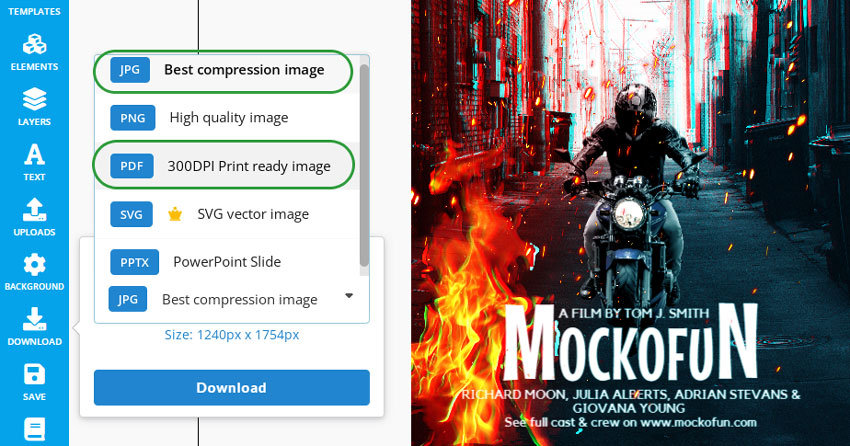 Now you know how to create a movie poster online free. To create a film poster is quite easy if you have the right tool. Yes, you can make a movie poster in Photoshop but our tool is also a good choice.   
If you want to learn more things about movie poster making ideas, read the entire article not just the movie poster tutorial. You will find new & interesting stuff!  
Movies are more popular than ever so each country has its own film industry. The top film industry in the world is lead by:
Hollywood (the biggest part of the U.S. cinema) is by far the oldest and most influential movie industry in the world. Hollywood makes only 800 odd movies per year. Box office earning is around $7 billion dollars.
Bollywood is the unofficial name of the Hindi cinema which is in India. It is known for creating the most number of movies per year which is on average 1200 per year. Box office earning is around $1.8 billion dollars.
Cinema of China has the largest movie and drama production complex and film studios in the world, the Oriental Movie Metropolis and Hengdian World Studios.  Box office earning is around $6.78 billion dollars. 
Each film industry has its own characteristics. For example, the Bollywood movie posters and the Hollywood movie posters used to have different styles, colors, composition, etc. But, nowadays the designs are getting more and more similar and globalization has an important role. 
Want to know more details about film posters? Here are 10 types of movie posters that are available:
One Sheet Movie Posters.

 The design is printed on only one side. The 

double sided movie posters

 are printed on both sides. 

Original Movie Posters. 

An official movie poster is a poster printed by a film studio in limited quantity, for display in movie theaters to promote the film at the time of the films original release date. Many of these posters are highly valued by collectors. The original poster for 1927's Metropolis was sold for a record-breaking $690,000 in 2005.  ( Source: Most Valuable Movie Posters )

Fake Movie Posters. 

The 

alternative movie posters

 are not part of the original advertising campaign of the film. These designs are considered fan art, they have different styles and are usually high-quality artworks. For example, a fan created an 

alternative Drive movie poster

 in the 80's "OutRun" design style. The poster became super popular and was adopted as an official movie poster.

Re-Release Posters.

 Sometimes a movie studio may decide to re-release a film at one, two, ten or even twenty years after its initial release. When this happens, the movie studios will issue a new series of posters that are either identical to the original design or completely different.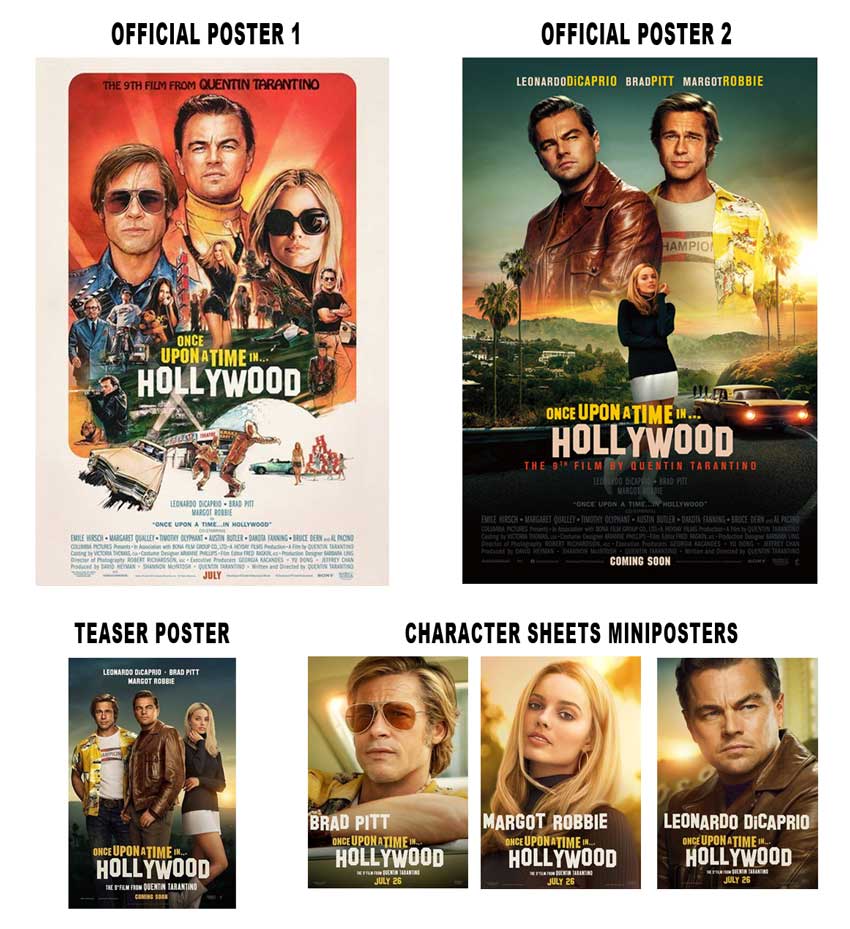 Teaser Movie Posters.

 The coming soon movie poster or the movie promo poster is printed for announcing the release of a new movie.

Anniversary Posters. 

These are usually printed to mark a milestone for a classic movie.  An example is the poster issued for the 20th anniversary release of the 

Star Wars trilogy

. 

Award Movie Posters.

 The movie has either been nominated for or given an industry award such as an Academy Award, Golden Globe Award or BAFTA. 

Limited Edition Posters.

 These items are released/authorized by movie studios, issued in limited numbers  and released to the public for sale. 

Digital Movie Posters. 

The printing and distribution costs for movie posters continue to grow. So,  many movie studios choose to promote their films through digital media that is starting to overtake printed media. 

Primary film genres include action, adventure, comedy, drama, fantasy, horror, musicals, mystery, romance, science fiction, sports, thriller and Western.  So, for each movie genre we have other movie poster types:
Sci-fi movie poster template
Horror movie poster template
Romance movie poster template
Action movie poster template
Adventure movie poster template, etc.
A great film poster must have an eye-catching design that depicts the movie up to a point, leaving room for questions and curiosity. 
The movie poster must have unique design elements, fonts, style, etc. and most of all it must be hard if not impossible to forget. Now you know what makes a good movie poster and below you have some excellent examples.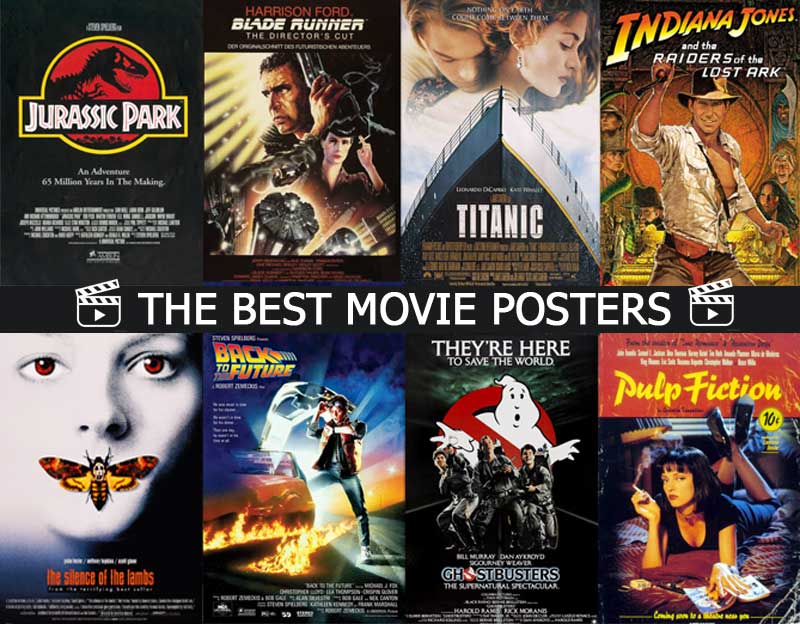 In this top 50 movie posters collection you will find some of the most iconic designs of all time that will for sure inspire you. The list below shows the top 10 movie posters which are considered the best ones:
Vertigo (1958)
Everything Everywhere All at Once (2022) 
Mean Streets (1973)
Pulp Fiction (1994)
The Man with the Golden Arm (1955)
The Godfather (1972)
Jaws (1975)
Attack of the 50ft Woman (1958) 
Breakfast at Tiffany's (1961)
Silence of the Lambs (1991)
The movie poster trends are constantly changing. Certain trends in poster design need to go, while others need to be explored more. 
In the movie poster analysis worksheet the design is deconstructed and all the elements are explained in detail to better understand the entire process.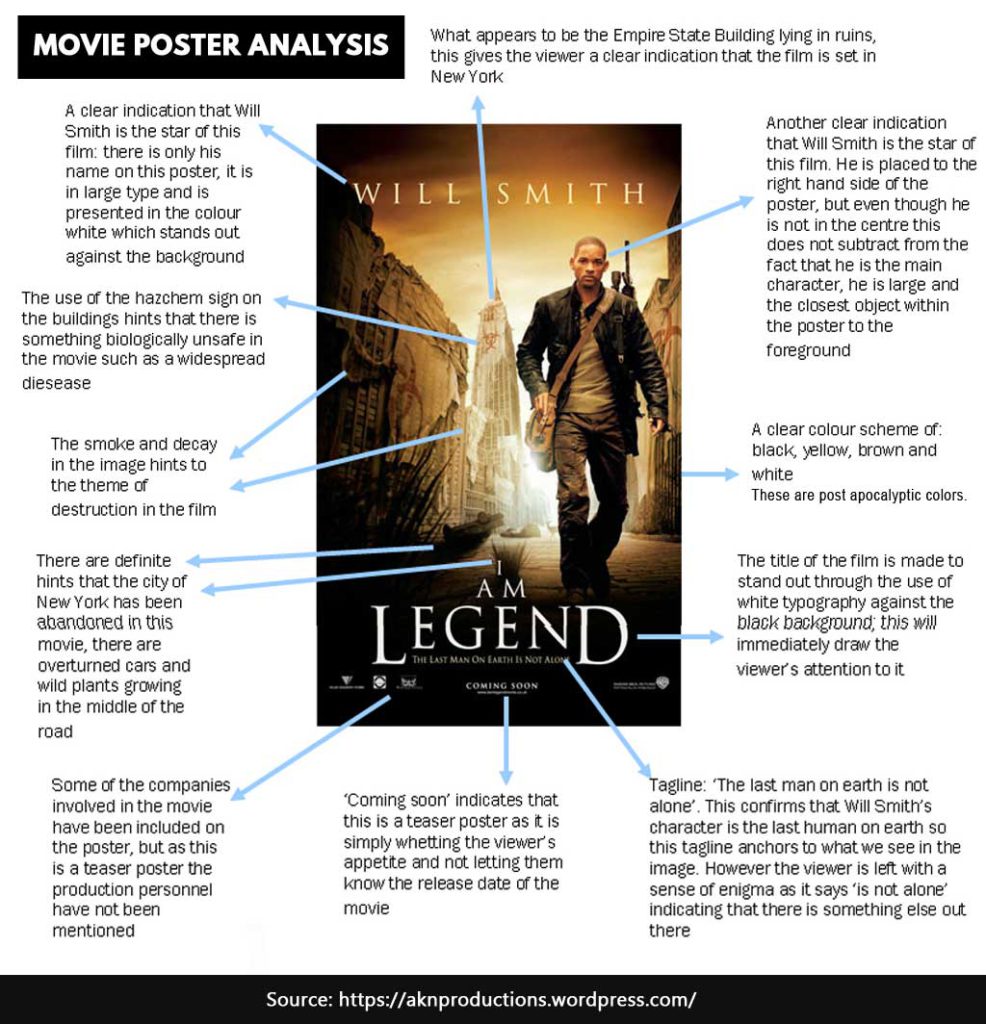 Watching movies at home using movie streaming services like
Netflix
, Hulu, Amazon Prime Video, HBO Max, etc. is becoming more and more popular. So, you might also be interested in trying this Netflix template.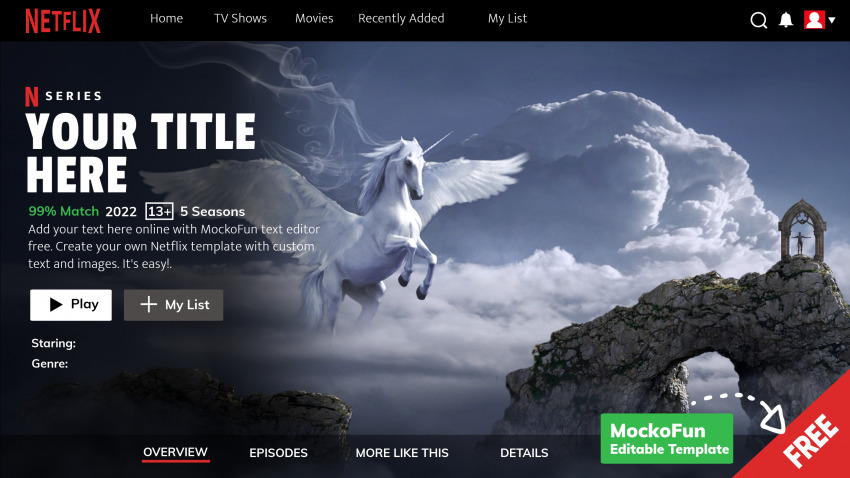 How to make a movie poster for school?
To create a movie poster assignment, you may want to consider using a fake movie poster generator like ours. A movie poster template for students must include movie poster credits and billing blocks to be genuine. 
For many school projects the students need presentations and videos. With MockoFun you can make video overlays and PPT presentations.  
A film poster maker is a tool that allows you to make a movie poster template quickly with the help of a wide range of options to choose from, including different fonts, colors, and background images.
Overall, there are a number of tools and resources available to help you design professional-looking posters for movie. A film poster generator has predefined film poster design templates so, it basically does half of the job for you.
Many people are looking to create a family movie poster or a couples movie poster to offer as birthday gift. A custom movie poster looks great displayed on your room wall, in your office, etc. So, make a photo into a movie poster online with
MockoFun
.
With the help of a movie poster generator anyone can become a movie poster designer online.
YOU KNOW IS FUN. IT'S MOCKOFUN.
75% of marketers

use visual assets
Unleash your creativity and make awesome designs. You don't need to be a graphic designer to create something amazing!
Learn MockoFun from these quick tutorials for beginners. It's quite easy!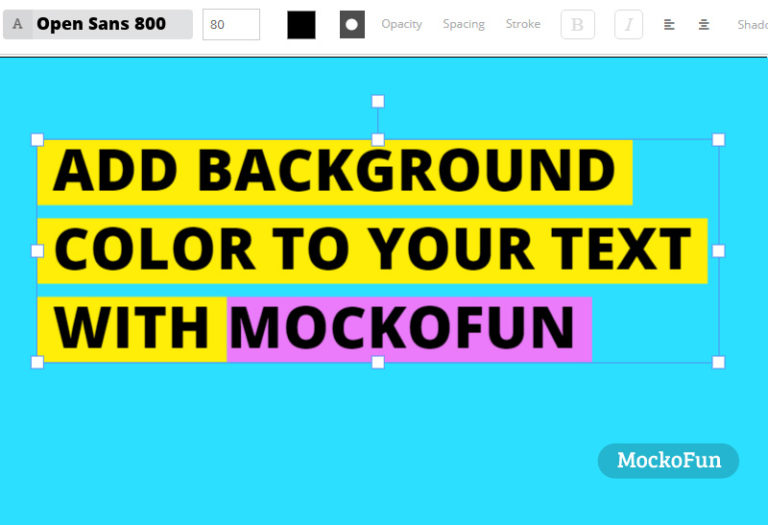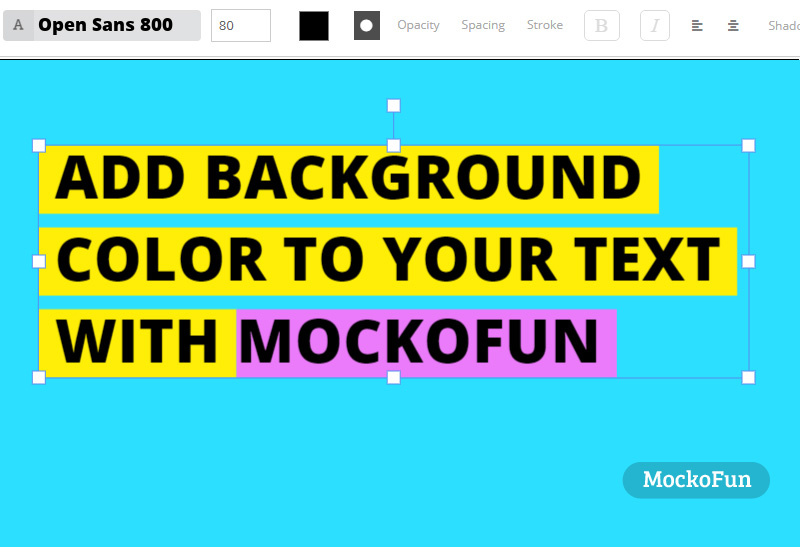 Do you want to highlight text online? Use MockoFun it's free and easy to use!
Create an awesome highlighted text in one minute.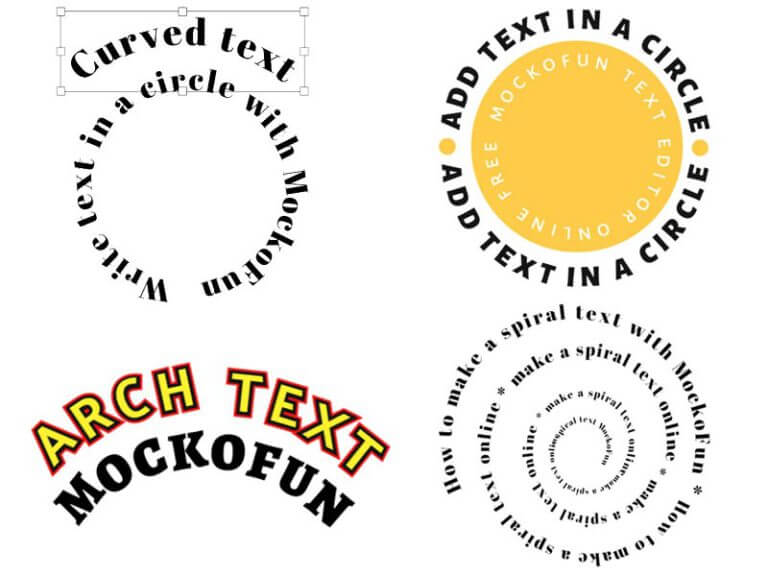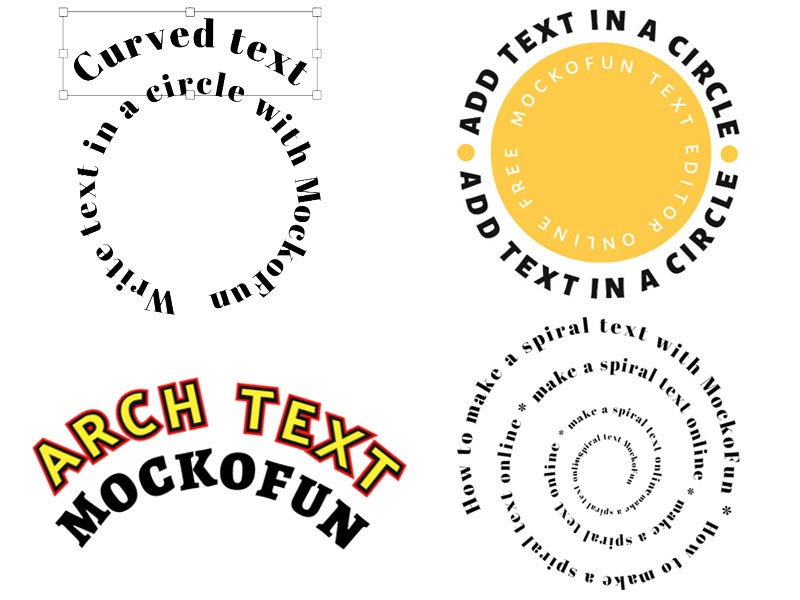 Create curved text and circle text using MockoFun text editor. This curved text effects is available online.