Do you want to make badges online? Use our online badge maker!
With MockoFun badge creator, you can easily create online badges in just a few minutes. We have lots of badge shapes to choose from, vector graphics & illustrations, fancy fonts and cool text effects.
There are all kinds of badges like professional badges for example. The police badges, army badges, sport badges, detective badge, id badges, name badges and so on,  are all professional badges. 
Digital badges are a validated indicator of accomplishment, skill, quality or interest that can be earned in various learning environments. Types of digital badges include scout badges, skill badges, achievement badges, reward badges, learning badges, winner badges, etc.
You can basically make badges for everything!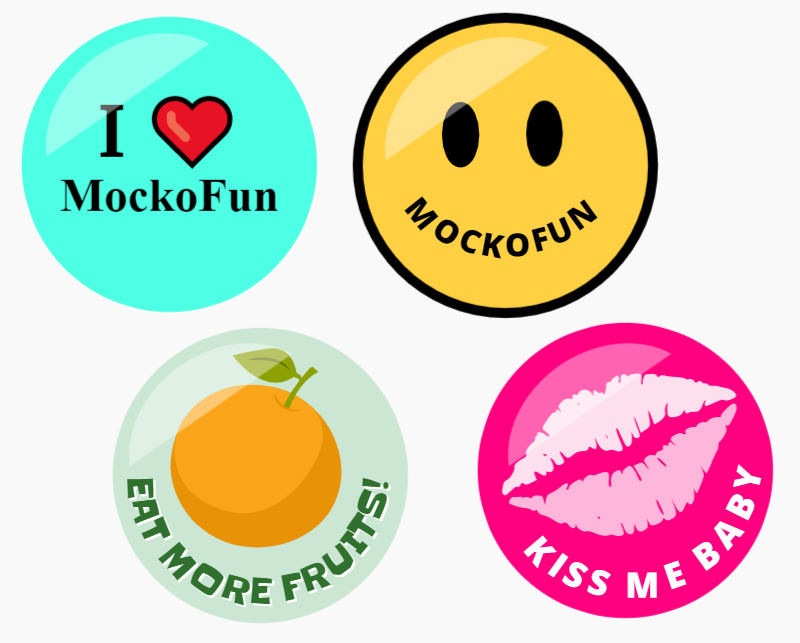 With MockoFun is easy to make a badge online. We have hundreds of vector graphics, text effects and fonts to use in your design. Don't forget to take a look at our online label maker tutorial.
How to Make a Badge Online
Pick a badge shape to start. The badge can have any shape. Popular shapes are circles, triangles, rectangles, squares, stars, shields and more.
Add text on the badge. Use simple text, curved text or circular text. Customize the colors and choose from 800 free fonts.
 Add elements (vector, illustrations and photos) with our easy drag-and-drop tool. 
Download the badge design for print in these formats: JPEG, PNG, or PDF.  
Share the editable badge with your team or your clients. You can make money online by selling your designs.
First, you have to create a new document for your badge design.
Choose a badge size from the list below. The most used badge size are:
From the drop-down list, choose cm instead of pixels. To make a 75mm badge, create a new document with the size 7.5×7.5cm.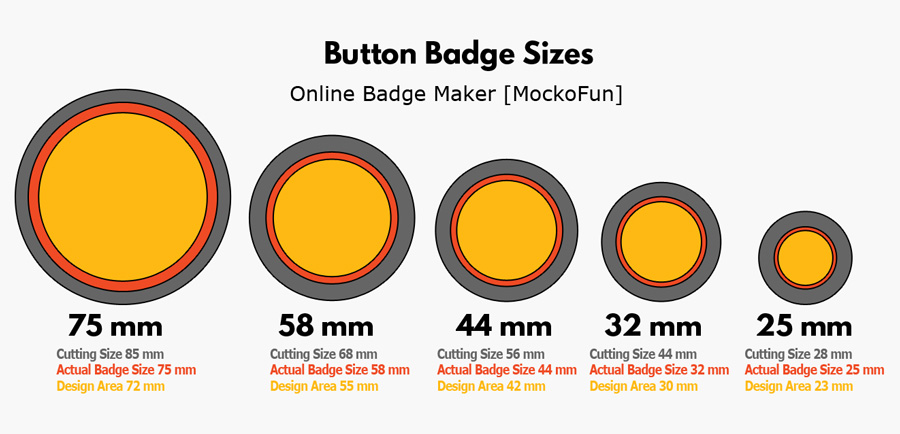 To create a badge start by choosing a badge shape. You can make round badges, rectangle badges, square badges and other shaped badges like star badges.
Then, use vector elements from our gallery (Elements > Shapes or Elements > Illustrations). It's easy with our drag and drop tool to make badges using these graphic elements:
To make a badge template, use badges shapes from our gallery: circle shapes, rectangular shapes, star shapes, label shapes, shield shapes, seal shapes and stamp shapes.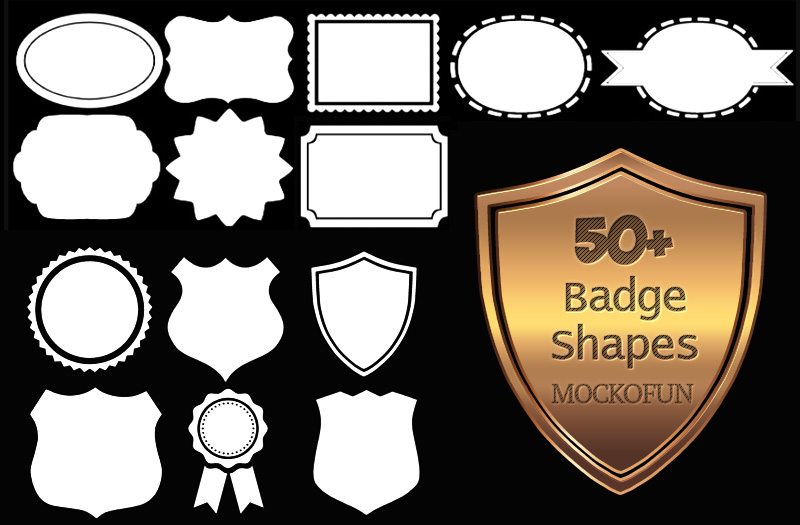 It's so easy to make a gold badge.  Apply the gold texture or, create a gold gradient with MockoFun. Create a golden badge or a gold shield like this in just a few minutes. You can also make a silver badge using the same steps. 
Make a badge logo design free using vector elements from our gallery, curved text, font styles, etc.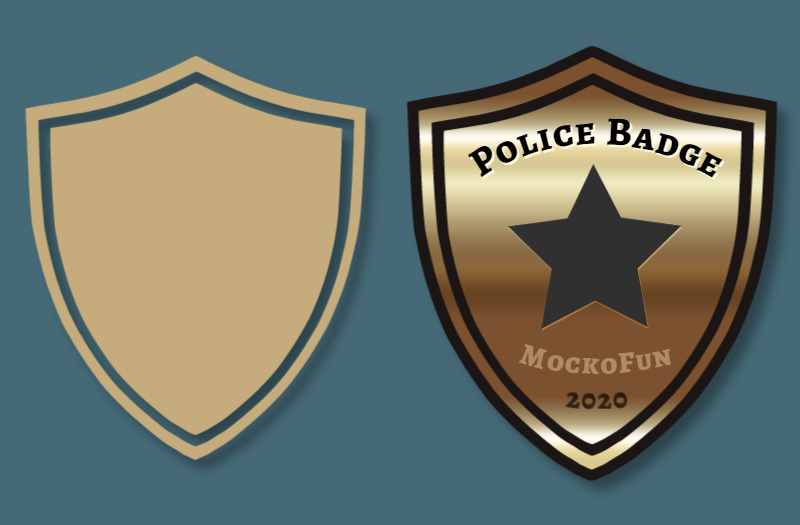 To make a badge outline, use the Stroke layer style. Learn how to add outline to image online from this tutorial for beginners. Our online badge maker has lots of unique features that you can use.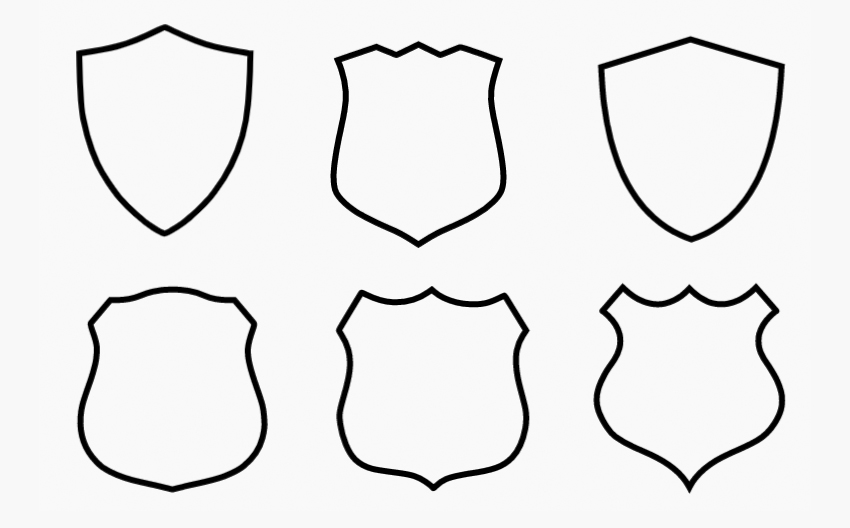 You don't have to have Photoshop to create custom badges. With our free badge generator, you can make all kinds of personalized badges.  
Next, I will show you how to create  a smiley badge with MockoFun. It's a really simple process. You can make other fun badges, like kids badges or school badges in the same way.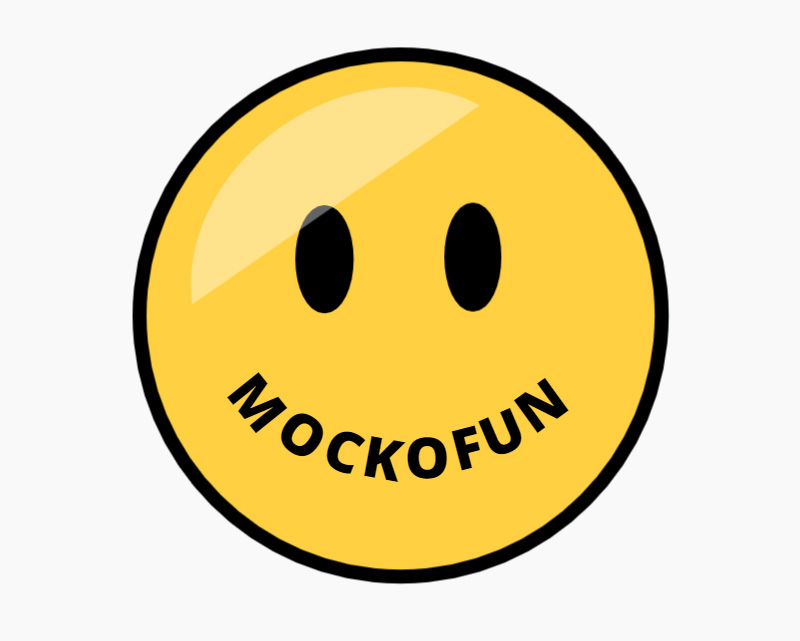 To make the badge shape, go to Elements > Shapes > Geometric and add a circle shape.  
Set the Color of the vector circle to a bright yellow. You have the option to add a Linear Gradient or a Radial Gradient. Also, add and Stroke outline of around 14px with black color.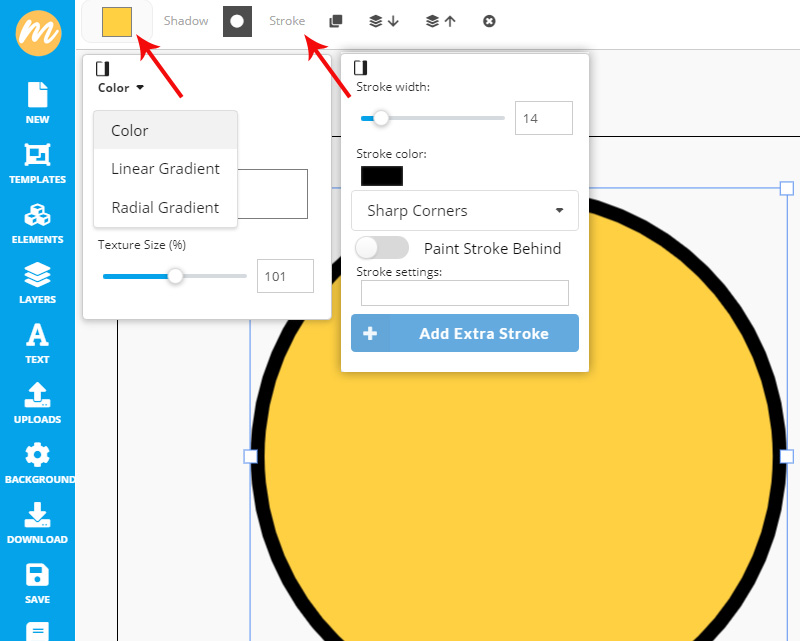 To make the eyes of smiley icon, add another circle shape. Use the transform handlers to make an ellipse shape. Then duplicate the ellipse shape and move it.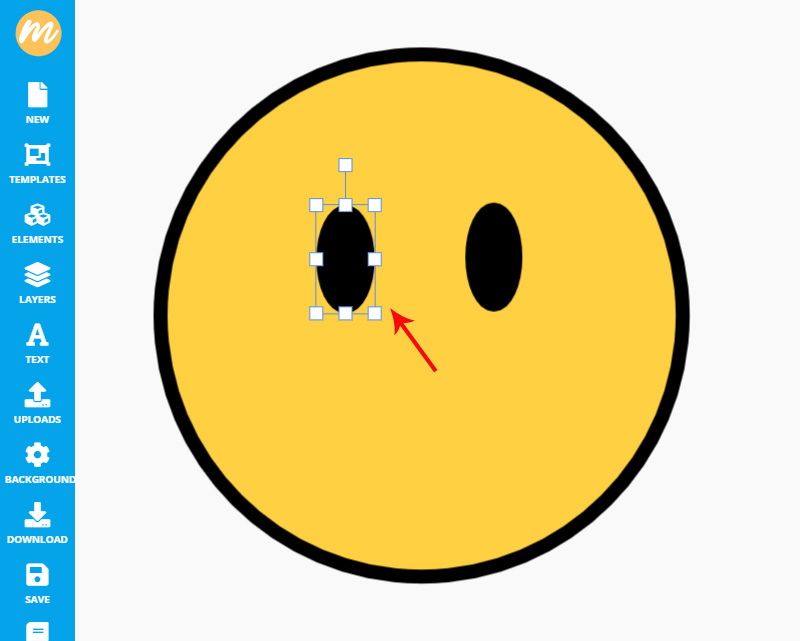 To draw the mouth, let's use a curved text effect. Go to Text > Curved Text and add the rounded text on the circle badge. 
Choose the font; we have over 800 free fonts online. Set the Spacing between letters and also the Curving for the circular text.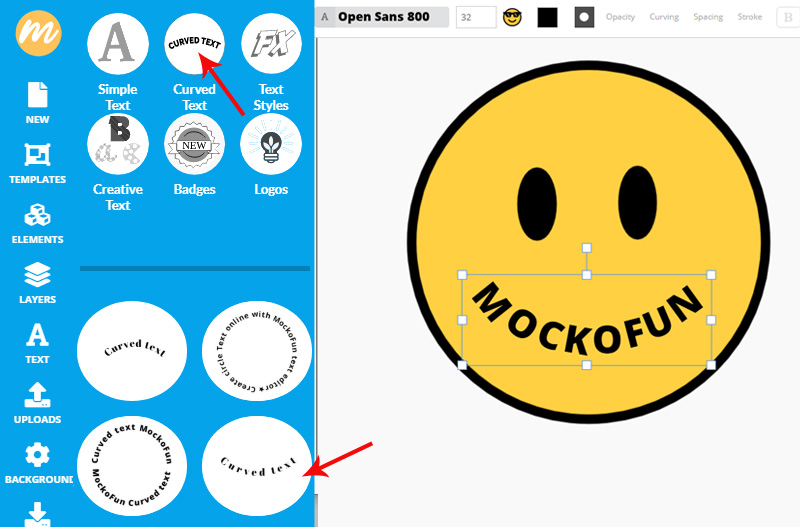 Save the round badge design and download badge as JPG, PNG or PDF. It's better to download the badge png with transparent background.
You can share the badge design with your friends, and they can edit badge online if they also have an account (free).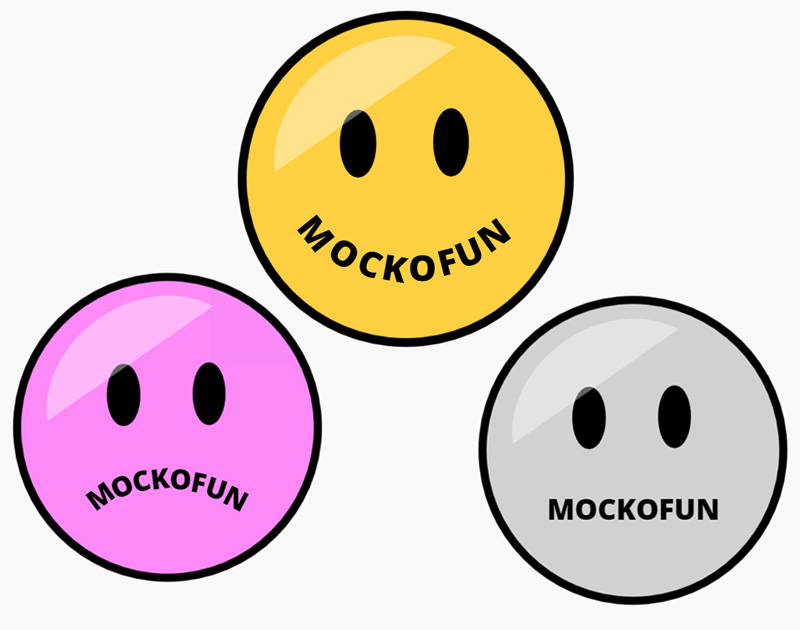 Button badges made with MockoFun
To make a comic badge you can use speech bubbles and other comic vector elements. We have lots of free badges and premium online badges to choose from.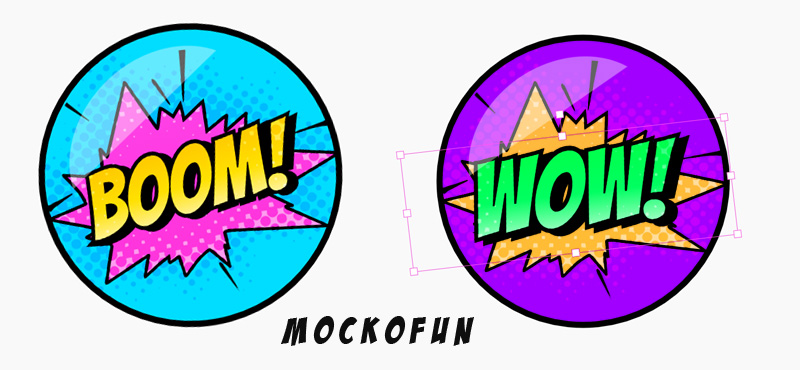 With MockoFun badge maker you can create vintage badges with a more complex design. You have all the elements like badges shapes and ribbons to make retro badges.
The vector badge is ready for print. Simply download the badge logo png. You edit the badge logo template at anytime because your badge design template is saved in your gallery.   
Create badge online quick and easy! Design quality badges like these. Or, make a badge icon for your blog or website.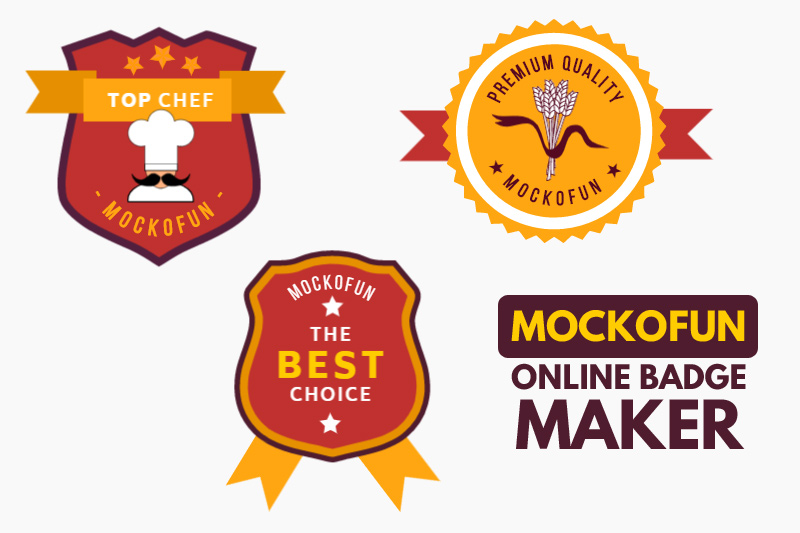 Similarly to a logo, a website badge is representative of your brand. Website badges are a must have element of modern marketing. Using web badges can significantly increase your site's traffic.
There are all kinds of website badges and each has its own role. For example, to boost consumer confidence, use website trust badges.
MockoFun is a website badge generator that offers lots of designs. Make a web badge from scratch or use a pre-made template. To use it on your website, make sure you download the badge PNG, not JPG.

Use our digital badge creator to make badges for your website or brand. There are plenty of badge ideas to choose from.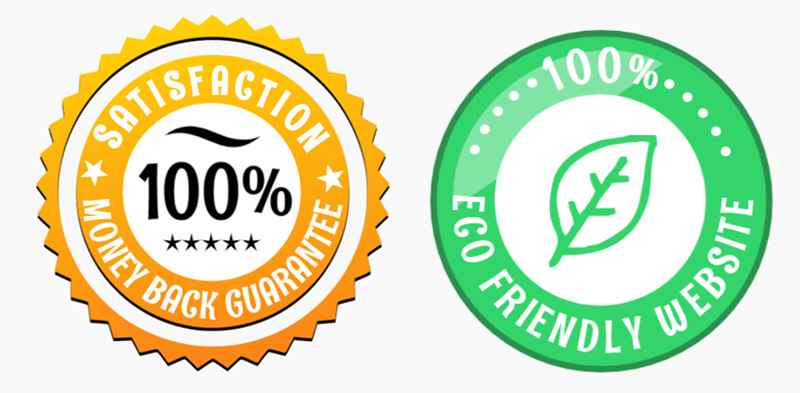 Make personalized badges with messages using the comic elements from our gallery:
Elements > Shapes > Comics & Speech Bubbles 
Use a comic font for the custom badges like Just Another Hand font

Another cool way to make chest badge design is to use photos. Round photo badges with pictures look really cool. Check out this tutorial to learn how to create a circle image online with MockoFun.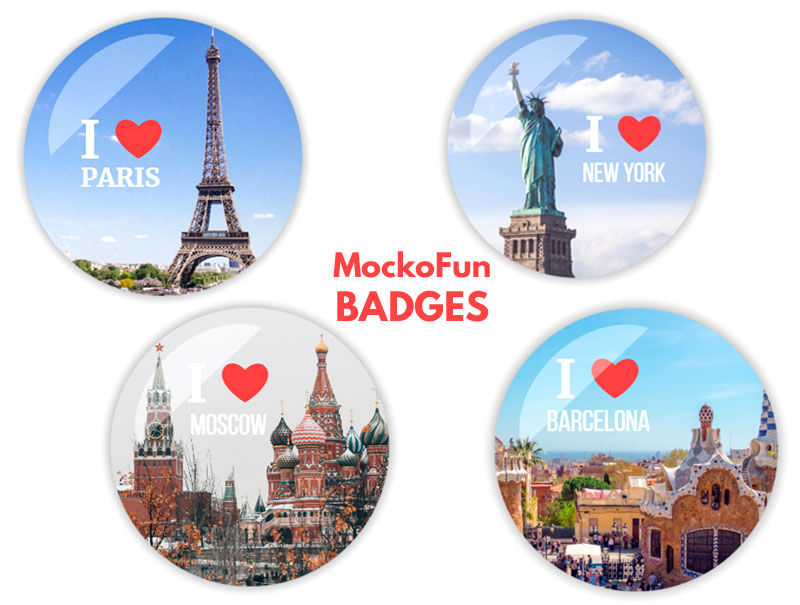 After you make your badge design with MockoFun, you can use a service that offers custom printed badges like Etsy for example. Make custom pin badges and custom buttons quick and easy.
There are all kinds of types of badges that you can design: food badges, adult merit badges, funny merit badges and so on.
Scout badges for example are usually embroidered badges. Others like the button badges are made from steel components, pressed together with a printed paper layer behind a protective plastic covering. Metal badges are my favorites but I also like the embroidered badges.
MockoFun is also a name tag maker that you can use online to make name tags and name badges.  
If you are looking for a name tag maker online, choose MockoFun. It's easy to use and has tones of features. We have probably the best text editor and a powerful photo editor with lots of photo filters.
Design printable name tags for your company's employees. Make cool name tags for work, name tags for school, name tags for students, name tags for kids and other types of id cards. 

With the name badge maker online, you can make a name tag like this one. 
Add your own photo; click on the Replace object button to add your photo. You can change the text, the fonts, the color of the name tag, etc. If you want to add a signature check out the signature fonts collection. 
You can also choose a circle photo or a square photo. Check out our tutorial on how to use the circle image generator to make circle photos.
So, pin badges or enamel badges are usually used to reward achievement, communicate membership, acknowledge affiliations, for charity fundraising, promoting events, product launches, etc . 
With MockoFun, you can make all kinds of editable badges. It's  a free and easy to use online tool!
YOU KNOW IS FUN. IT'S MOCKOFUN.
75% of marketers

use visual assets
Unleash your creativity and make awesome designs. You don't need to be a graphic designer to create something amazing!
Learn MockoFun from these quick tutorials for beginners. It's quite easy!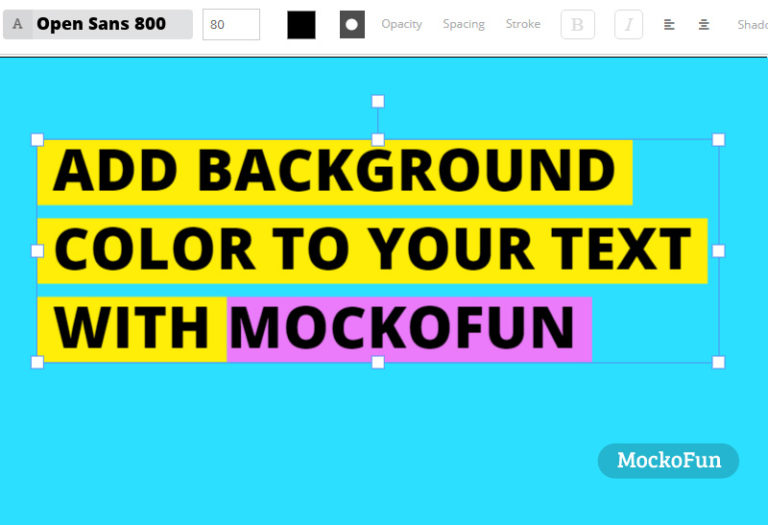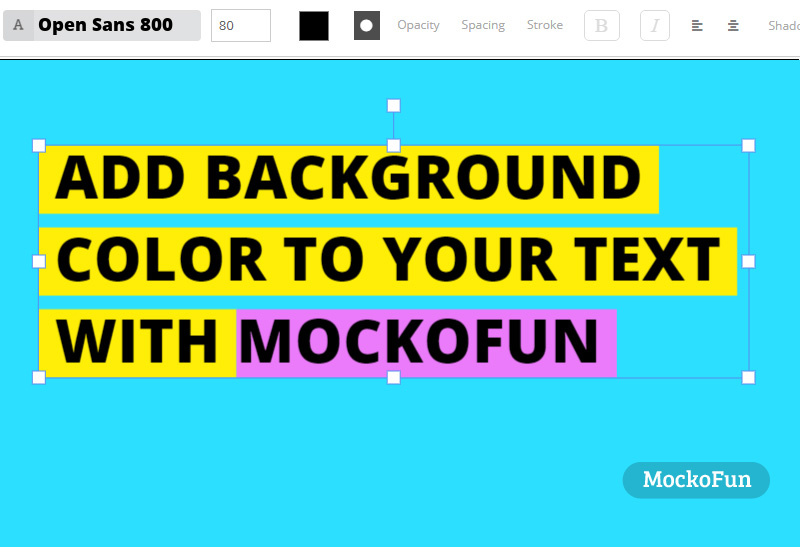 Do you want to highlight text online? Use MockoFun it's free and easy to use!
Create an awesome highlighted text in one minute.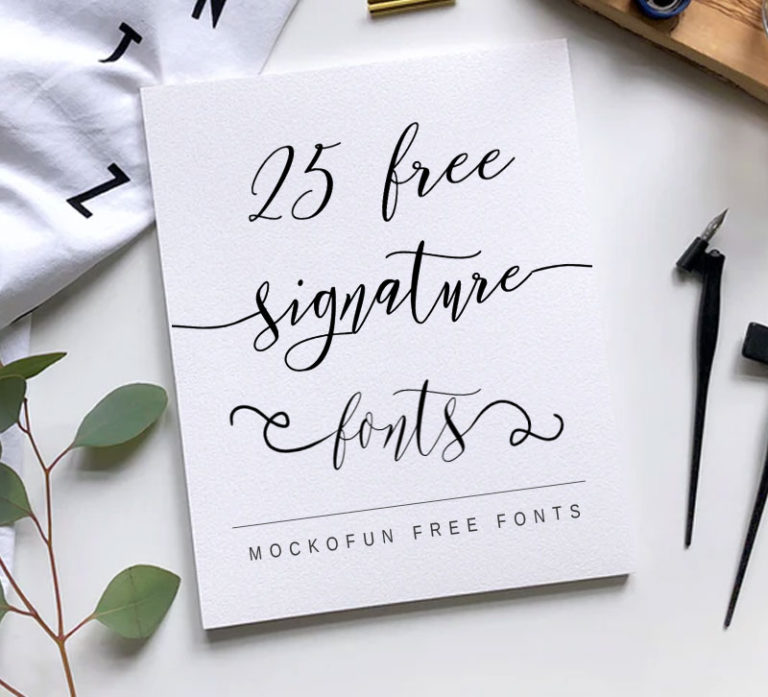 Download the best signature fonts free. Online signature creator with free signature fonts online.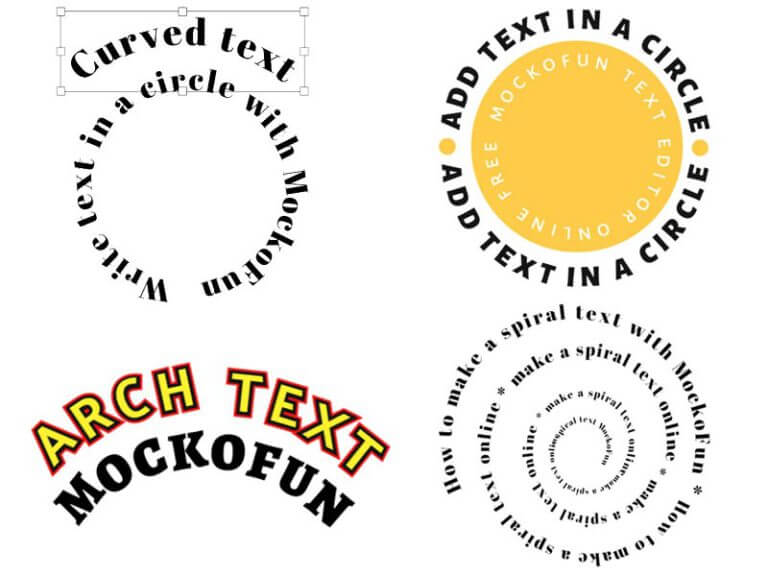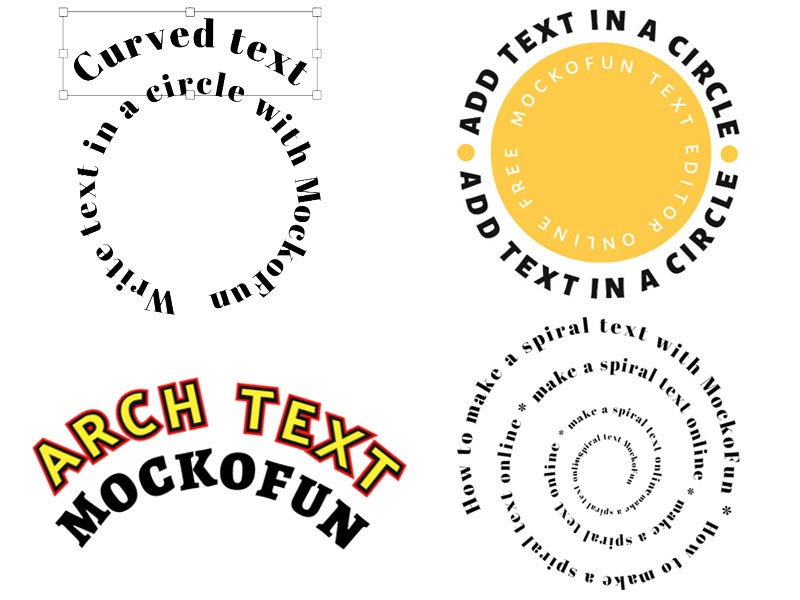 Create curved text and circle text using MockoFun text editor. This curved text effects is available online.