Add Grid to Photo Online Free
Grid Drawing Tool Online Free
Put grid on photo online. 💬 Check our our new tool, it's super easy!
Use the grid generator to make a drawing grid that you can also print on paper. To make the grid image below, I followed these steps:
Upload your image in MockoFun (TIP: to print only the grid, go to the Layers menu and hide the image)
Set the Grid Cells
Set the Grid Line Width
Choose the Grid Line Color
Set the Grid Line Opacity
Do you want to add grid to photo online? Use our free grid drawing tool online!
Create a grid design layout in just a few easy steps using the MockoFun grid maker online. How to put a grid on a picture online? All you need to do is to add a grid overlay for picture.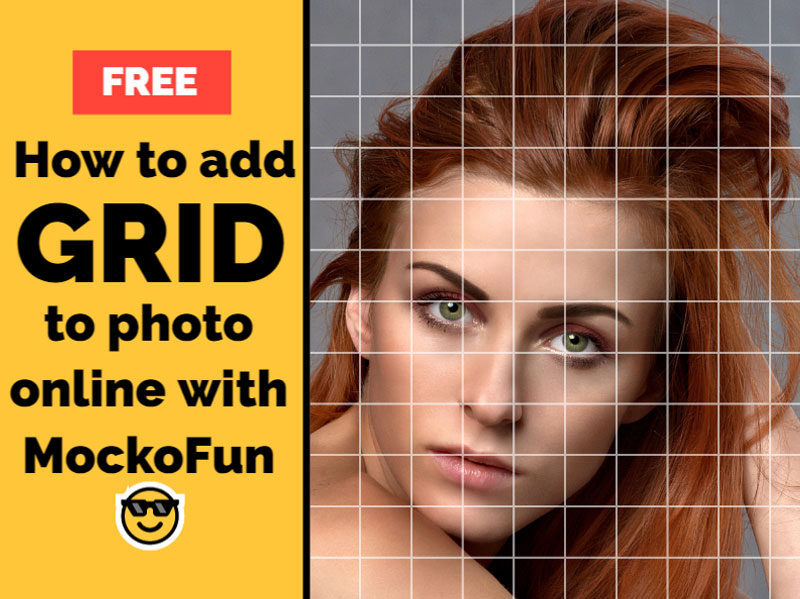 Did you ever wondered how to enlarge a drawing to scale? The grid method is one of the most used techniques to scale drawings. So, use a grid to enlarge a drawing easily.
In the preview image you can see how the grid lines on photo look like.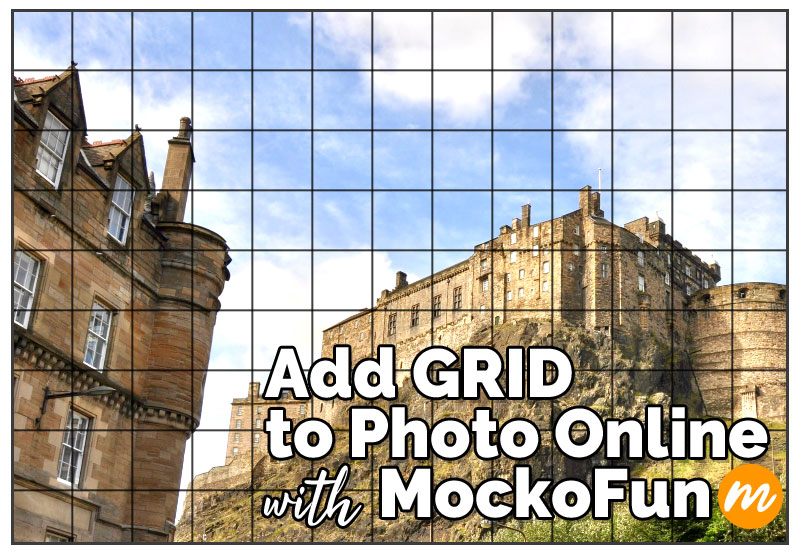 How to grid a picture on the computer without having to install complicated software. You can do it online with our grid picture editor.
1. Add Grid to Photo Online with MockoFun
In this tutorial I will show you how to add grid to photo. 
But, why is necessary to add grid to picture in the first place?
Use this simple method to get the proportions right when copying or enlarging an image from a photo.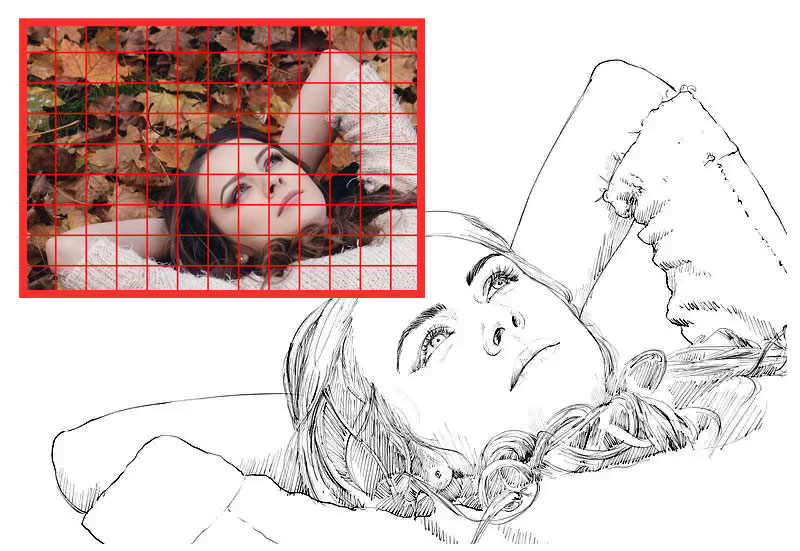 After you put grid on photo, it's much easier to accurately reproduce the image. By creating an equally proportioned grid on drawing paper you can copy the image square-by-square. 
You can print the digital photo and add grid lines by hand. But, there are better and much easier methods to do the same thing.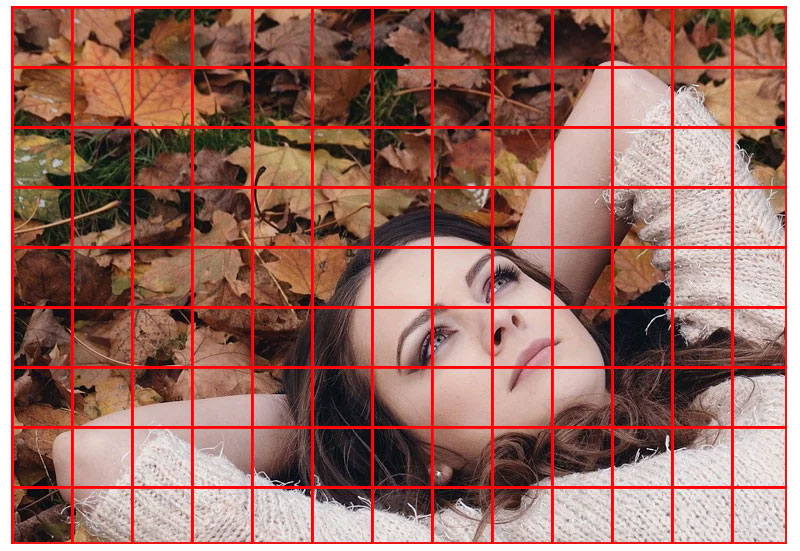 So, how to draw from a photo using the MockoFun's grid system?
First, open your reference photo in a new document. 
Pick a picture from Elements > Photos or Upload your own photo.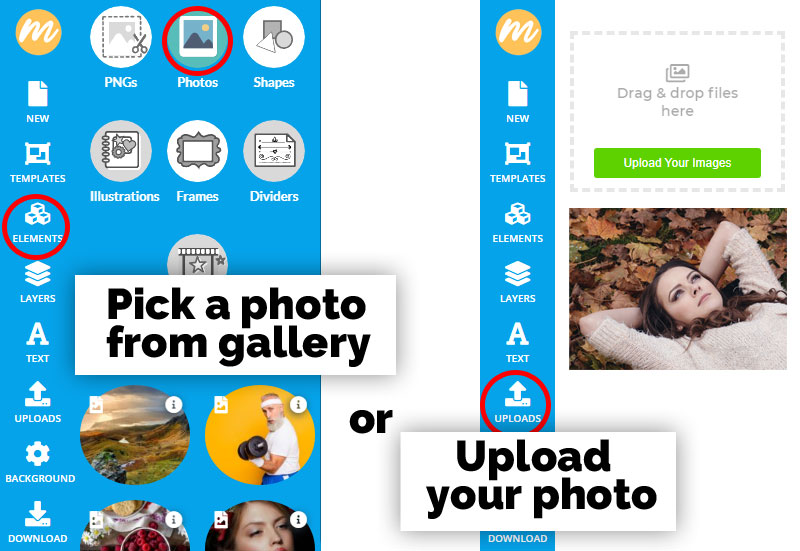 # Method 1: How to Grid a Picture Online
Go to Elements > Effects > Grid and choose a grid image from the list. 
We have lots of grid lines for drawing. Use one of the grid pattern PNG images. If you choose a grid texture that has white background, set the blend mode to Multiply.
So, you don't really need a complicated grid tool to add transparent drawing grid to your pictures. 
You have the option to change the color of the grid png image/grid texture. 
Go to Filters >  Photo Coloring and add the DuoTone Filter. Set the Mix Amount to 1 and set the Shadows Color to let's say red. Press the Apply button to see the result.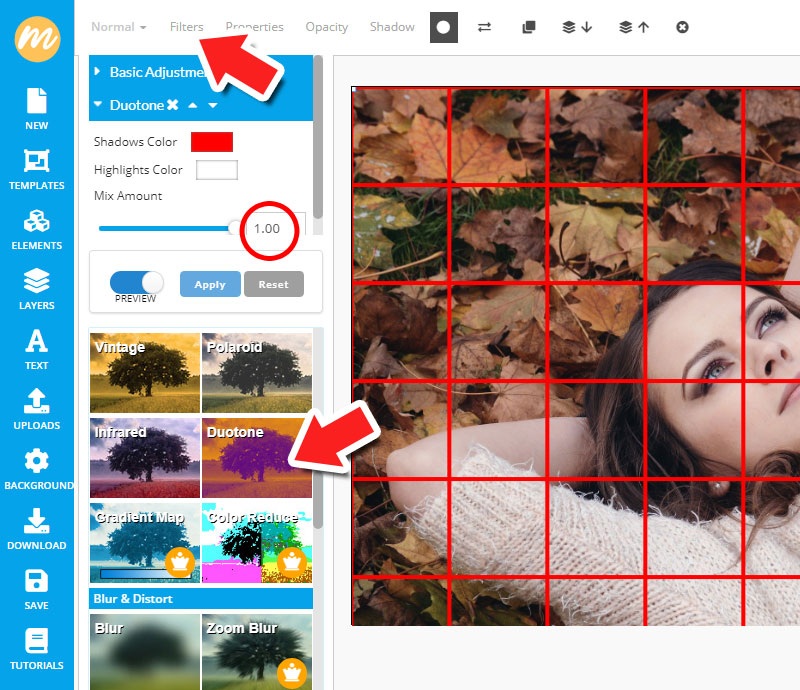 If you want to move the photo behind the grid template, go to Layers and simply click on the Lock icon to lock the grid layer.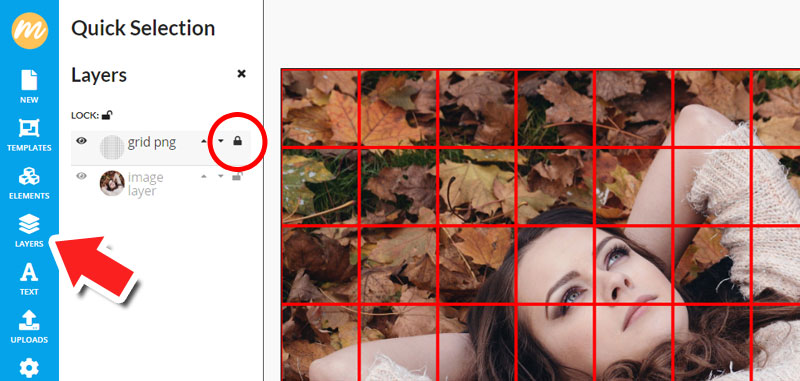 # Method 2: Add Grid to Image Online
Here is the second method for the proportion grid maker. 
Go to Elements > Shape > Geometric and add a Rectangle shape. Resize the rectangle to cover the entire canvas.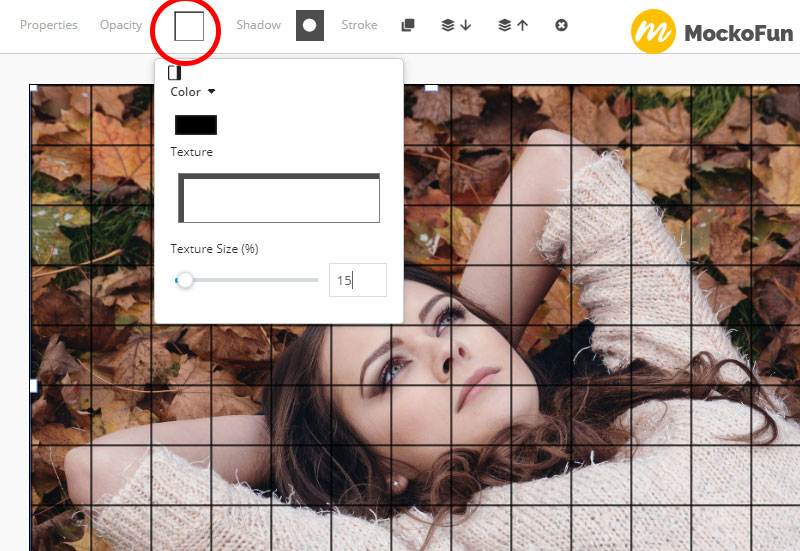 Apply a grid texture to the rectangle:
Go to

Color

menu and in the

Texture

box search for

"grid".

 

Pick the

square grid pattern

. In the list you have also a triangular grid. 
This is actually a seamless grid texture that you can apply as a grid pattern just like in Photoshop. You can set the grid size depending on the number of cells (boxes) you want to add. 
Graphic design software like Photoshop can simplify the process by letting you grid photo. However the Photoshop grid is NOT printable.  If you are a Photoshop user, try this grid generator Photoshop action to make a grid. Or, use these grid brushes, grid PNG or grid overlay image. 
If you don't have Photoshop, grid paper online using an artist grid app like MockoFun. Grid photo online quick and easy with so many options that I will explain next.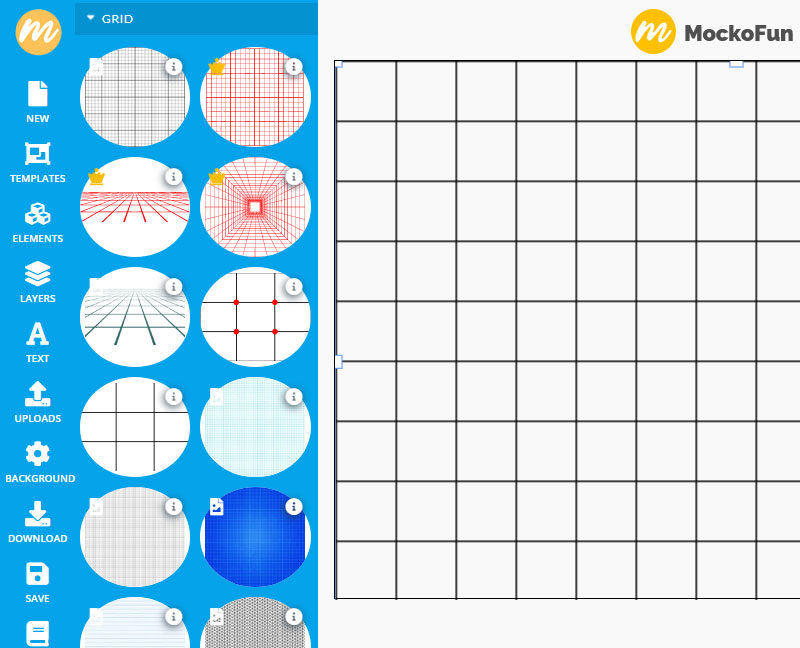 Even though it's considered cheating by some people, the grid method is used even by the best artists. 
Drawing complex objects purely by eye without any proportional divider, construction lines or grid system can be very difficult. So, in MockoFun we have a number of easy ways to add printable grid to your image:
Square Grid Pattern
Seamless Grid Texture
Grid Overlay
Grid PNG (transparent grid)
Vector Grid Lines
Perspective Grid & Isometric Grid
Triangle Grid
Circle Grid
Rule of Thirds Grid PNG
These are all grid pictures to draw more easily all kinds of subjects more or less complicated. Anyway, they are all useful as painting grid.
For the grid pattern you can change the grid size but you can not change the color. In the list of patterns there are 2 color versions for the lines: black and white.
2. Print Grid Paper Made with MockoFun
So, you have grid photo online with MockoFun! What to do next? The next step is to print the image or to use it as reference from your screen. 
What is actually important, is to:
Print the grid image or,
Transfer it on your drawing paper 
If you choose to print the grid texture, go to Layers menu and hide the photo layer.  Then Download the grid picture as grid PDF file. You can lower the Opacity to 0.05 if you want less visible lines.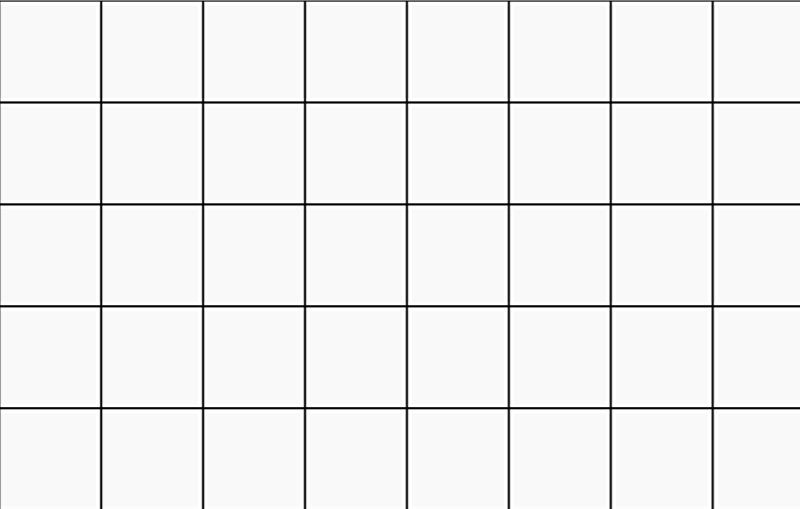 TIP: If you choose to transfer the grid on your drawing paper, use a ruler and simply add an equal number of boxes. 
After that, you can start drawing the subject. With a proportion grid creator it's much easier to draw images that have lots of elements.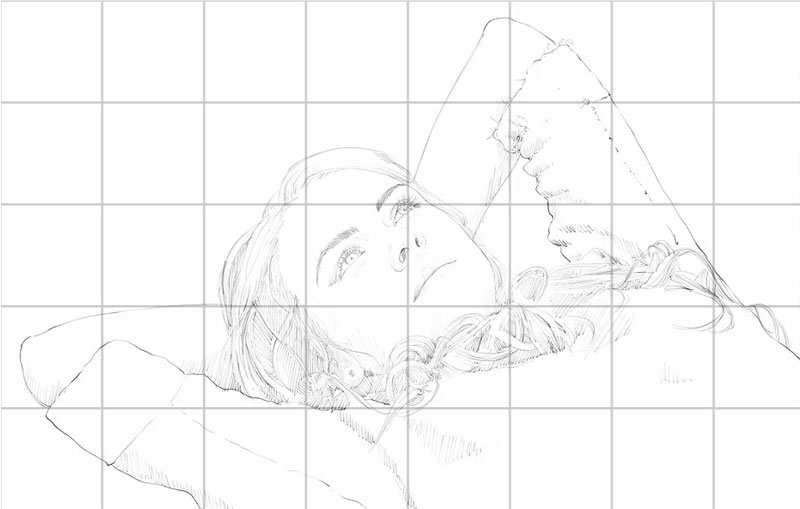 How to erase gridlines from your drawing surface?
To erase the grid lines is the hardest part. You have to use an eraser and to carefully delete the lines. 
I usually use this line art Photoshop action to digitize drawings. You can also use it to turn photos into line art.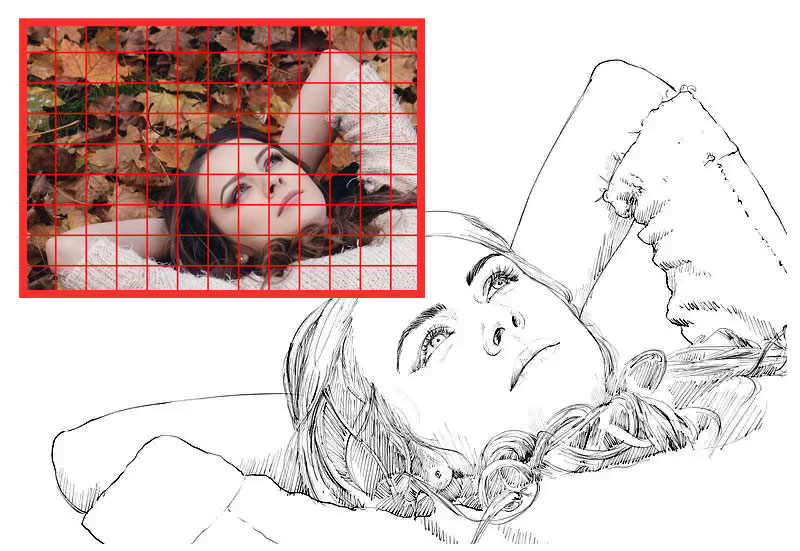 3. Easy Grid Drawings for Kids
Drawing with Grid Lines
With MockoFun you can also make easy grid drawings for kids. In the Elements gallery you have lots of vector shapes and illustrations that you can use for making grid drawings for kids.
In here you will find lots of shapes and illustrations:
Elements > Illustrations > Birds & Animals / Nature / Vehicles & Transportation
Elements > Shapes > Birds & Animals / Nature / Vehicles & Transportation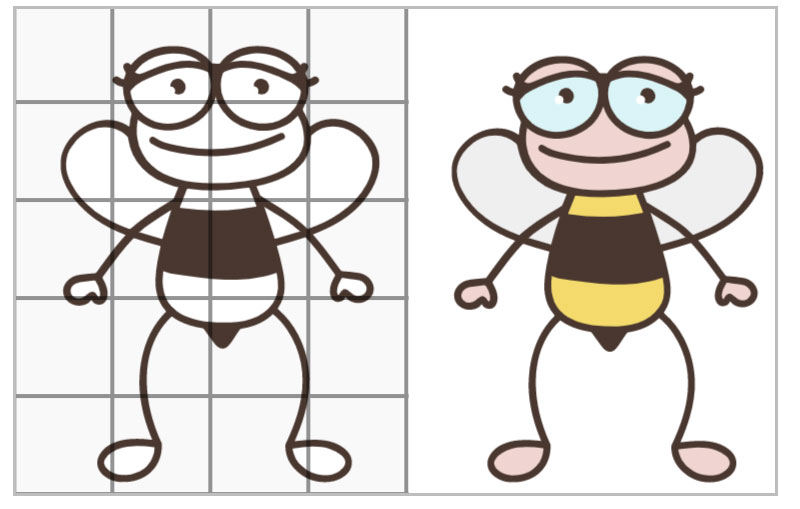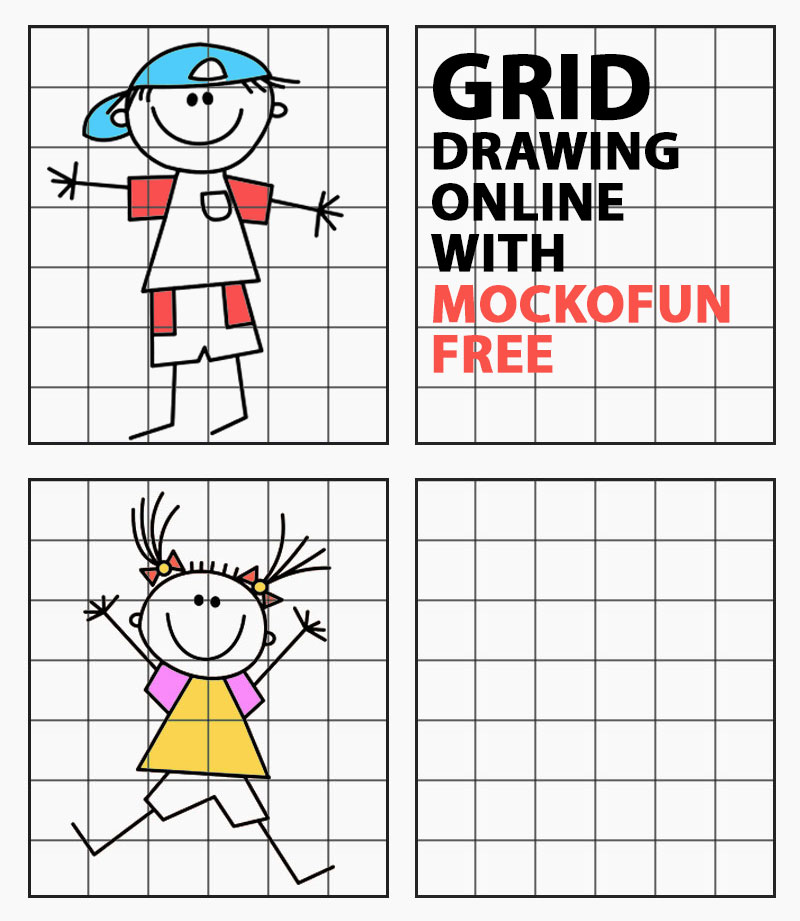 Drawing with Squares
If you want to draw with squares you will also need a drawing paper with squares.  The square drawing grids are so popular among kids & toddlers that love to draw. 
4. Online Graph Paper & Printable Graph Paper

Are you looking for online graph paper? MockoFun has lots of free printable graph paper that you can download. Here are some of the most used types of graph paper: 
Create a grid online in just a few simple steps and make your own printable grid paper. 
Choose a grid overlay image from Elements > Effects > Grid (Click on the Open as new document button to open the full size image).
Use Filters > Duo Tone Filter to change the color of the graph paper and the color of the lines
To resize the grid texture you can either use the handlers or, go to Properties menu and set the Width and Height(px or %)
(Optional) Use the Crop button to adjust the size of the grid paper
(Optional) Save the grid paper as template in your MockoFun's Templates Gallery to use later
Download the image as printable graph paper (formats available JPG, PNG or PDF for print)
Create a drawing grid template or a blank grid in just a few easy steps. Make free grid drawing worksheets with MockoFun is easy!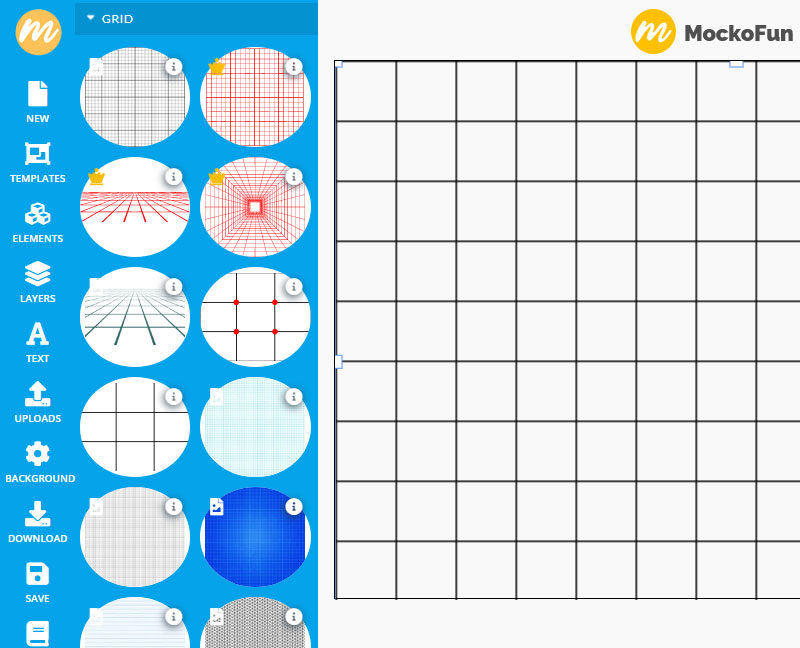 So, it is quite easy to make a graph paper online or to draw lines with MockoFun. Use the online text editor to add text on your graph paper. Create a grid background of any size with our grid creator online.
Grid notes help you draw a straight line, create drawings and sketches, handwrite in a straight line, keep proportions and more.  Use the grid generator png image to make grid pictures online with transparent background.
Textures4Photoshop is a good place to download free grid texture, grid png and other math paper images.
In photography, the rule of thirds is a type of composition in which an image is divided evenly into thirds, both horizontally and vertically. Then, the subject of the image is placed at the intersection of those dividing lines, or along one of the lines itself.
Create a rule of thirds template with MockoFun and apply it over your photo. The rule of thirds grid is found in the Elements > Effects > Grid category. The vector grid elements are easy to customize. Use the Color option to edit the color of the lines and the color of the intersection points.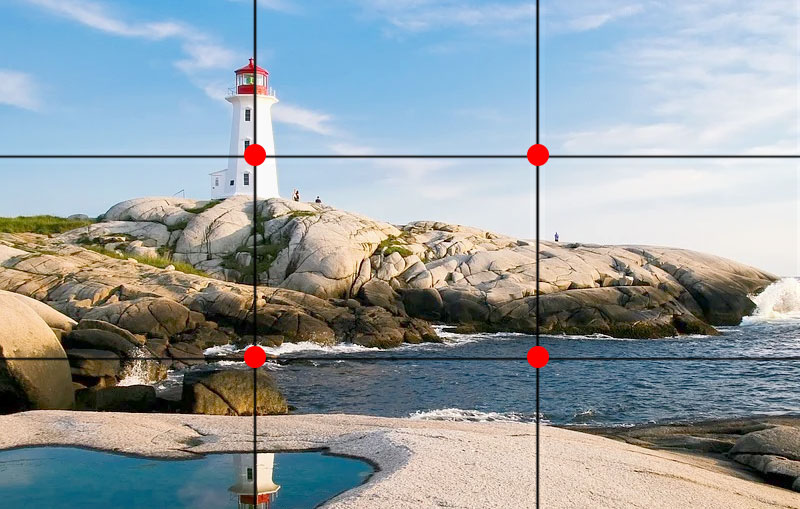 In graphic design, a grid is a structure (usually two-dimensional) made up of a series of intersecting straight (vertical, horizontal, and angular) or curved lines (grid lines) used to structure content. (Source: Wikipedia)
So, every graphic design software has a design grid system that you can use to structure content and to align design elements like text, buttons, photos, etc. 
MockoFun has also a grid system; just add a layer with a grid overlay. Our design grid is not only a guide but it is also a printable grid.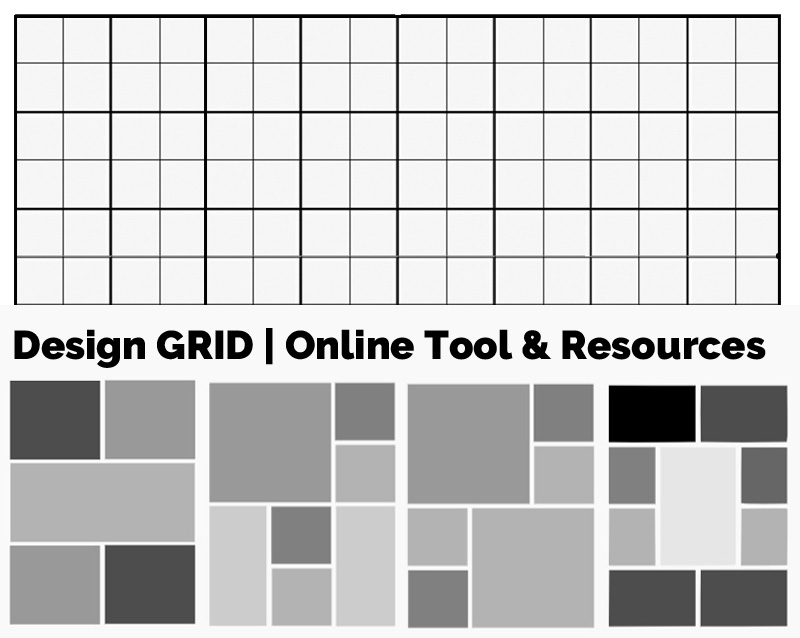 There are different categories of grid systems, but there are no strict rules on what can or cannot be a grid. So, it's up to you. Any guides that help you build a layout design and shape the final design is okay.
Talking about grids & photos, do you know that MockoFun is also useful to make a photo grid online?
Create grid online using these pre-made photo collage templates or create a photo collage from scratch.  To do that, go to Elements > Frames > Vignette & Mask and you will find lots of photo grids to work with.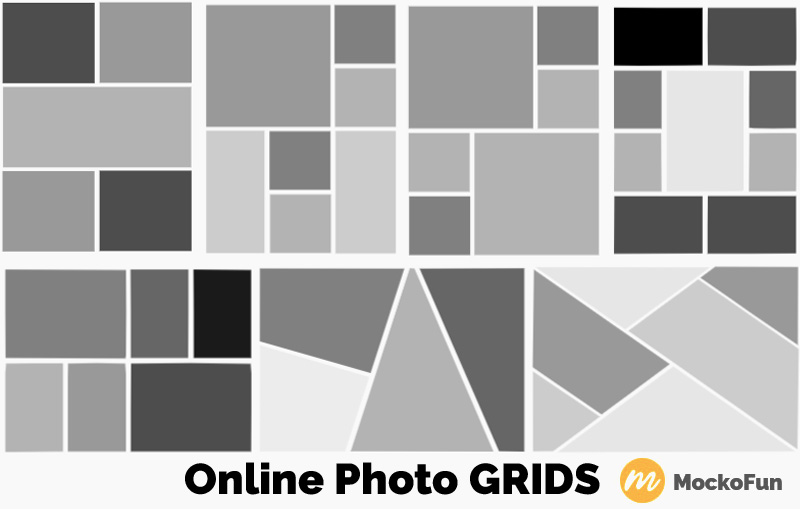 MockoFun is a photo grid maker for making photo collage templates, mood boards, etc. Download photo grid maker for free.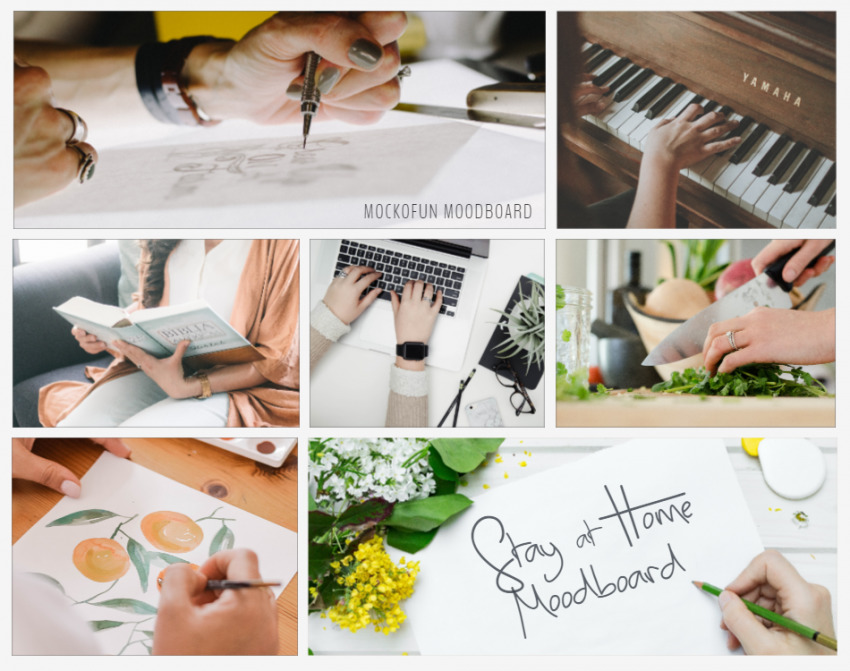 It's simple to make a grid with numbers or a printable number grid. Choose the printable grid 10×10 image from the Effects > Grid category.  
Then, simply add text from the Text menu and make a custom printable number grid.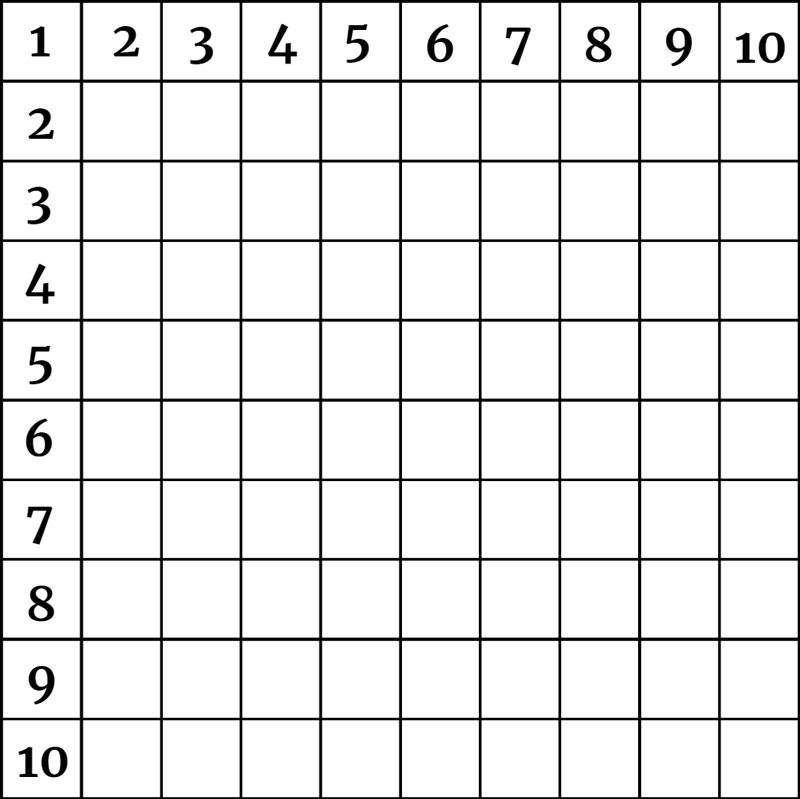 Make a alphabet grid in the same way. Choose the printable grid 6×6 image from the Effects > Grid category.  
Then, add text from the Text menu and create your own alphabet chart printable. Pick a font that you like from a list of 800 free fonts online. Set the size, color and even add graphic elements, clipart, etc.
If you need a blank alphabet chart free printable, use MockoFun. A printable alphabet grid for example is quite useful for kids.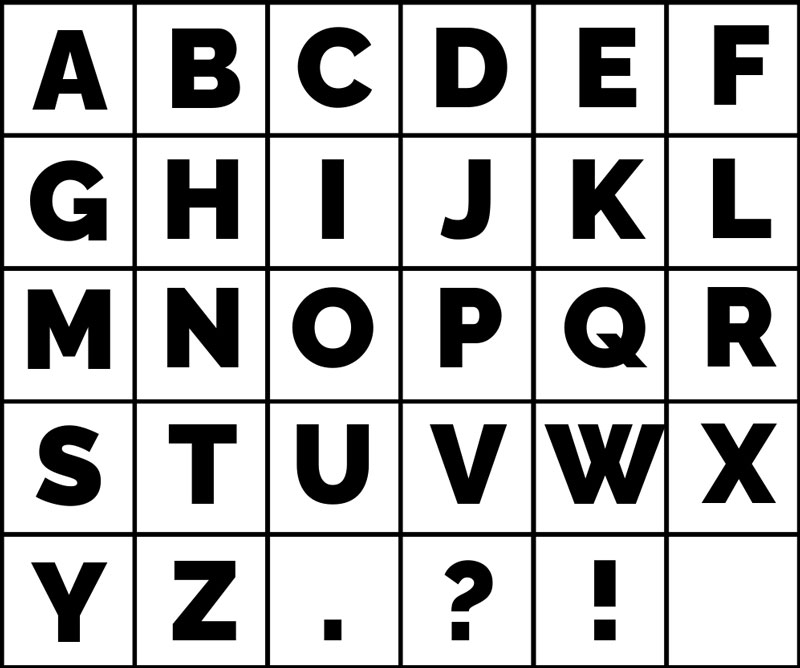 Use our Pixelate filter and the pixel grid to create grid art and other line photo editing (note: the grid and the pixel art are not perfectly aligned). But, we have lots of lines overlay images to choose from.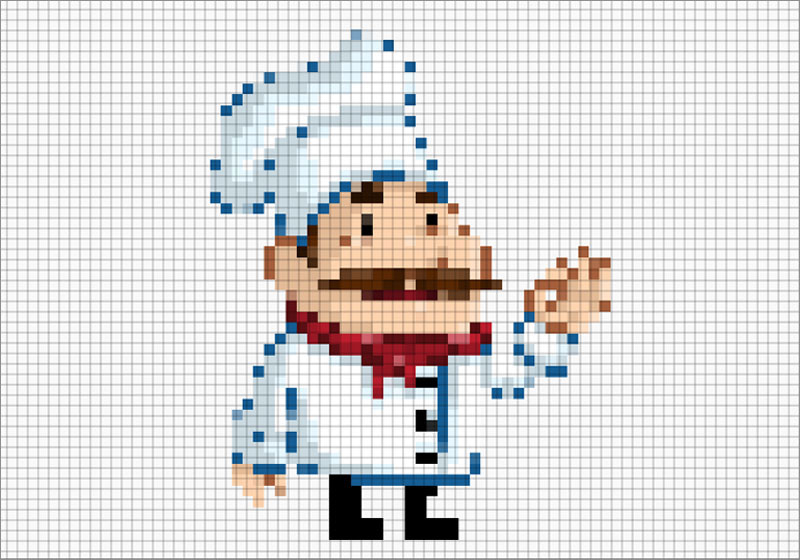 10. Grid Drawing [Pros and Cons]
Grid drawing is a drawing technique that involves placing a grid overlay png over your reference photos. Then you use that grid to make an exact copy of the thing you want to draw. Some people say that drawing with the drawing grid method too long won´t really help you improve.
Here are some pros and cons for using the grid drawing method. 
 PROS:
The drawing grid is an useful drawing tool for beginners 
With a grid template, you can make easy grid drawings for kids
You can use grids to draw complicated subjects more accurately 
Use a grid overlay to maintain the proportions of your drawing subject
Scale drawings using the grid method or box method
Use a grid if you have to draw an extremely accurate copy of an object or subject
This technique is useful for technical drawing, construction drawings, for drawing geometric shapes in 2D or 3D, etc. 
CONS:
Drawing only with a grid overlay can actually compromise the development of your freehand drawing in the long-term
You rely on the grid an not on your eyes so you probably won't be able to draw from memory 
When you use a grid over a photo you focus on the grid and not on the subject itself
Use a perspective grid instead. It will help you follow the perspective lines to create the illusion of a three-dimensional object on a two-dimensional surface
Now you know how to add a grid to a photo, how to print a grid on a photo and how to make a transparent grid for drawing. A grid drawing template is useful to help students understand the concept of how to reproduce an image using the grid drawing method.
How to make a grid on paper? You can either print a grid or draw it by hand using a ruler. 
How to grid a photo online? Use a grid generator online that will add a grid overlay effect on top of your photo.
 With MockoFun you can do all these online. It's free and easy to use. So, have fun with MockoFun!
YOU KNOW IS FUN. IT'S MOCKOFUN.
75% of marketers

use visual assets
Unleash your creativity and make awesome designs. You don't need to be a graphic designer to create something amazing!
Learn MockoFun from these quick tutorials for beginners. It's quite easy!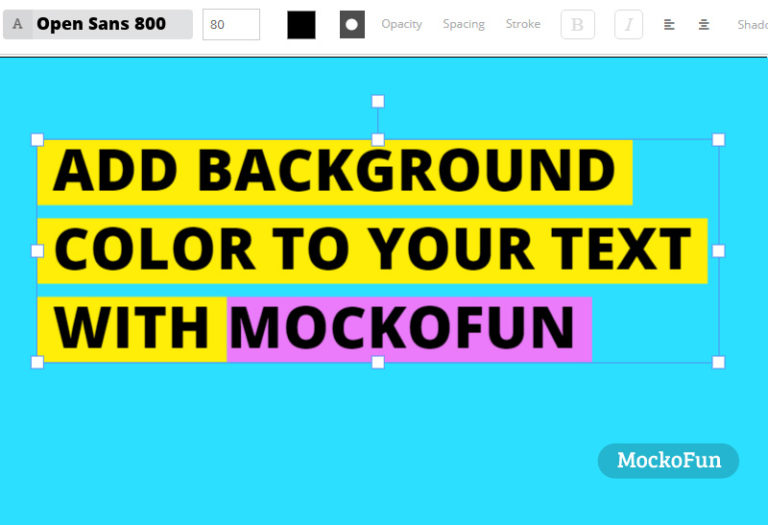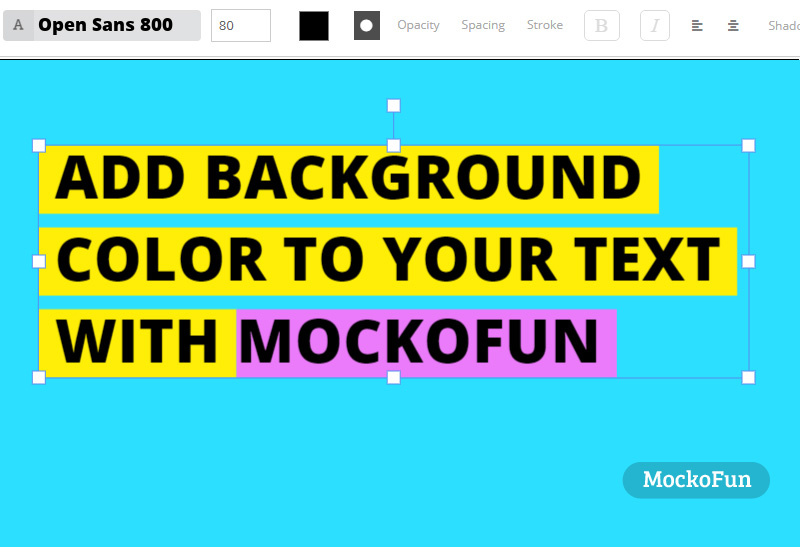 Do you want to highlight text online? Use MockoFun it's free and easy to use!
Create an awesome highlighted text in one minute.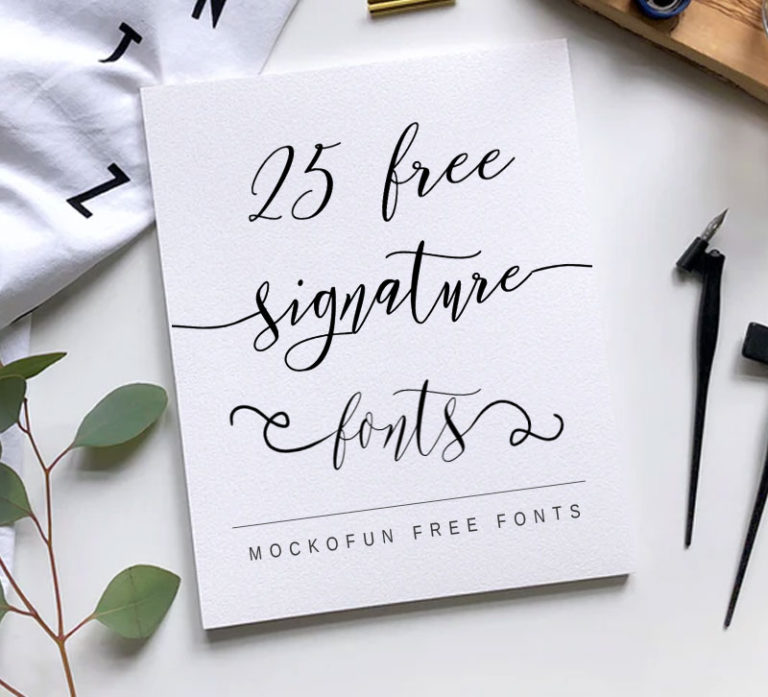 Download the best signature fonts free. Online signature creator with free signature fonts online.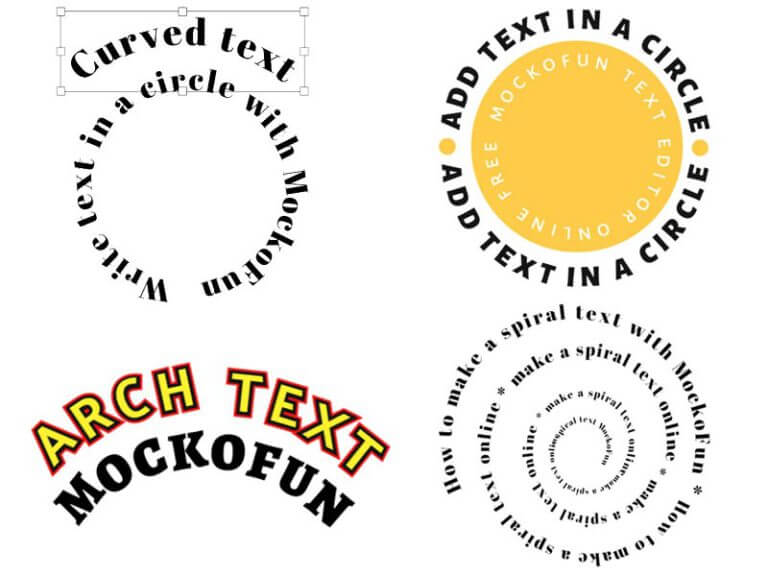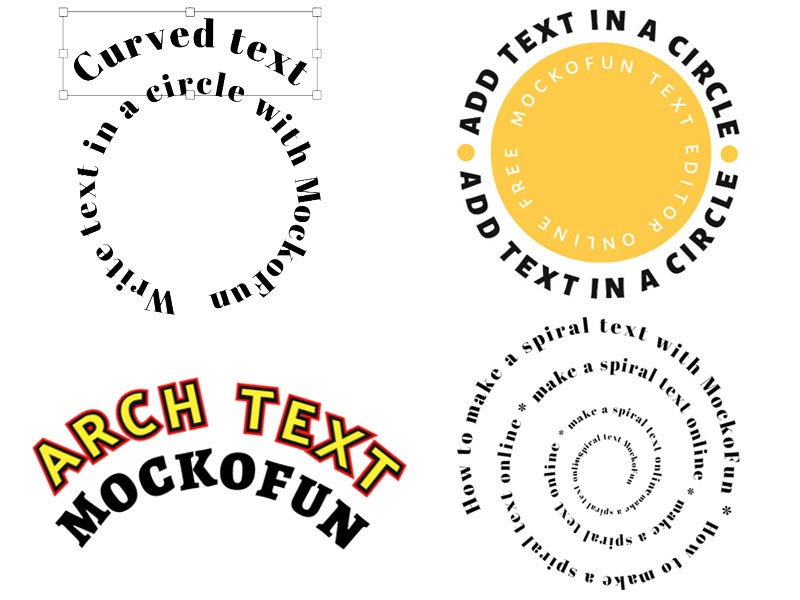 Create curved text and circle text using MockoFun text editor. This curved text effects is available online.