Blank Wanted Poster
Blank wanted poster template that you can download for free.
Upload your own picture in the UPLOAD section.
To place your own picture in the wanted poster simply click on the picture in the center, click on the Replace Image button then choose the your uploaded picture. The picture will be already blended with the old vintage look of the wanted poster. You might need to re position the picture by dragging it.
Edit the text, fonts, colors from the LAYERS menu.
Use this template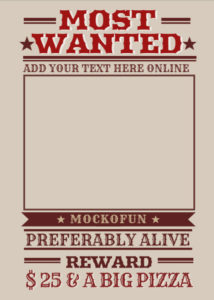 You can easily place your own photo in the center of the wanted poster. If you only need a blank wanted poster template, you can hide or remove the picture in the middle by going to LAYERS or selecting the picture and pressing the DELETE button.
Download this blank wanted poster for free as an image in JPG, PNG or even 300dpi print-ready PDF format. The size of the PDF wanted poster is A4, so you can print it as a real size poster.
The picture in the wanted poster has a couple of photo filters. You can adjust the filters by selecting the picture and pressing the FILTERS button on top.
All the text elements in the poster are editable ("WANTED", "DEAD OR ALIVE", "REWARD"). You can move them, change the color and input your own text by double clicking on the text element.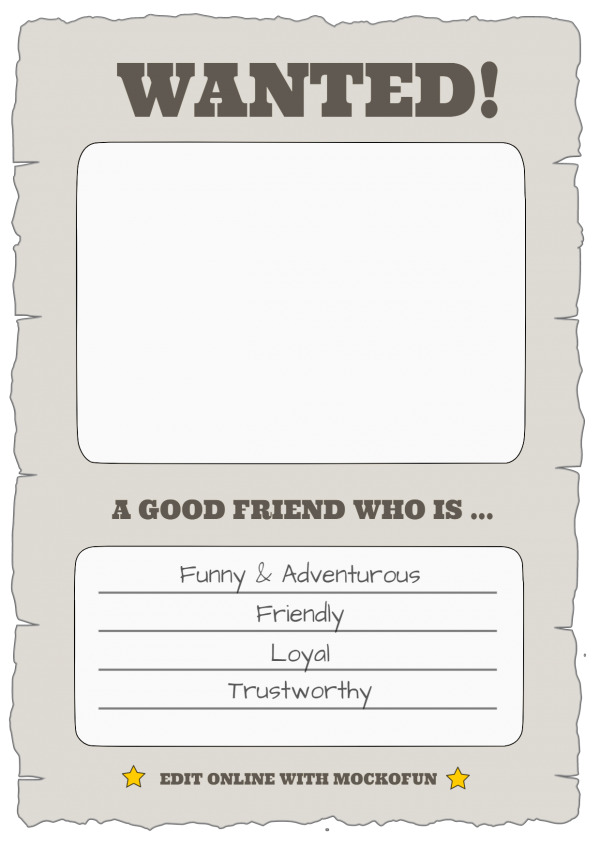 The font used in this blank wanted poster is the classical western Rye font, but you can choose any of the 1500 different fonts available in MockoFun. If you still can't find a font that you like, you can upload custom fonts in MockoFun.
Within the text you can easily insert text symbols similar to the star symbol glyphs in the "★DEAD OR ALIVE★".
Blank wanted posters have many uses:
create a funny wanted poster with a picture of your children, friends or even pets
run a campaign for hiring people ("we want you poster")
get likes on Instagram, Facebook, Twitter with your picture in the blank wanted poster
Check out our other wanted poster templates!